Art City Tour
It's time for another Art City Tour, but this one comes with a twist: May 18 is International Museum Day, and GAM Cultural plans to honor these essential cultural institutions with special events. In the wake of the catastrophic International Arts Festival (FIA) episode, see a massive citywide arts event done right.
Art City Tour takes place May 13 throughout downtown San José. 5 p.m. onward. Free. Info: GAM Cultural website.
Music: Victor Manuel, Olga Tañon, Joseph Fonseca, Eddie Herrera
Put briefly, this is going to be huge. Legendary Spanish songwriter Victor Manuel will share the stage with Puerto Rican recording artist Olga Tañon, Dominican merengue singer Eddie Herrera, and Puerto Rican merengue star Joseph Fonseca. Expect gigantic crowds, raving fans, and a night of almost continuous Latin fusion.
Concert takes place Sat., May 9 at Parque Viva Amphitheatre, Alajuela. 3 p.m. ₡19,250 – 37,950 ($38-75). Info: eTicket.com.
Music: Tony Levin, Marcus Reuter, Pat Mostelotto
Watching Tony Levin play the Chapman Stick is kind of like watching a magician levitate: His skills seem superhuman, a trick of the eye and ear. The world-famous stylist arrives in Costa Rica to wow Jazz Café audiences for a two-night concert, along with fellow funk masters Marcus Reuter and Pat Mostelotto. If you see only one U.S. artist this month, this should be the show.
Concerts take place May 14 & 15 at Jazz Café, Escazú. Thu. & Fri., 10 p.m. ₡30,000 ($60). Info: Jazz Café website.
Sports: Summer Season Semifinals

Prepare for raging fans, shrieking in the streets, and maybe some mayhem, for the Campeonato de Primera División semifinals have arrived. You don't have to attend the actual games to feel the passion, because every radio and TV set in the country will be tuned into these games, and there will likely be revelry in the streets. Head down to your favorite sports bar for (most likely) incredible drink specials.
Here's the lineup:
Herediano vs. Santos: May 8 at Eladio Rosabal Cordero Stadium, Heredia. Sat., 8 p.m.
Santos vs. Herediano: May 13 at Ebal Rodríguez Stadium, Guápiles, Limón province. Wed., 8 p.m.
Alajuense vs. Saprissa: May 9 at Alejandro Morera Soto Stadium, Alajuela. Sun., 6 p.m.
Saprissa vs. Alajuelense: May 13 at Ricardo Saprissa Stadium, Tibás. Wed., 8 p.m.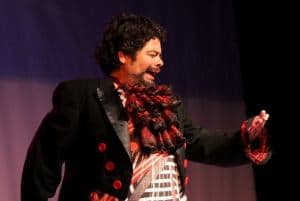 Theater: "The Comical Tale of the Merchant of Venice"
Wait, isn't "The Merchant of Venice" that depressing tragedy about a shifty salesman and a pound of flesh? Prepare to look at Shakespeare's masterpiece in a whole new way, thanks to master storyteller Juan Cuentacuentos. The Spanish-language production takes place at the newly broken-in Teatro La Fortina.
"La Cómica Historia del Mercader de Venecia" continues through May 10 at Teatro La Fortina, Heredia. Fri. & Sat., 8 p.m.; Sun., 6 p.m. ₡5,000-6,000 ($10-12). Info: Theater website.