Two months after nearly earning gold for Costa Rica at the World Surfing Games, Noe Mar McGonagle was just fractions of a point away from getting to surf in front of his home crowd in a tournament final once more. Instead, the native of Pavones, in southwestern Costa Rica, bowed out Sunday morning at the World Surf League's Essential Costa Rica Pro event in Esterillos Este after an impressive run.
McGonagle advanced in four straight rounds, winning three of them, to make it all the way to the semifinals. There, he lost to 17-year-old Australian star Ethan Ewing by 0.13 points in the combined top two wave scores.
McGonagle had previously topped Ewing in Round 6 when he scored waves of 8.00 and 8.33 points. But in the head-to-head semifinals round, it was the wunderkind from Australia who had the upper hand. Ewing then went on to win first place in the head-to-head final against Hawaii's Olamana Eleogram.
With the third-place finish that is by far his best result on the world circuit this season, McGonagle earns 1,680 points in the World Surf League's Qualifying Series and shoots up the leaderboard to 76th in the world rankings.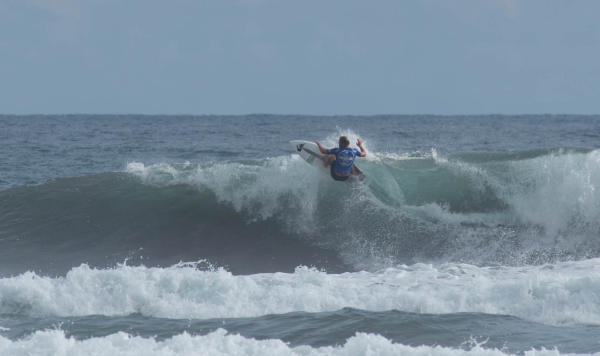 "We've been having a few big events here, with (World Surfing Games) a few months ago, and it's really exciting to see surfing growing as much as it is here," McGonagle said after winning his quarterfinals round Saturday. "I really had no experience on this wave until a few days ago and it's [uniquely] tricky, but there have been some really good waves out there."
Fellow Tico surfer and Esterillos resident Carlos "Cali" Muñoz lost in the fifth round of competition, finishing 25th place overall in the tournament. Muñoz is the highest ranked Costa Rican surfer on the world circuit, ranking 45th in the QS standings.
In the women's final Sunday, Championship Tour surfer Silvana Lima of Brazil edged out French legend Pauline Ado. Costa Rica's top female riders Leilani McGonagle, Emily Gussoni, Coral Wiggins and Lisbeth Vindas were all eliminated in the second round earlier in the week.
The QS tournament that began Wednesday was the first world circuit surfing event that Costa Rica has hosted in 14 years.