JACÓ, Puntarenas – The scene was completely set for Noe Mar McGonagle to be the hero. He had just ridden a last-second wave that looked good enough to secure a gold medal in front of more than 60,000 fans on the beach of his home nation.
But a tense, extended moment ensued where McGonagle and the other three finalists waited in the water on Sunday as judges finished tallying the scores to decide the Men's Open winner at the 2016 ISA World Surfing Games.
When the PA announcer said the scores were ready and began by saying, "Again the world champion is …," the huge crowd erupted in cheer, thinking McGonagle had earned the scores necessary for his second consecutive individual gold medal.
"Wait," the announcer had to say, immediately halting the celebration and announcing that Leandro Usuna of Argentina, who won first place in the Men's Open in 2014, had again won the title.
Usuna, who fought back from the repechage bracket, won the final with a combined score of 14.33 for his two best waves, while Perú's Lucca Mesinas took second with 12.57 and McGonagle finished third with a score of 12.37.

McGonagle's bronze medal comes at the end of a weekend where Costa Rica started off with five riders still in competition and looked in great position to defend the overall team championship it won last year in Nicaragua. But when 2015 women's silver medalist Leilani McGonagle was eliminated Friday and star Carlos "Cali" Muñoz was eliminated in Round 7 of the repechage early Saturday morning, Costa Rica's chances of being on the podium again for the team overall medals went with them.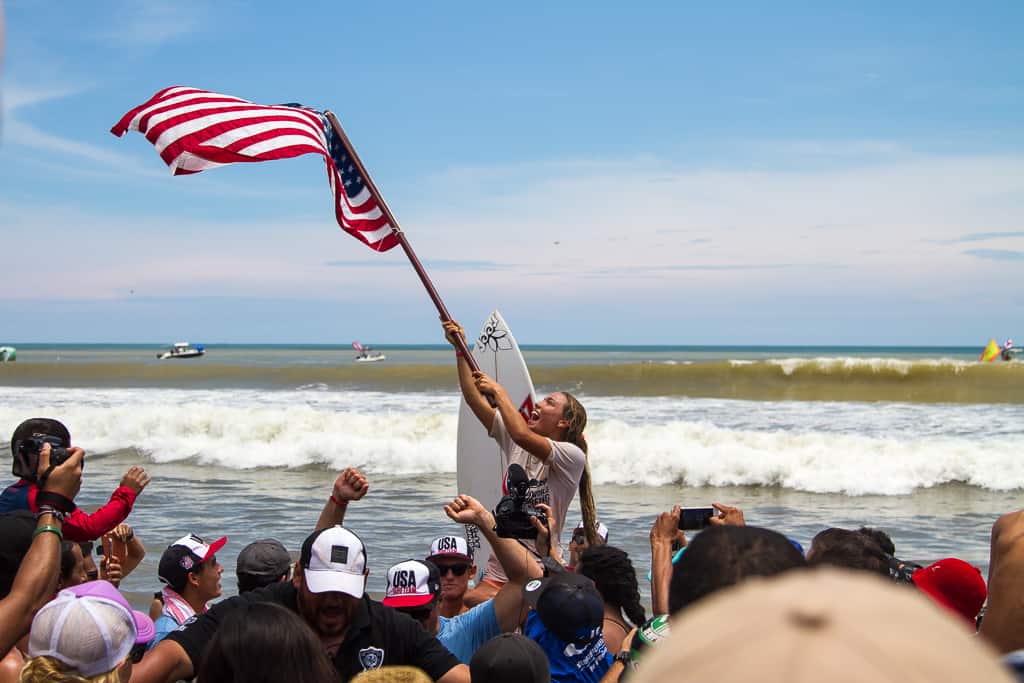 The Ticos finished in fifth place. Team Peru took the gold medal, Portugal took silver, the U.S. took bronze and France took copper.
"We should be very proud," said the 20-year-old McGonagle. "The competition was at a really high level and Costa Rica was in the fight day-by-day. We had a team that could have won, but that's how these competitions are sometimes."
There are some positive takeaways for an otherwise disappointing result for Costa Rica, including the revelation of 16-year-old surfer Emily Gussoni.

But the young rider's impressive performance in the Women's Open category, where she finished among the top 12, comes as no surprise to those who follow Costa Rica's national surf circuit. The Costa Rican female junior champion has proven she can perform in international competition and should be a key piece for Team Costa Rica in next month's ISA Junior World Championship as the Ticos look to improve on an eighth place finish from last year.
In the Women's Open finals on Sunday, U.S. rider Tia Blanco successfully defended her title won a year ago. Dominic Barona of Ecuador took silver, Pauline Ado of France took bronze, and Justine Dupont of France took copper.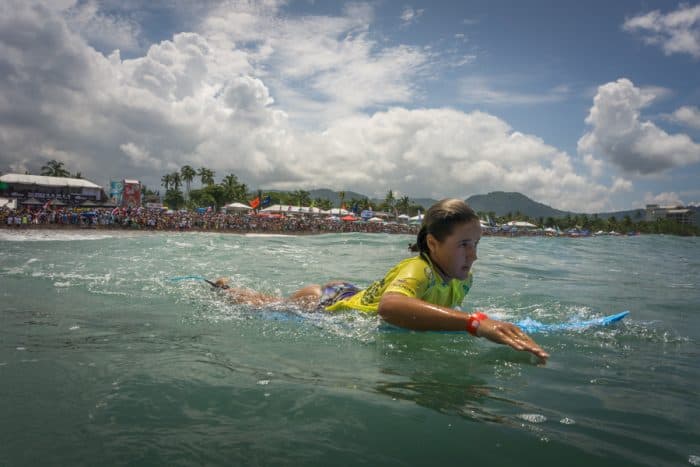 In addition to McGonagle's bronze medal, Costa Rica also walks away with a bronze in the tag-team exhibition Aloha Cup.
Team Costa Rica will return to the waters on Sept. 17 for the ISA World Junior Championship at the Azores in Portugal. An ultra-talented roster of under-18 riders will likely include Gussoni, Leilani McGonagle, Tamarindo's Malakai Martínez, Aldo Chirinos of Playa Negra, and Óscar Urbina of Puerto Viejo.