Now that surfing is officially slated for inclusion in the 2020 Olympics in Japan, the International Surf Association (ISA) will be working with the International Olympic Committee to determine just what format will be used in the competition. In addition to man-to-man or 4-person heats, another option being considered is the tag team format of the Aloha Cup, currently an exhibition tournament in world surfing championships.
Today, at the ISA World Surfing Games in Jacó, the finals of the 2016 Aloha Cup wrapped up. The United States team took first place and the gold medal, Argentina second and Costa Rica third. New Zealand came in fourth place and will get the copper medal.

The Aloha Cup competition is run strictly for fun and bragging rights at the World Surfing Games. A team's performance there does not count for points in the main World Surfing Games competition. Here's how it works:
Eight teams compete with each team comprised of four men and one woman. They gather inside a designated area, usually their own tent, behind a starting line. All surfers must stay inside this area or face a five-point penalty.
The surfing portion of the Aloha Cup can be tricky; it's a combination of running to the water, catching three waves, getting scored for those waves, and managing the time so that all five competitors can surf during the 60 minutes allocated for the competition.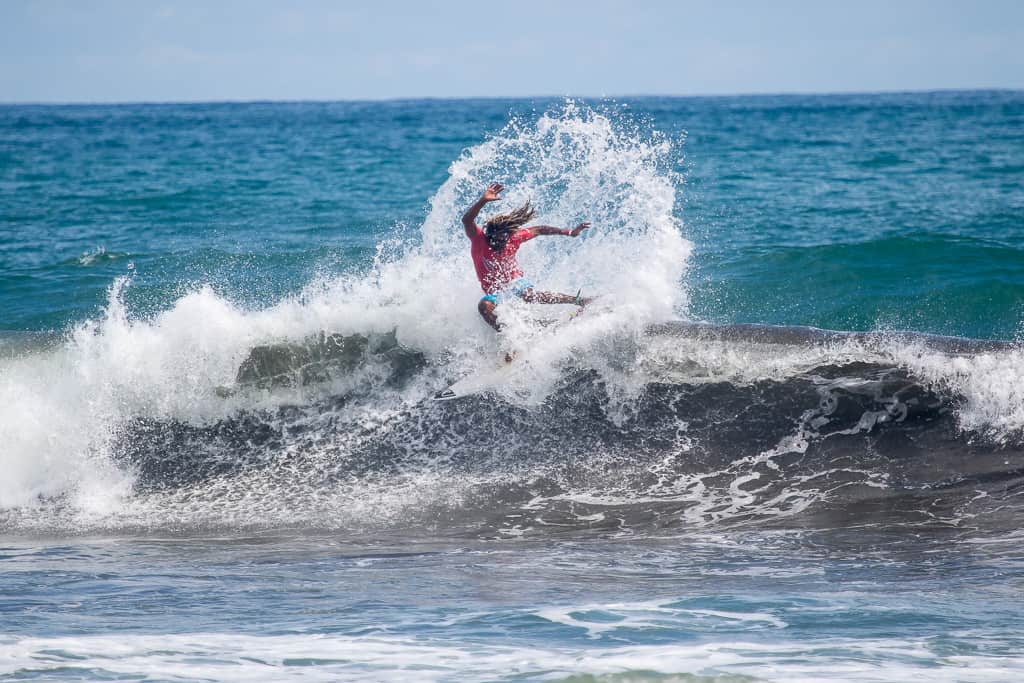 After each surfer completes three rides, he or she must return to the shore, run to the tent and "tag" the next teammate in order for that surfer to enter the water. The team's scored waves are tallied, and the team with the highest score wins.
This year, the teams were Costa Rica, Portugal, U.S., Peru, Australia, Argentina, Ecuador and New Zealand.  Yesterday, those heats of four teams competed in semifinals with the top two teams in each heat passing on to today's finals.
Costa Rica was pitted against Peru, Australia and New Zealand yesterday. The Tico team was made up of Noe Mar McGonagle, Carlos Muñoz, Anthony Fillingim and the two Tico alternates Gilbert Brown and Lisbeth Vindas. 

The strategy for the Ticos in the semi-finals was to get five-point waves in an average of 12 minutes per surfer, but they out-distanced themselves from that right off the bat. When McGonagle took his waves, the beach went crazy with excitement because of his scores: 5.17, 8.07 and 7.87.
"It's pretty hard," he said out of breath from running to tag Muñoz. "But still pretty fun, as well. I'm hoping Carlos will get a couple of good waves, look for the sets and not wait too long."
Muñoz did not disappoint with 4.67, 5.03 and 6.13.
With an 8.23 to start his campaign, Fillingim followed with 6.50 and 5.30, which not only put Costa Rica ahead, but pleased him as well. "I basically lost in the main, then lost in the [repechage], and I was angry at myself, so I wanted to go out there and show my crowd that I can make good scores," he said.
Next up was Brown, who was a member of the 2009 Costa Rica national surfing squad that won the country's first ISA team medal, a bronze in that Aloha Cup competition. In Jacó, Gilbert, who the announcer called "a great ambassador for Costa Rica surfing," whacked the heck out of his first wave for 6.97. Then, with time running out, picked off any waves he could find for 1.47 and 2.47.
The team's final surfer, Lisbeth Vindas, then had 15 minutes to finish her three waves, not enough time to be picky about waves, she thought. This meant taking any wave she could get, gaining scores of 1.43, .93 and .60. Costa Rica finished the semi-finals in first place.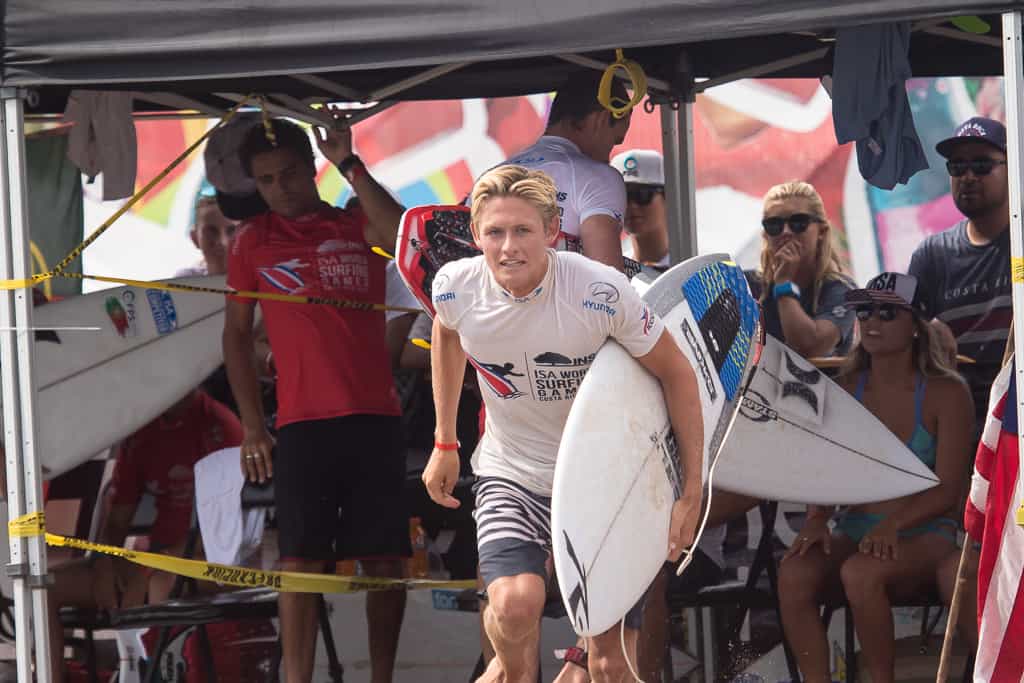 Today, for the finals, ocean conditions were better, although still a little choppy and the wind a bit onshore. Costa Rica switched the team up, surfing with Tomás King and Leilani McGonagle instead of Brown and Vindas. They made their effort knowing that they'd already earned a medal regardless of which position they finished.
From the start today, the team had less luck finding waves in a timely manner, and with the exception of Muñoz's two waves, garnered lower scores. Noe Mar McGonagle's campaign earned lesser scores of 3.17, 3.50 and 4.87 even though he had the same game plan as yesterday.
"Definitely tough out there," he said.
Muñoz scored 8.50, 8.67 and 6.07 but ate a lot of the clock finding those waves to maneuver on.
"I'm so tired. I tried to find a couple of good ones and I'm stoked I got some points for the team," he said afterwards.
When it was Fillingim's turn, he had trouble finding decent waves. The U.S. team was already on its fourth surfer, while Anthony was only the Tico's third contestant. A solid wave score of 6.40 moved Costa Rica from fourth to second place, but it didn't last long. Fillingim's final two scores were a low 2.87 and 2.77.
In an attempt to catch up, King took three waves in a matter of five minutes: 2.63, 2.43 and 1.40. Then the pressure was on for the final competitor, Leilani McGonagle, with a huge crowd on the beach. She grabbed a 2.73, 3.73 and .83, then ran back to the tent just before the hour finished.
Final points for the 2016 Aloha Cup:
United States: 73.49
Argentina: 66.64
Costa Rica: 60.81
New Zealand: 56.26