GUATEMALA CITY – In a pre-recorded message broadcast to the nation last night, Guatemalan President Otto Pérez Molina refused to step down in the face of growing evidence of his likely involvement in a massive customs fraud network known as "La Línea."
After former Vice President Roxana Baldetti was arrested Friday on corruption charges, and the U.N.-funded International Commission Against Impunity in Guatemala (CICIG) requested that Pérez Molina be stripped of his immunity from prosecution, the almighty private sector lobby, CACIF, held a press conference urging him to step down.
Hours later, seven Cabinet ministers with strong ties to the private sector resigned, stating that they felt "let down" by the revelations of his alleged involvement in "La Línea."
Cornered, with no remaining political allies and with his government falling apart at the seams, Pérez Molina's resignation seemed imminent.
See: A whopping 88 percent of Guatemalans disapprove of President Otto Pérez Molina's job
Otto Perez refuses to resign as Guatemalans declare they "don't have a President" on twitter http://t.co/Wnx0rwjm2C pic.twitter.com/pCmGNgy5Vt

— teleSUR English (@telesurenglish) August 24, 2015
Spurred by the news of Baldetti's arrest, thousands of Guatemalans took to the streets again Saturday to demand the president's resignation, waving placards that contained references to the "La Línea" scandal and to Pérez Molina's military past.
As the evening fell, demonstrators headed towards the presidential palace, amid rumors that he would hold a press conference announcing his decision to step down. "Coward! Coward!" chanted the crowd. But the much-awaited conference never happened.
Finally, last night, a haggard-looking Pérez Molina broke the silence but caused surprise and indignation by stating his innocence and refusing to step down.
"The Prosecutor's Office and CICIG made serious accusations against me and have filed a petition for my impeachment. What's more, they have accused me of being the ringleader [of La Línea]. I reject such accusations and I deny taking any money from that network," he said.
The evidence gathered by CICIG includes wiretap recordings in which the members of "La Línea" refer to "No. 1," "el mero mero" (the big chief) and "the owner of the finca."
"We have found close financial ties between the president and the La Línea network," said CICIG commissioner Iván Velásquez during Friday's press conference. Velásquez also said that among the key pieces of evidence against Guatemala's embattled president is a memo specifically addressed to Pérez Molina.
Memorandum encontrado durante allanamientos en casa de Salvador González. pic.twitter.com/dBuCuGDbio

— MP de Guatemala (@MPguatemala) August 21, 2015
According to CICIG, La Línea's ringleaders received 61 percent of the kickbacks taken by senior customs officials as part of a parallel payment schedule for customs duties, benefitting corrupt import businesses. The network allegedly pocketed up to $260,000 a week while hospitals and police stations languished, which has enraged Guatemalan taxpayers and has fuelled an unprecedented protest movement.
Pérez Molina denied the allegations and lashed out against CICIG by making oblique references to "an interventionist strategy that seeks to take political decisions in this country."
Watch Pérez Molina's speech (in Spanish):
Pérez Molina defies the business elite
Defying the country's powerful business elite, Pérez Molina said: "I will face this [CICIG's allegations] and through the due process of law I will prove that I have not been part of this network and that I did not receive ill-gotten gains. … I understand the investigation's logic, but there is no network. There are two parties involved in this and until now only one has appeared: The party that took the bribes and not the one who paid them, which is undoubtedly deeply rooted in the private sector."
The La Línea case has placed Guatemala's powerful business elite – which was initially aligned with the Pérez Molina administration – in an awkward predicament. As it became clear that it was impossible for La Línea to operate without the corrupt businesses that were willing to bribe corrupt customs officials in order to benefit from cheaper import duties, CACIF has desperately sought to distance itself from Pérez Molina.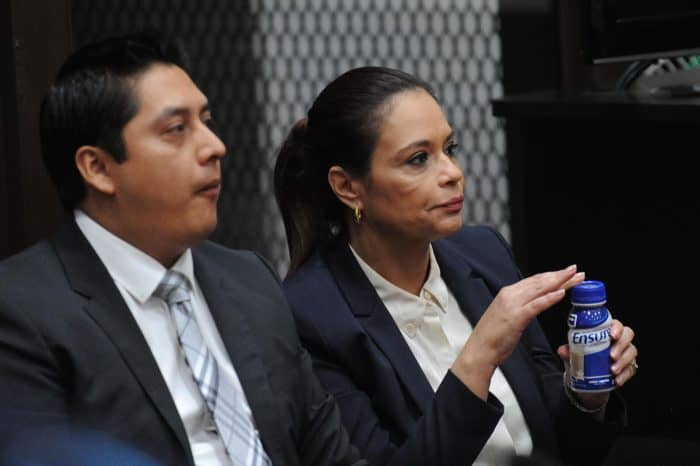 On May 8, a month after the La Línea scandal hit the headlines, CACIF demanded then-Vice President Baldetti's resignation and made vague calls for "a crusade against corruption." Twenty days later, CACIF issued another vague press release in which it warned, "Governance does not depend on the president remaining in power."
Then came a long silence, during which CACIF was criticized for its tepid reaction to the deepest political crisis in the country's recent political history, until CICIG's latest revelations of Pérez Molina's direct involvement in La Línea jolted the business sector into action and finally led its outright call for the president's resignation.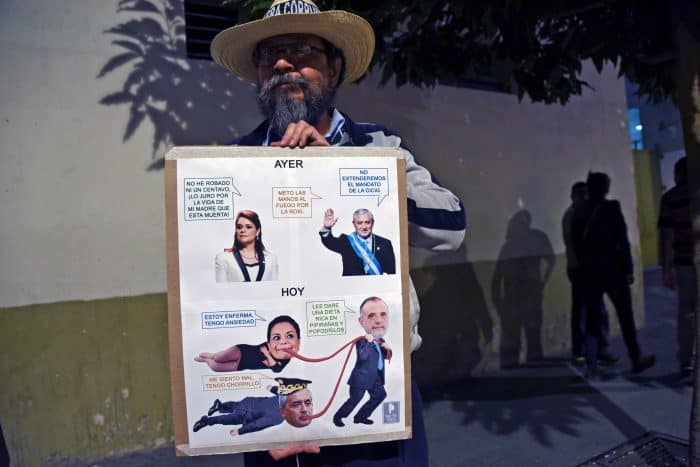 Observers regard Pérez Molina's references to "the two parties involved" as a warning to CACIF to stop exerting pressure on his administration lest he should name powerful business actors allegedly involved in La Línea.
After Pérez Molina's televised address to the nation, CACIF's president, Jorge Briz, branded Pérez Molina's stance as "insolent and disrespectful."
Finally, although Pérez Molina denies his own involvement in La Línea, he offered the nation an apology for the involvement of some of his closest aides.
"The facts are the facts, and although I deny my involvement, I cannot deny that this happened under my administration and involved officials close to me. This forces me to offer the Guatemalan people a public apology from the bottom of my heart," he said.
Pérez Molina's refusal to step down has incensed Guatemalans who have vented their anger on social media. Pérez Molina "is lethal for our country and for the principles and values of our democracy. He is making a mockery of our dignity. Otto Pérez should resign now. He should face trial! He should even be tried for treason!" wrote Nobel Peace Laureate Rigoberta Menchú on her Facebook account.
https://www.facebook.com/rigobertamenchu/posts/918644204841244?pnref=story
Guatemala is heading for general elections, scheduled to take place on Sept. 6, in a volatile political climate, amid growing rumors that the president's address to the nation was deliberately confrontational in an attempt to provoke a coup that could facilitate his escape from the country.