GUATEMALA CITY – Walk around Guatemala these days and you'd be hard-pressed to find someone who thinks Otto Pérez Molina is doing a good job as president.
A poll conducted by the firm Prodatos and published Tuesday by the Guatemalan daily Prensa Libre shows that OPM's disapproval rating tanked a staggering 25 percentage points in the past three months, thanks to ongoing corruption scandals linked to his administration. Eighty-eight percent of polled Guatemalans disapprove of his job in office.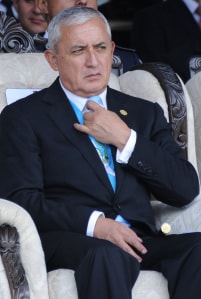 The poll was conducted among 1,201 people in both urban and rural areas from July 27 to Aug. 2, and has a margin of error of 2.8 percent. Despite the president's credibility crisis, 56 percent of those polled said he should finish his term, which expires on Jan. 14, 2016.
Guatemala is confronting an ongoing governability crisis since a massive corruption scandal broke on April 16, prompted by an investigation by prosecutors and the U.N.'s  International Commission Against Impunity in Guatemala. That scandal led to the resignation of Vice President Roxana Baldetti on May 8, as her private secretary, Juan Carlos Monzón, was named as the ringleader of a massive customs fraud and bribery case. Monzón is still a fugitive.
As imagined, Baldetti's rating was even worse, with 92 percent of Guatemalans disapproving of her job before she stepped down.
On Sept. 6, more than 7.5 million Guatemalans will head to the polls to elect Pérez Molina's replacement, along with 338 mayoral seats, 158 lawmaker seats and 20 seats on the Central American Parliament.
See also: How Guatemala's former dictator Ríos Montt dodged a stay in a notorious psychiatric hospital