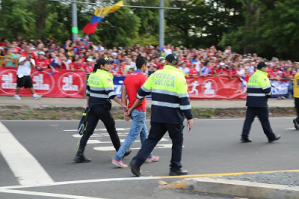 Police arrested 17 Tuesday during the widespread celebrations in Paseo Colón for the Costa Rica national team's homecoming.
Some 200,000 fans converged to welcome home La Sele, according to estimates from the Costa Rica Football Federation. Authorities trumpeted the relative calm of the celebration despite the huge crowds.
Police did interrupt a robbery in progress on the avenue, arresting five. The suspects were taken immediately to a flagrancy court for sentencing. Twelve arrests took place over possession of knives or drugs, or alcohol abuse.
The only robbery reported was a stolen cellphone.
Llegada de Selección de Fútbol:
Cruz Roja registra la atención de 220 personas y traslada 18 de ellas

— Cruz Roja Costarricense (@CruzRojaCRC) July 9, 2014
The Costa Rican Red Cross attended to 220 people during the festivities, where many waited hours in the sun for La Sele's parade to reach the park. The emergency assistance organization removed 18 for offsite attention.
The 17 arrests were far below the 90 apprehended during and after the Netherlands eliminated Costa Rica on Saturday.
Fans greeted the team at Juan Santamaría International Airport in the afternoon. Costa Ricans recognized the players and coaches during the five hour trip from the airport to La Sabana — where the closing ceremony took place.
Some 500 police officers oversaw Tuesday's celebration in front of the statue of ex-president León Cortés in La Sabana Park. In another rough estimate, the daily La Nación reported that as many as 500,000 people participated in the event.