National Police arrested 90 people in brawls and other incidents during and after Costa Rica's match against the Netherlands on Saturday, according to a statement from the Public Security Ministry. More than half the arrests involved domestic violence, despite a government campaign to curb a recent spike in domestic abuse complaints during the World Cup.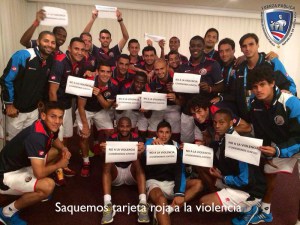 One of the most dramatic events of the weekend took place in the Plaza de la Democracia in downtown San José, where a brawl broke out between several fans. Police confirmed Saturday evening that two victims were stabbed and another hit with a bottle. Eight arrests were reported, but no motive was disclosed.
More than half of Saturday's arrests – 48 – involved domestic violence. Violent intrafamily incidents spiked during Costa Rica's games during the World Cup. Guillermo Aroyo, president of the Costa Rican Red Cross, said that during Costa Rica's June 29 match against Greece the organization responded to 200 more calls than usual. The Public Security Ministry, Presidency Ministry and other government bodies launched a campaign called "Give Domestic Violence the Red Card" last week to raise awareness about celebrating the games responsibly.
Some 23 suspects were arrested for fighting in alcohol-related incidents during or after the game that knocked Costa Rica out of the World Cup. Most of the arrests took place in San José, where police confiscated drugs and knives. Police also aprehended three suspects in the act of committing a crime, three for property damage, four for drug possession, one for robbery, and two for illegal gun possession, among others.
Some 3,500 police were out across the country and on the streets of San José, including at the Fuente de la Hispanidad, Plaza de la Democracia and Parque Central for Saturday's game.