Aprendamos a celebrar por Dios. #FuerzaPúblicaCR toma control de la Plaza de la Democracia por incidentes. pic.twitter.com/PeWXzWJJRS

— Celso Gamboa Sánchez (@CelsoGamboaCR) July 5, 2014
Update 7:51 p.m.:
The Public Security Ministry (MSP) released a statement Saturday evening reporting that Red Cross responders attended to three victims from a fight that broke out in the capital's Plaza de la Democracia. Two victims were injured from a stabbing and a third received treatment after being hit with a bottle. Police arrested eight involved in the disturbance, including one suspect identified by the last names Delgadillo Ruiz who was wanted on a weapon possession charge.
Authorities still don't know what started the brawl that interrupted an otherwise peaceful gathering. More than 1,000 fans watched Costa Rica and the Netherlands battle for a spot in the World Cup semifinals on a large LED screen at the plaza in downtown San José.
Tico Times reporter Lindsay Fendt, who was at the scene, said that fans toward the back of the plaza did not realize what was unfolding in front of them and continued cheering the national team.
An ambulance arrived soon arrived to the area and removed the injured on stretchers.
Original article continues here: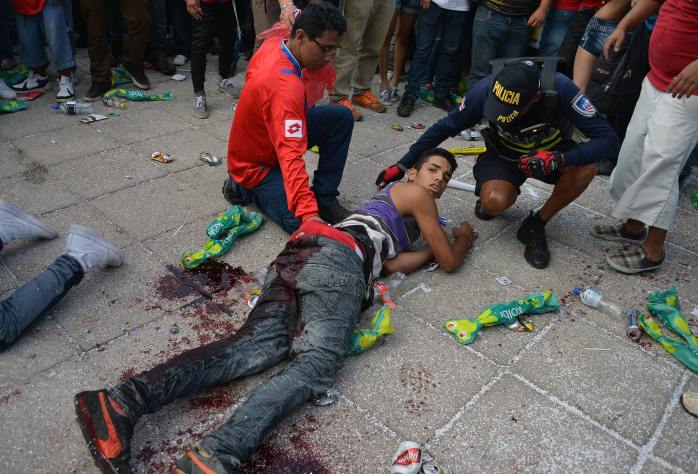 Police and spectators rushed to assist injured Costa Rican fans at the Plaza de la Democracia in San José. Three people were reportedly injured, although the extent of those injuries has not yet been confirmed by authorities.
Fans  gathered in the capital's public plaza to watch the match. Police have sealed off the scene of the alleged crime and are investigating.