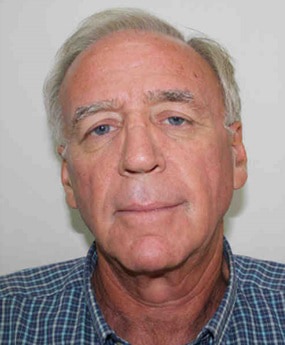 More than two months after his father disappeared, Jeff Hogue hasn't lost hope. As Judicial Investigation Police (OIJ) continue to search for Brian Hogue, who has been missing since June, Jeff Hogue traveled to Costa Rica to meet with his father's friends in search of clues to his whereabouts.
Brian Hogue, a 64-year-old U.S. citizen and Costa Rican resident living outside the Caribbean slope town of Guápiles, was last seen in San José on June 1 driving a gold 2002 Suzuki XL7. Hogue has lived in Costa Rica for five years near Guápiles, 68 kilometers northeast of the capital, with his wife and their son. He also owns property on the Nicoya Peninsula, near Cóbano, Puntarenas. When Hogue did not return from a trip to his Cóbano property, a neighbor reported him missing on June 12.
The family is offering a ₡2.5 million reward for anyone with information on his whereabouts.
Jeff Hogue said his father loves Costa Rica and is a proud member of his community. He said his father and stepmother had planned to retire here on a farm they own in La Marina, Guápiles.
OIJ spokesman Marco Monge told The Tico Times in an email Thursday that the case is under investigation. He had no further comment.
Jeff Hogue said he is hopeful OIJ investigators will find his father, but as the search continues into its second month, he is concerned that foul play may be to blame.
"If we can't solve this, Costa Rica's reputation could change from one where people go to get away to where you disappear," Hogue said.
Anyone with any information on the whereabouts of Brian Hogue should contact the OIJ's confidential hotline at 800-8000645 or email cicooij@poder-judicial.go.cr. The family has set up a separate email and phone for information related to Hogue's disappearance at +(506) 4001-7998 or findbrianhogue@gmail.com.