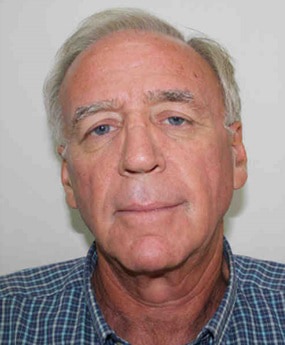 A California man has gone missing in Costa Rica, likely in the Caribbean province of Limón, according to the Judicial Investigation Police (OIJ) and his family.
Brian Lynn Hogue, 64, disappeared while driving from San José to the Caribbean slope town of Guápiles, where he lives on a farm with his wife, Susan, and their son, according to a statement from his family. He was last seen in San José on June 1. When he did not arrive home, a neighbor filed a missing-persons report with the OIJ on June 12, according to the OIJ delegation in Pococí.
Hogue had planned to return to the United States this week to attend his daughter's wedding.
Hogue has lived in Costa Rica for five years near Guápiles, 68 kilometers northeast of the capital, and also owns property on the Nicoya Peninsula, near Cóbano, Puntarenas.
Hogue's son, Jeff, said that his father loves Costa Rica and that he and his stepmother plan to retire here. He is an avid conservationist and is involved in reforestation projects at both properties, according to an email from Roxanne Dunn, Hogue's sister.
"He was born on a farm and enjoys working on the land, nurturing and protecting the natural ecosystem of which Costa Rica is so famous," Dunn said. "We have talked to many, many people who know him, and all describe their friend as hard-working, friendly, and generous."
"Given how long he has been missing, we are deeply concerned and worried," Dunn said. "Please contact us with any information you may have that could in any way assist in this investigation."
Anyone with any information as to the whereabouts of Brian Hogue should contact the OIJ's confidential hotline at 800-8000645 or email cicooij@poder-judicial.go.cr. The family has set up a separate email for information related to Hogue's disappearance at findbrianhogue@gmail.com.