PANAMA CITY – Hours after shaking hands, U.S. President Barack Obama and Cuban leader Raúl Castro headed toward historic talks in Panama on Saturday, sealing efforts to bury decades of animosity.
Taking their bid to restore diplomatic ties to a new level, Obama and Castro will have a discussion on the sidelines of the second and final day of the Summit of the Americas in Panama City, according to U.S. officials.
The two leaders already said hello late Friday, greeting each other and shaking hands — a gesture rich in symbolism — as U.N. chief Ban Ki-moon and other leaders looked on, before the 35-nation summit's inauguration.
They shook hands only once before, at Nelson Mandela's memorial service in 2013.
The face-to-face talks will be the climax of their surprise announcement on Dec. 17 that, after 18 months of secret negotiations, they would seek to normalize relations between the United States and Cuba that broke off in 1961.
"The pleasantries between President Barack Obama and Raúl Castro offer hope of a seventh Summit of the Americas free of the chains of the Cold War," said Arturo López-Levy, professor at New York University's Center for Global Affairs.
The last time U.S. and Cuban leaders met was in 1956, three years before Fidel Castro came to power.
"We're in new territory here," said senior Obama adviser Ben Rhodes, referring to the flurry of diplomacy that included, on Thursday, the first meeting between U.S. and Cuban foreign ministers since 1958.
"This is not just about two leaders sitting down together," he said, citing Obama's decision to ease trade and travel restrictions with communist Cuba.
"It's about fundamentally changing how the United States engages Cuba — its government, its people, its civil society."
Terror list hurdle
The format of the meeting has yet to be confirmed, but Rhodes said the two leaders would likely talk about the negotiations to restore diplomatic ties as well as lingering disagreements.
"As we move toward the process of normalization, we'll have our differences, government to government, with Cuba on many issues," Obama told a regional civil society forum on Friday. "There's nothing wrong with that."
Cuba has demanded to be removed from a U.S. list of state sponsors of terrorism before embassies can reopen, noting that this has blocked the country's access to bank credit.
The White House indicated that Obama was not yet ready to decide whether to remove Havana from the blacklist, but that it could not rule out an announcement in Panama.
"The potential removal from the list will represent the current U.S.-Cuba relationship becoming more pragmatic," said Diego Moya-Ocampos, Americas analyst at U.S. consultancy IHS Country Risk.
"This is a limited but significant step," he said. "But overall engagement will still be limited by the U.S. embargo."
Obama has urged the U.S. Congress to lift the embargo on Cuba, which was imposed in 1962, barring most trade with the island as well as tourism.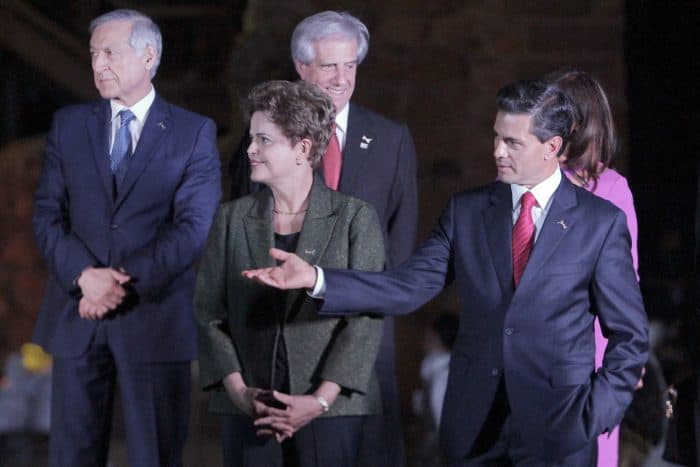 Venezuela tension
Underscoring his increasing engagement with Latin America, Obama will also likely meet Colombian President Juan Manuel Santos and Brazilian President Dilma Rousseff, who canceled a U.S. trip in 2013 over revelations of U.S. spying against her.
But even as Obama seeks to turn the page on Cold War-era tensions, a new headache has come to the fore in the form of Venezuela.
The U.S. leader was criticized by Latin American nations after he issued an executive order that slapped sanctions on Venezuelan officials over an opposition crackdown and called the country a threat to U.S. national security.
The White House has sought to ease tensions ahead of the summit, saying it did not really believe that Venezuela posed a threat. But the sanctions remain.
Venezuelan President Nicolás Maduro, Havana's main ally in the region, has vowed to present to Obama a petition with 13.4 million signatures urging him to lift the order.
Disagreement over Venezuela will likely cause the summit to end without a final declaration.
"It would be good if Obama, who represents such an important country in the Americas and the world, would make proposals allowing us to unite and achieve an Americas in peace," Bolivian President Evo Morales told Venezuelan media network Telesur.