Football is by far Costa Rica's favorite sport, so it's not surprising that 2014 will be remembered as a year of impressive performances by both "Las Ticas" and "Los Ticos."
"La Sele," as Ticos affectionately call the Men's National Team, reached the quarterfinals of the FIFA World Cup Brazil 2014, an achievement that finally outmached what the 1990 team did in Italy at the country's first World Cup appearance. At the time, La Sele advanced to the knockout stage in an accomplishment remembered this year in a film succinctly entitled "Italia 90."
But Costa Rica's other Sele also made headlines, as the Women's National Team earned its first qualification to a World Cup and currently are preparing for the competition that will take place in Canada next year.
In addition, the country in 2014 also held for the first time a FIFA World event in March-April, when it hosted the FIFA U-17 Women's World Cup.
Here's a roundup of Costa Rica's most important sports news of the year:
1. La Sele, undefeated, reaches quarterfinals at the FIFA World Cup Brazil 2014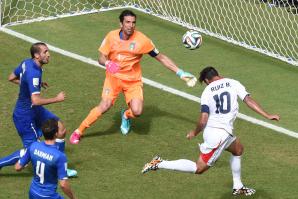 Few teams arrived in Brazil with a bigger underdog label than Costa Rica. The World Cup's draw in December 2013 resulted in the country joining Group D —nicknamed "The Group of Death" — with three former world champions: England, Uruguay and Italy.
That label turned into a movie-like run for Los Ticos, as they ended the first stage atop the group with unexpected upsets against Uruguay and Italy, and a tie with England that quieted many critics, oddsmakers and rival teams.
Celebrations over those performance even included Costa Rica's president, Luis Guillermo Solís, who joined thousands of Ticos on the streets of San José.
La Sele then achieved an even bigger upset by defeating Greece in the round-of-16 match. The game ended 1-1 in regular time and was decided by a penalty shootout.
With a 4-3 lead, Costa Rica goalie Keylor Navas kept his star status growing by deflecting a shot by Theofanis Gekas. Then, defender Michael Umaña smoothly knocked in the last goal that eliminated Greece and sparked a celebration all across Costa Rica.
At quarterfinals, the dream ended for La Sele with another penalty shootout that unfortunately favored the Netherlands, with the Dutch squad scoring all of their shots, and goalie Tim Krul saving shots by Bryan Ruiz and Michael Umaña.
Nevertheless, back home La Sele received a heroes' welcome and will end the year with an undefeated mark of 12 consecutive matches. They also ended as the North and Central American regions' best-ranked team, placing 15th on FIFA's overall list, ahead of both the United States and Mexico.
To round up a great year, Keylor Navas, Bryan Ruiz, Joel Campbell are part of the Tico honorees in six different categories at the 2014 CONCACAF Awards.
2. Tico goalie Keylor Navas signs with legendary club Real Madrid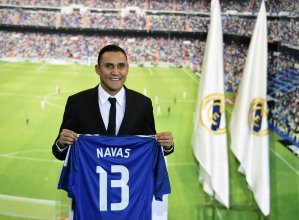 Prior to his outstanding performance at the Brazil World Cup, where he was one of the top-three goalies, Tico star Keylor Navas completed an impressive season with his Spanish club Levante UD that earned him Spain's Best Goalkeeper award at the Professional Football League Awards ceremony for the 2013-2014 season.
Then, in August, Navas became the first Costa Rican to sign with Spain's world-famous club Real Madrid, on a transfer from Levante.
The club paid the €10 million ($13.5 million) buyout clause to Levante that took Navas to Spain's most succesful club. He now is competing with Spain's national team keeper Iker Casillas for a spot on the roster.
His arrival to Real Madrid, however, has been anything but easy, with Navas playing only a few official games. "No player likes to be on the bench. I practice hard every day and try to be prepared for the moment I get the chance to play," he told members of the news media.
In October, a bizarre case in Costa Rica involving illegal prying into his personal life by law enforcement officials had him in the spotlight again, for all the wrong reasons.
Costa Rican Supreme Court justices reported that 24 Judicial Investigation Police (OIJ) officers and four prosecutors searched a police database a total of 51 times for personal information on Navas and two of his sisters earlier this year.
At the time, OIJ Director Francisco Segura said, "we have no reason to investigate Keylor Navas or any of his relatives. We don't know why these people did this." Segura then confirmed the judicial branch had no open investigation of Navas and there was no legal legal justification for the snooping by law enforcement employees.
With his new team, Navas won the UEFA Super Cup 2014 in August, and on Dec. 20 the FIFA Club World Cup. Three days later Navas won CONCACAF's Player of the Year.
3. Marriage of [World] Champions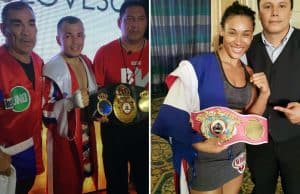 Hanna Gabriel and Bryan "El Tiquito" Vásquez, who are married, earned the country its firsts and only World Boxing Championships.
Gabriel won her first title in 2009 when she took the World Boxing Organization (WBO) welterweight (147 pounds) World Championship. In 2010, Gabriel defeated the Dominican Republic's Gardy Pena in Bayamón, Puerto Rico, to win the WBO junior middleweight (154 pounds) World Champion title in a fight that lasted only 11 seconds.
She succesfully defended her title twice, but in 2013 she lost to Dominican Oxandia Castillo by a knockout in the second round.
On Dec. 20, Gabriel regained the World middleweight title in a victory by technical knockout to Mexican Paty "Elegante" Ramírez, 36 seconds into the second round of a fight held in San Juan, Puerto Rico.
That same night in Quintana Roo, Mexico, her husband "Tiquito" Vásquez also won his fight by a technical knock out against Mexican Sergio "Yeyo" Thompson, who refused to come out in the ninth round.
The fight was Vásquez's defense of the World Boxing Association Super featherweight title (130 pounds) he won in San José in 2011.
However, despite winning the fight, the title will be vacant as Vásquez prior to the fight registered a weight of 133 pounds, meaning he will have to fight again to regain his title.
4. Following historic World Cup performance, coach Jorge Luis Pinto quits the team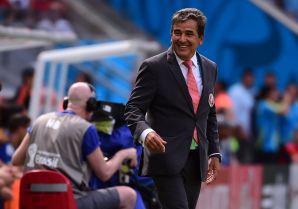 "I like this group. Do not be afraid. We are confident that we will do a great job. The fiercer the bull, the better the fight," Costa Rica's coach Jorge Luis Pinto told media following the draw for the World Cup, where La Sele landed in the "Group of Death."
But after leading Costa Rica to its greatest World Cup performance ever, the Colombian in July failed to reach a deal with the Costa Rican Football Federation (FEDEFUT) and left the team.
At a press conference the coach said that despite his interest in remaining in charge of the team, several of his requests to continue were not accepted by FEDEFUT. Among his requirements Pinto had asked for the dismissal of assistant coaches Paulo Wanchope and Luis Marín. He wanted to replace them with Colombian staff.
The situation then escalated when Pinto told international media that one of the main reasons he would leave the team was that one of his assistants (it was later revealed that he was referring to Wanchope) had been boycotting his job and that FEDEFUT members were looking for his dismissal from the beginning of his time with the team.
Several Sele players and other team staff members came to the defense of Wanchope and said the Colombian coach kept an excessive disciplinary regime that included surprise night visits to their bedrooms to see if they were already sleeping. Others claimed that he often was verbally abusive with players and staff members.
Wanchope provisionally took over as coach of La Sele during several matches following the Brazil Cup. FEDEFUT currently is in search of a new coach who will be charged with qualifying La Sele for the 2018 World Cup in Russia.
On Dec. 19, Pinto was announced as the new head coach of Honduras.
5. Las Ticas had a historic year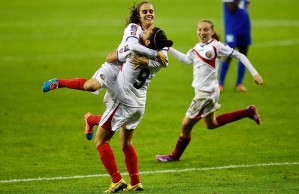 Also known as La Sele, the Costa Rican Women's National Team had a great year, earning their first qualification to a World Cup, something Las Ticas had only achieved in youth tournaments.
La Sele in October participated in the CONCACAF qualification tournament in the United States, where they took their group's top spot with a 3-0 record against Jamaica, Martinique and Mexico. Then, in semifinals, the team beat Trinidad and Tobago in a penalty shootout with an impressive performance by keeper Dinnia Díaz, who set a national record of three penalty shots detained in a qualifier match.
Díaz's stellar job sparked a national debate following a headline used by a sensationalist newspaper that printed a cover with her photo under the word "Keylar," a name alluding to the men's Sele goalie. The comparison infuriated more than a few people, and even led to an op-ed appearing in The Tico Times on the issue.
The controversy went viral with people commenting on the unfortunate cover with several phrases of disapproval, including a popular one entitled "Her name is Dinnia, not Keylar."
The team secured a spot for the World Cup Canada 2015 and reached the tournament's final match against the world's No. 1 team, the U.S. The powerful Gringa squad had no troubles taking the title with a 6-0 routing of La Sele.
The match, however, was a taste of what the team can expect at the world competition, and a reminder that they have a lot of homework to do in the meantime.
6. Good start on the waves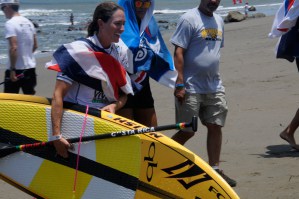 Jenny Kalmbach in May gave Costa Rica its first-ever medal at the Stand Up Paddling (SUP) World Championship in Nicaragua.
Born and raised in Costa Rica, she currently is a resident of Kona, Hawaii. She took a bronze at the SUP technical women's race, which took place on May 11.
Kalmbach was part of the six-member group that represented Costa Rica for the first time, although she was the only one who brought an award back home.
She started practicing the sport many years ago as a surf instructor, and eventually garnered the attention of more than a half-dozen sponsors. Kalmbach participates regularly in international competitions.
No other Costa Rican advanced to the finals of the surf or distance competitions in Nicaragua.