OTTAWA — A sudden spasm of violence jolted the government center of Canada's capital on Wednesday morning, as a gunman killed an honor guard soldier at a war memorial and then opened fire inside the nearby Parliament building, triggering a lockdown and hours of confusion in Ottawa.
The assault shocked a country that rarely experiences gun violence but has witnessed two attacks on members of its armed forces in recent days. Earlier this week, a soldier was killed in a hit-and-run that authorities have called an act of terrorism. In each case, the soldiers were targeted by individuals who had been barred from traveling abroad by Canadian authorities.
"We will not be intimidated. Canada will never be intimidated," Prime Minister Stephen Harper said Wednesday night in an address to the nation.
The gunman in Wednesday's assault was identified as Michael Zehaf-Bibeau, a 32-year-old from Montreal, according to two U.S. law enforcement officials. He had recently been designated a "high-risk traveler" by the Canadian government and had his passport seized, the Globe and Mail reported. Later in the day, a U.S. law enforcement official said the gunman, a convert to Islam, had changed his name from Michael Zehaf-Bibeau to Michael Joseph Hall. He was also known as Abdullah Zehaf-Bibeau, the official said.
Shortly before 10 a.m., Zehaf-Bibeau, dressed in black, his face covered by a scarf, shot at point-blank range a soldier guarding the National War Memorial, according to eyewitnesses quoted in the Canadian media. The soldier was identified as Cpl. Nathan Cirillo, a member of the Argyll and Sutherland Highlanders, a reserve force regiment.
"He was an amazing guy," said Michelle Howlett, 25, of Mississauga, who said she briefly dated Cirillo this summer. "He was a real sweetheart. He had a son and was a real great father. … He was an exceptional person. I can't even believe this."
After killing Cirillo, the gunman was able to get into the Parliament building and continued to fire, police said. Members of Parliament reported hearing dozens of shots inside the building before the gunman was killed.
The 58-year-old sergeant-at-arms in Parliament shot and killed the gunman just outside caucus rooms used by lawmakers, Parliament member Craig Scott posted on Twitter.
MPs and Hill staff owe their safety, even lives, to Sergeant at Arms Kevin Vickers who shot attacker just outside the MPs' caucus rooms.

— Craig Scott (@CraigScottCA) October 22, 2014
In the wake of the gunfire, Parliament Hill was locked down and officials cautioned people in downtown Ottawa to remain indoors, away from windows and off of rooftops as waves of police officers and military vehicles scoured the streets.
Although authorities would not say in the hours after the shooting whether they knew of additional suspects, they asked the public to stay away from downtown and stressed that they were slowly and methodically searching the area.
"Today is a sad and tragic day for our city and our country," Ottawa Mayor Jim Watson said during a news conference Wednesday afternoon.
The lockdown on Parliament Hill continued well into the evening.
Ottawa police said shortly before 8:30 p.m. that they had lifted the safety perimeter that had been in place downtown.
"The ongoing police investigation in the downtown core has determined that there no longer exists a threat to public safety in the area," the Ottawa Police Service said in a statement.
Police said authorities remained on Parliament Hill, where the Royal Canadian Mounted Police (RCMP) is investigating the shooting, and the hill remained off-limits to the public.
Yellow crime-scene tape surrounded the war memorial, and a makeshift shrine had started to build up around a traffic sign pole. Someone had wrapped a red-and-white Canadian maple leaf flag around the pole. And others had left flowers and candles and two handwritten signs. One said, "Canada — we will stand on guard for thee just as Cpl. Nathan Cirillo did. … with love." The other: "Will not be scared, and will continue to love."
Several students at the nearby University of Ottawa, which was on lockdown most of the day, tried to see what had been keeping them indoors. "I wonder how this will change things," said Morgan Bell, 19, a French literature and Canadian studies student. "Tomorrow, it will be a new Canada."
Ottawa Hospital treated and discharged three people injured in the shooting for gunshot wounds and other wounds, spokeswoman Hazel Harding said.
The attack came as a large number of government leaders, including Harper, were inside Parliament. It is unclear whether they were targets. Harper met with cabinet ministers Wednesday night to discuss the shooting, his office reported.
Harper was quickly removed from the scene, a spokesman for his office said in a statement. Other lawmakers and officials remained locked down and shared reports of what they were seeing and hearing on social media.
Tony Clement, a member of Parliament, tweeted that he heard "at least 30 shots" during a meeting in the building.
Shots fired during caucus meeting. at least 30 shots. MPs piled out. I'm safe with 2 colleagues but we're still at risk…

— The Hon. Tony Clement (@TonyclementCPC) October 22, 2014
A video captured inside the building showed law enforcement officials carefully moving through a sunlit hallway before at least 20 gunshots are heard in an exchange of gunfire.
Illustrating the confusion Wednesday morning, police said there was also a shooting near the Rideau Center, a mall in the vicinity. But a short time later, they reversed course and said that no shooting had occurred at the mall.
Canada heightened its terrorism alert recently, but it was unclear whether there was any warning before Wednesday's shooting.
"It caught us by surprise," Gilles Michaud, assistant commissioner of the RCMP, said during the news conference.
Canadian authorities did not immediately tie the attack to terrorism. But it came two weeks after Parliament voted in favor of Canadian participation in the U.S.-led coalition's campaign against Islamic State militants in Iraq, and only days after a person — called a "radicalized" Canadian convert to Islam by the RCMP — struck two members of the Canadian military with his car in a Quebec parking lot, killing one of them.
The driver, named by authorities as Martin Couture-Rouleau, 25, was killed by police after a high-speed chase.
Police said Couture-Rouleau had been on a list of people being monitored by authorities as part of ongoing national security investigations. They said his passport was seized in June when he was prevented from boarding a commercial airliner to travel to Turkey, a route frequently used by militant recruits heading to Syria. Officials said they did not have sufficient cause to arrest him at that time.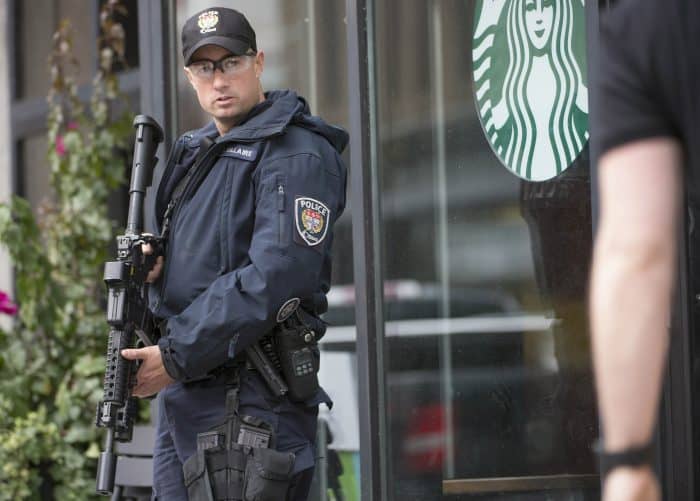 The two attacks this week followed an Oct. 7 vote in Canada's Parliament authorizing Harper to send Canadian forces to Iraq, where the United States, along with Persian Gulf and European allies, is conducting airstrikes against the militants in support of Iraqi security forces.
In a speech to lawmakers, Harper said that Canada would not deploy ground troops and noted that the Islamic State "has specifically targeted Canada and Canadians" and vowed "that we should not feel secure, even in our homes."
"It would be convenient to dismiss such statements as the mere rambling of lunatics, were it not for the fact that ISIL's deeds have been fully in line with its words," said Harper, using another name for the Islamic State.
Canada was also a major participant in the international coalition in Afghanistan, where 158 of its soldiers were killed.
U.S. President Barack Obama spoke with Harper on Wednesday, condemning the attacks and offering assistance.
"Obviously, the situation there is tragic," Obama said.
Obama said it was unclear whether the shooting was "part of a broader network or plan" or whether it was the act of a person or a specific group of people.
U.S. officials were in "close touch" with their Canadian counterparts after the shootings Wednesday, White House press secretary Josh Earnest said during a briefing.
Meanwhile, in the wake of the shooting, the U.S. Embassy in Ottawa was temporarily closed and an Ottawa Senators hockey game against the visiting Toronto Maple Leafs, scheduled for Wednesday night, was postponed, the National Hockey League said.
The caution extended across the border, as the FBI urged its agents to stay alert for possible threats.
"Although there is no specific reporting indicating a threat to the United States, as a matter of precaution due to recent events, the FBI has reminded our field offices and government partners to remain vigilant in light of recent calls for attacks against government personnel by terrorist groups and like-minded individuals," an FBI spokesman said Wednesday.
Berman reported from Washington. Washington Post staffers Adam Goldman, Karen DeYoung, Julie Tate, Jennifer Jenkins and Katie Zezima in Washington contributed to this report.
© 2014, The Washington Post