For proof that smaller is better, look no further than Park Café, Sabana Norte's intimate temple of gastronomy, presided over by internationally celebrated British chef Richard Neat.
When he opened the restaurant in 2006, Neat created a sensation with a menu of small plates of intricate haute cuisine, the likes of which Costa Rica had never seen. Now, the globetrotting, author and chef has also created a true "menu dégustation," a tasting menu to give diners "the opportunity to experience more tastes and combinations."
Though each dish is small, the choice is large, with 17 delectable "tastes" currently appearing on the menu. Restaurants usually require the whole table to order a dégustation, with each dish chosen by the chef. So you are out of luck if you can't persuade your dining companion(s) to join you in the tasting menu. The beauty of Neat's new menu is that you design your very own dégustation.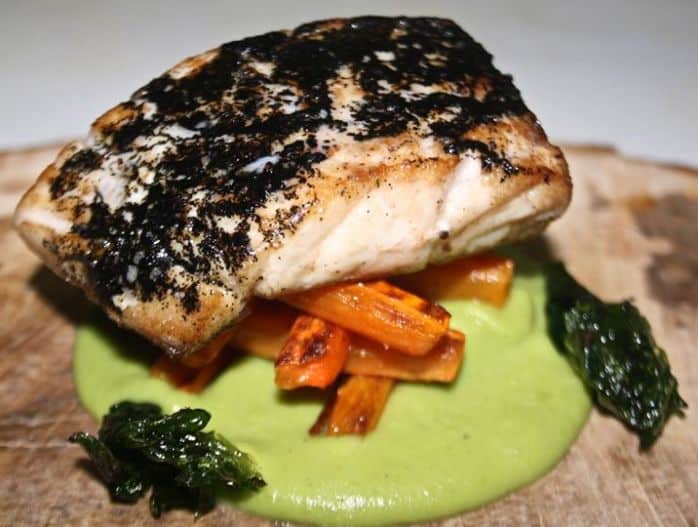 Courtesy of Richard Neat
Of course, you can also order dishes to share with a like-minded friend. However, forewarned is forearmed: Once you take the first bite, you may quickly renege and shamelessly gobble up the whole dish yourself. Portions are definitely on the small side. Don't expect to leave stuffed, just satisfied, since the goal here is quality, not quantity. Dining here is definitely easy on the waistline.
Half the fun is salivating over the menu and making your choices. Prices per dish, including tax and service, range from $6-$12. With three Michelin stars to his credit over four decades, Neat never disappoints. His dishes are innovative, exciting and expertly crafted.
For example: Pan-seared scallop wrapped in prosciutto with parmesan. This was the first of six plates my enthusiastic dining companion and I ordered. One large, tender and sweet, caramelized scallop wrapped in salty prosciutto, topped with an afro of fried green onion frizzles, sat on a pillow of savory parmesan risotto. Only one problem: This is one dish you have to order two of to avoid any table tug-of-war.
Next up: Ravioli of crab with asparagus and ginger cappuccino. Delicate crab-filled ravioli bathed in a white ginger-flavored foam. The ginger started as a slow burn, then exploded with flavor. We used the asparagus spears to dip up the ephemeral but tasty foam. This one was easier to share.
Our third dish was the artistic and flavor hit of the evening: Carpaccio of beef with mustard dressing. Four shareable rounds of meltingly tender morsels of raw beef were each surrounded by a ring of green pesto, topped with a swirl of mustard sauce, a sprinkle of parmesan and Neat's signature, lighter-than-tempura fried green onions. The centerpiece for this quartet was an edible vase of hearts of romaine lettuce.
Once we got over our ecstatic praise, we asked Neat where he found such tender lomito?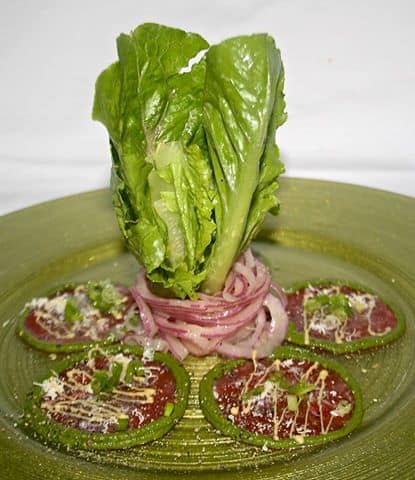 "Oh it's local beef," he answered. "I add just a little salt and pepper, a squeeze of lemon and truffle oil to tenderize the beef."
Somehow I think that even if I had truffle oil on hand, my results would never be the same.
My companion and I worked our way through the menu, sharing fillet of red snapper freshened with a complementary vanilla sauce, over a purée of green peas; Chinese-spiced duck breast and crispy leg meat with Hoisin sauce, paired with a cooling cucumber and mint salad; octopus braised in red wine and tomato with Greek salad.
All went companionably until the last dish: an exquisite single lamb chop balanced atop a large wild mushroom ravioli. This is food for the gods and one you have to order two of. Trust me. It will prevent a brawl.
We chose a bottle of crisp, fruity California chardonnay to accompany our tasting adventure. The interesting wine list roams the globe: South America, the U.S., Europe and Australia. The average price for a bottle is ₡25,000 ($45) – not cheap, but the quality is on par with the level of the cuisine. You can also order a few wines by the glass (₡4,600/$8.40). For romantic dinners à deux, there's a half-bottle of Champagne (₡40,950/$74.50).
The sweet finish is a six-course dessert platter (₡11,000, $20), meant to share, with large portions of crème brûlée, tarte tatin, caramel ice cream, a chocolate-banana soufflé, tiramisù and strawberry shortcake, every dish prettily presented.
Art and elegance imbue the entire experience here. Enclosed in a cloistered courtyard, tables are set in a romantic garden and under colonnades furnished with an exotic collection of Balinese antiques and curios. The Indonesian theme appears on tables, too: small serving platters, patterned with natural swirls and whorls, are cut from petrified Indonesian wood, more than 1.5 million years in the making.

By day the restaurant is a showroom for Louise France's Asian antique collection. At 5:30 p.m., the place transforms into the restaurant. Service is smooth and polished, never rushed. Neat often appears to present his creations.
Dining here is expensive. But how many opportunities are there in Costa Rica to experience world-class, gastronomic artistry and creativity?
For three hours or so, any evening from Tuesday to Saturday, you can enter the rarefied realm of haute cuisine, in a serene, exotic setting, without buying an airplane ticket to foreign shores.
Even though Park Café offers seriously crafted food, it's also the best fun a food-lover can have: a chance to indulge in a sensory experience.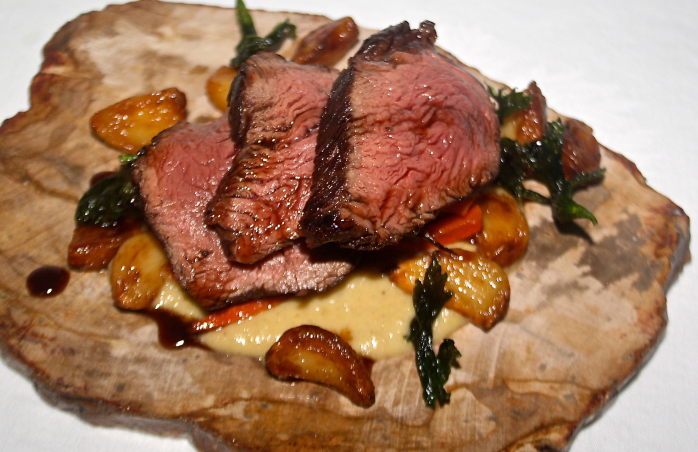 Park Café – Dinner only, Tuesday to Saturday, 5:30 to 9 p.m. From the Rostipollo on the north side of La Sabana, 75 meters north, on Avenida de las Americas. 2290-6324. For the illustrated menu, visit www.parkcafecostarica.blogspot.com