MEXICO CITY – After five days of bloody student-led street protests, Venezuela appeared headed for a dangerous new showdown, as opposition leader Leopoldo López said he will emerge from hiding Tuesday to lead a new anti-government march.
The Venezuelan government charged López with "terrorism" and other crimes after demonstrations last Wednesday in Caracas left three dead and more than 60 injured. Smaller protests in the capital and other cities have followed, setting the country on edge and pitting sometimes-violent demonstrators against police using batons, water cannons and tear gas.
Meanwhile, President Nicolás Maduro announced Sunday that he had expelled three U.S. Embassy officials, accusing them of conspiring against his government. It was the third time in less than a year that Maduro has ordered U.S. diplomats out of the country.
"Go back to Washington and conspire," Maduro said during a televised address. "Leave Venezuela alone." Washington rejected as "baseless and false" accusations it was aiding protests, AFP reported.
López has emerged as the most forceful and fearless critic of Maduro, at a time when annual inflation is topping 50 percent and the oil-rich country's economy is tanking, with citizens facing chronic shortages of toilet paper, milk and other basic goods.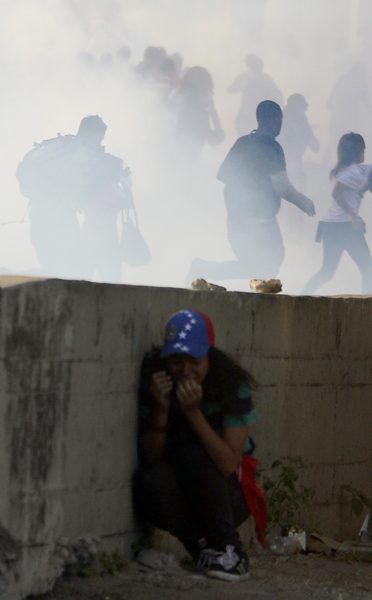 López, 42, the former mayor of a Caracas municipality, released a three-minute video statement Sunday calling for a new rally against the government in Caracas on Tuesday and said he would end the march by offering himself up for arrest.
The announcement raised the possibility of new clashes if protesters rush to his defense.
"I have nothing to fear," López said in the video. "I have committed no crime. I have been a Venezuelan with deep commitments toward my country and my people."
Maduro and other Venezuelan officials have goaded the protesters for days by calling them "fascists" and depicting them as U.S. agents involved in destabilization plots.
The protests are the most serious challenge to date for Maduro, 51, who was narrowly elected last April to succeed his mentor Hugo Chávez. Chávez ruled Venezuela for 14 years until his death from cancer last March, and Maduro has adopted Chávez's same blustery rhetoric to vilify critics as "parasitic bourgeoisie" and traitorous Nazis.
In his address on Sunday, Maduro declared Caracas "a fascist-free territory" and called on state oil workers to stage counter-demonstrations.
"This is the last time fascists come to Caracas. Rain or shine, fascists will not enter Caracas," he said. "I will have zero tolerance toward fascism. Even the possibility of living in peace among ourselves for the next century is at stake here."
Venezuelan authorities identified the U.S. officials as Breeann Marie McCusker, Jeffrey Gordon Elsen and Kristofer Lee Clark, all vice consuls. Most federal agencies were closed Monday for the Presidents' Day holiday.
But in a statement released Saturday, Secretary of State John F. Kerry said the United States is "deeply concerned" about the violence in Venezuela and "alarmed" that the government was seeking to arrest López.
"Freedoms of expression and peaceful assembly are universal human rights," Kerry's statement read. "They are essential to a functioning democracy, and the Venezuelan government has an obligation to protect these fundamental freedoms and the safety of its citizens."
© 2014, The Washington Post