CARACAS, Venezuela – Protests against the Venezuelan government left at least three people dead and dozens injured, prompting President Nicolás Maduro to declare he would not fall as he ordered a clamp-down in cities across the country.
Thousands of students accompanied by opposition leaders marched through the capital Caracas and other cities Wednesday, demonstrating over poor security, inflation and a lack of basic commodities, in a further escalation of university protests that took place two weeks ago.
At least 80 people were detained as rival protests exploded into violence.
"There will be no coup d'etat in Venezuela; you can rest assured. Democracy will continue, and the revolution will continue," Maduro, facing the biggest test since taking over from the late Hugo Chávez last year, declared on national television.
"I have given clear instructions to state security agencies to secure the country's main cities," said Maduro, who ordered the arrest of an opposition leader, Leopoldo López. "Anyone who goes out to try to carry out violence will be arrested."
A pro-government demonstrator and two student protesters were killed as rallies both for and against Venezuela's government escalated over several hours.
Unidentified assailants earlier fired into a rally outside the attorney general's office in Caracas.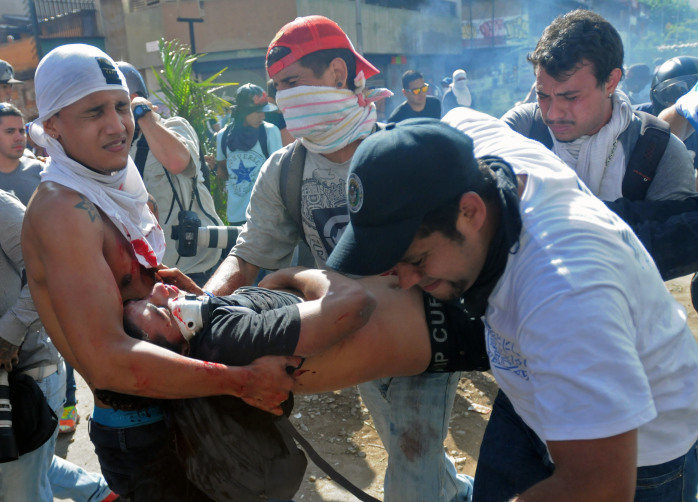 Venezuela – with an institutionally socialist government dependent on oil revenues in a state-led system – sits atop the world's largest proven reserves of crude.
Yet its economy has been battered by inflation of more than 50 percent a year.
Venezuela has had economic problems go from bad to worse amid shortages of hard currency, while dwindling supplies of consumer goods have frustrated even some government supporters.
The government blames "bourgeois" local business interests for trying to profit from its largely low- and middle-income political base. It has engaged in privatizations and unpopular currency controls.
'We will not be cowed'
Thousands of students, accompanied by several opposition politicians, had converged in downtown Caracas to denounce Maduro and his economic policies.
"We came out for a peaceful protest and they have killed two students? How can this be?" asked Catholic University student Vanessa Eisi.
A day earlier, five youths were shot when motorcycle-riding gunmen opened fire on protests in the Andean city of Merida, local media and student groups said. Another 10 students participating in the protests were arrested.
"We students are sick and tired of living in fear because of violent crime. We are sick of having to leave the country because when we graduate, there is nothing here," said Biaggo Alvarado, a 20-year-old who declined to name his university.
Protesters demanded the release of students detained in Merida and elsewhere during recent demonstrations.
"We will not be cowed," cried David Smolansky, a former student leader now mayor of the Caracas municipality of El Hatillo, challenging the government to "see who is stronger."
"They have taken our students prisoner. We want them released!" he shouted, as the flag-waving crowd chanted: "It is going to fall, it is going to fall, this government is going to fall."
Elsewhere in Caracas and in other cities waves of protesters clad in red – the color of "Chavismo" – gathered in support of Maduro.
They chanted slogans backing his "economic war" against speculators and private economic interests that he blames for the skyrocketing inflation and shortages.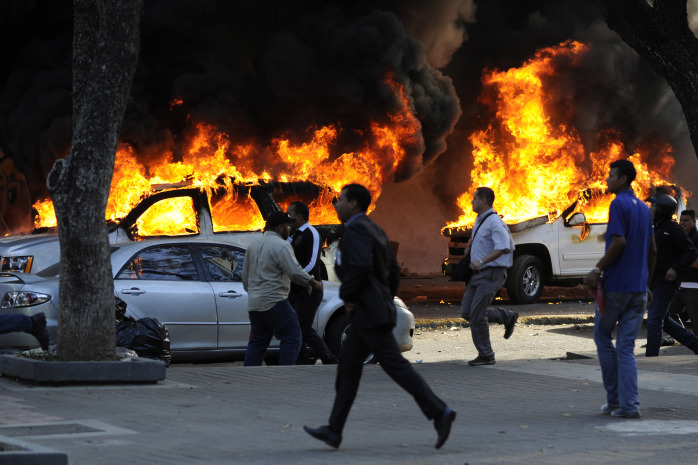 State television showed images of the pro-government protests, which Maduro was scheduled to attend, while private channels showed intermittent images of the opposition demonstrations.
Reporters and media were targeted in the unrest.
Journalists union chief Marco Ruíz said that a photographer and a reporter were arrested while covering the protests, and Colombian news channel NTN24, which had been featuring the protests in depth, was abruptly pulled off air.
Outside AFP's office in Caracas, riot police used tear gas to break up about 100 student protesters.
Then, equipment, including a video camera belonging to AFP, was stolen as authorities looked on.