Costa Rica confirmed 37 new cases of the coronavirus over the past day, totaling 1,194 cumulative known cases, the Health Ministry announced Thursday afternoon.
The 37 cases are the second-largest day-over-day increase Costa Rica has announced during the coronavirus crisis, trailing only yesterday's 52.
Two more people have recovered from COVID-19, leaving Costa Rica with 687 total recoveries and 497 known active cases.
Ten people have died after contracting the coronavirus. Twenty-four people are hospitalized with COVID-19; five people are in intensive care.
Testing numbers have not increased significantly
The recent increase in active coronavirus cases does not correspond with an increase in testing.
Since Costa Rica began reporting daily testing totals in mid-April, it has averaged 377 tests per day. The country has averaged 335 daily tests over the last five days.
Costa Rica has processed a total of 28,296 diagnostic tests for SARS-CoV-2 (414 more than Wednesday).
President Carlos Alvarado on Thursday applauded the Health Ministry's contact-tracing efforts, which he says have helped Costa Rica identify and isolate coronavirus clusters.
More regional restrictions announced
An extended nighttime driving restriction will apply to the districts of Venecia (canton of San Carlos), and to La Rita and Roxana (canton of Pococí) starting June 5. In these regions, weeknight driving will be forbidden from 5 p.m. to 5 a.m. until further notice.
The district of Los Chiles (in the canton of Los Chiles) is now under an orange alert. The expanded nighttime driving restrictions apply, in addition to restrictions on commercial businesses.
Click here for a full breakdown of the national and regional driving restrictions.
Active coronavirus cases in Costa Rica
The largest number of new cases on Thursday were recorded in the cantons of San Carlos (8), San Ramón (4), Upala (4) and San Pablo (4).
Datos actualizados al 04 de junio de 2020 sobre el COVID19 en Costa Rica.
Somos fuente oficial de datos. Síganos en nuestras redes sociales y nuestra página web. pic.twitter.com/2BvVWo1XMY

— Ministerio de Salud de Costa Rica (@msaludcr) June 4, 2020
The below chart was last updated June 1: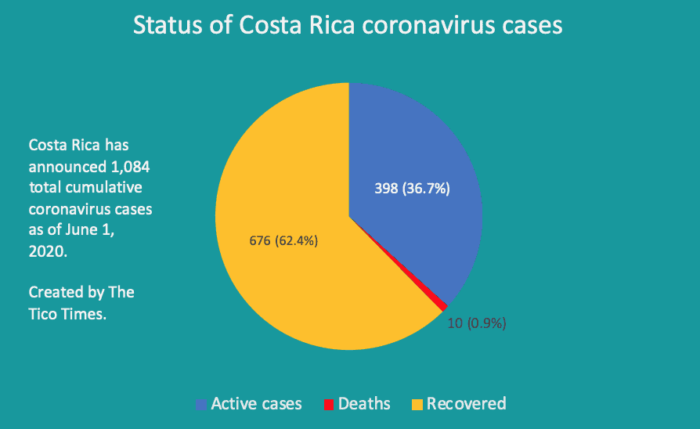 Timeline of COVID-19 in Costa Rica
Costa Rica is enforcing nationwide driving restrictions until June 20. Click here for full details.
If you believe you may have contracted the coronavirus or have questions regarding the virus, contact Costa Rican health authorities by dialing 1322.