Costa Rica confirmed 10 new cases of the coronavirus over the past day, totaling 863 cumulative known cases, the Health Ministry announced Sunday afternoon.
Over the same period, 14 more people recovered from COVID-19, leaving Costa Rica with 565 total recoveries and 288 known active cases.
Ten people have died after contracting the coronavirus, most recently on Friday. Seventeen people are hospitalized with COVID-19; three are in intensive care.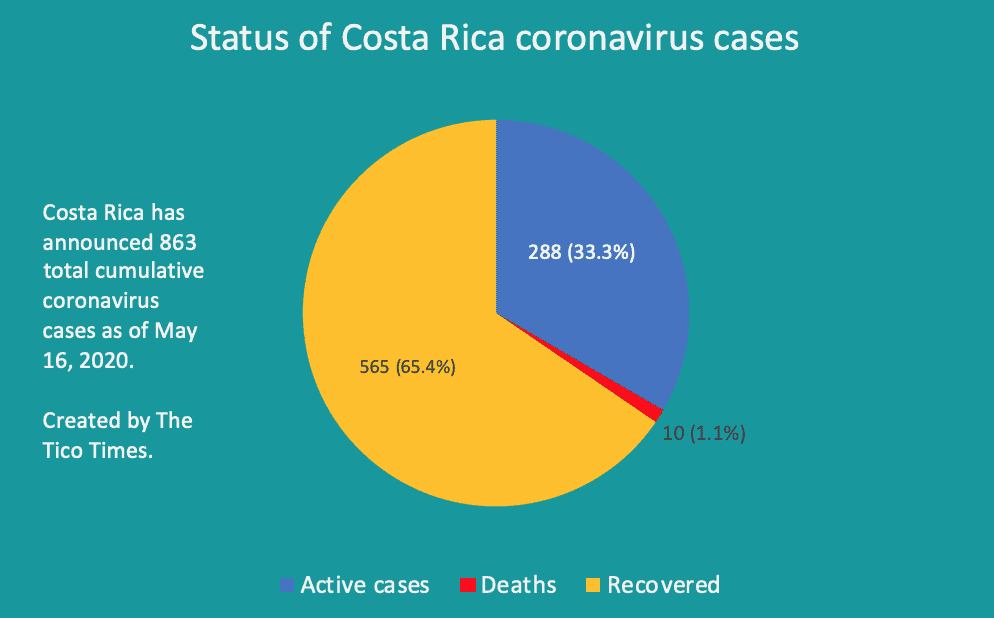 Costa Rica has processed a total of 20,115 diagnostic tests for SARS-CoV-2 (714 more than Saturday), which corresponds to 3,935 tests per 1 million people. The country has averaged 415 daily tests over the last five days.
Forty-six truck drivers have been denied entry into Costa Rica — 10 more than Saturday — after testing positive at the border, the Health Ministry said. (They are not included in Costa Rica's tally of active or recovered cases.)
All arriving citizens are tested for the coronavirus and must complete a 14-day home isolation.
Costa Rica has extended its border restrictions, banning foreign visitors until June 15. The government has announced a timeline for reopening the country; the plan includes opening beaches and national parks in limited capacity.
If you believe you may have contracted the coronavirus or have questions regarding the virus, contact Costa Rican health authorities by dialing 1322.
Timeline of COVID-19 in Costa Rica
Costa Rica is enforcing nationwide driving restrictions until June 1. Click here for full details.