From perfectly cooked garlic shrimp, to oysters, to whole grilled fish, Puntarenas has no shortage of maritime cuisine. You'd expect as much from the capital city of the province with the most coastline, but there's another land-based dish that's emblematic to El Puerto: vigorones. It's almost like an ice cream cone of banana leaves filled with yuca, pork, cabbage and chimichurri.
Dozens of carts line city streets and the beach in Puntarenas offering this local dish. Some heavily transited areas have clusters of older women advertising vigorones. One of them, Grace "Chinita" Gomez, has been selling vigorones in Puntarenas for nearly 30 years.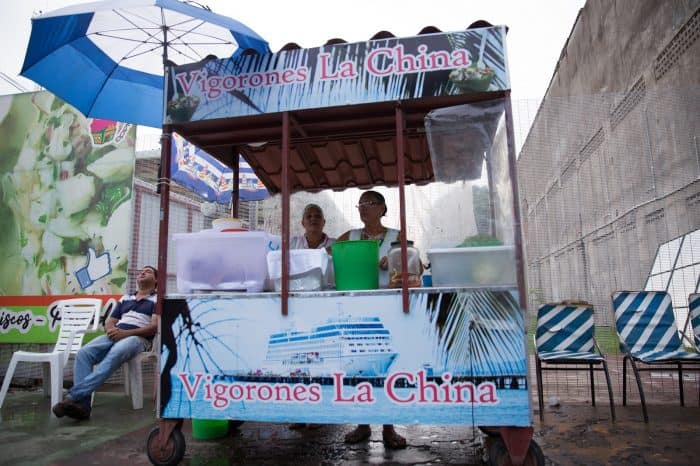 Aside from the typical list of ingredients, Grace says the key is to add both yellow and purple onions, vinegar, salt and sugar to the chimichurri. On top of that, she likes to add a special dose of love and care to her vigorones. We couldn't taste the love, but we did love the blend of textures and tastes this dish offers.
It's served on a plate, which is easier to eat, or you can have the full experience and have all the ingredients funneled into a cone of banana leaves. You'll probably need a plastic bag if you chose the latter, because things get a bit messy, especially when you start digging into this pile of crunchy refreshing goodness.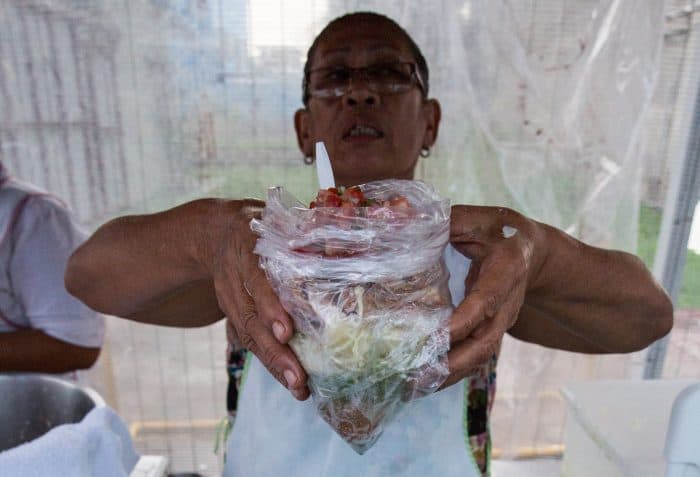 The dish, including the pork, is served cold, which is perfect for hot beach days. A bed of cold cabbage lines the bottom followed by boiled yuca. This root vegetable is soft and starchy, giving a nice neutral and absorbing balance to this dish. Then comes the pork. You can pick pork belly, pork rinds or both.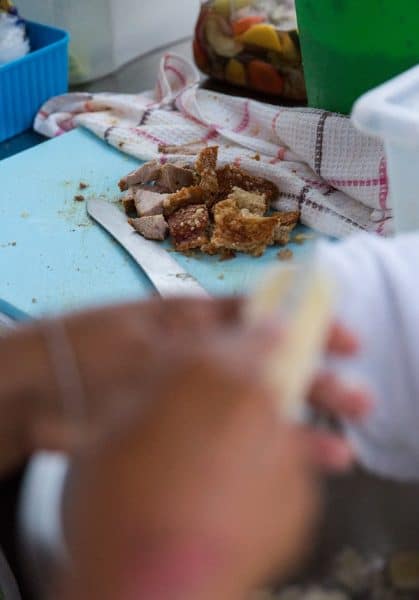 We recommend both, of course.
The pork belly adds the goodness all meat does, and the rinds give the vigorón a nice crisp crunch, like pork nachos. To top it off, you got a nice dollop of limey chimichurri.
Now you're ready to take your beautiful bag of vigorón on a romantic sunset walk along the beach. Like most summer loves, it's over way too quick, and you're left with nothing but a soggy bag of limey memories.
Luckily, chances are you're only a few meters away from the next vigorón cart.
As with gallo pinto, there's a longstanding and fierce debate about whether this dish is traditionally Costa Rican or Nicaraguan. Regardless of its origins, it's something the people of Puntarenas have come to strongly identify as a food that represents them and their port city.