It's not the ideal result, but Costa Rica's 1-1 tie in Honduras keeps La Sele well on track to qualify for the 2018 World Cup in Russia.
In Costa Rica's first qualifier against former coach Jorge Luís Pinto, the current Honduras headman was able to motivate his team after a recent beatdown in the United States and get Los Catrachos out to a 1-0 first-half lead.
Costa Rica had only itself to blame for again failing to take advantages of early chances. In a near mirror image of the team's 2-0 loss in Mexico Friday, La Sele had multiple scoring opportunities in the opening minutes that never translated to points.
The middle of Costa Rica's defense looked very different in Honduras after Friday's loss at Azteca Stadium, where the five-man backline seemed consistently out of place versus Mexico.
After Francisco Calvo struggled mightily in the first game, deserving at least partial blame for both goals, he was benched in favor of Kendall Waston in Honduras. It's easy to say the taller and stronger Waston should have always been starting over Calvo, but Tuesday's match in Honduras further proved Waston has earned a full-time starting role with La Sele.
To his credit, Coach Óscar Ramírez corrected his earlier mistake of benching Waston, and the Vancouver Whitecaps defender was far and away the most important player on the field for La Sele.
Waston brought a necessary toughness that was lacking in the defense against Mexico. He then turned into a lifesaver in the 12th minute when Navas leaked out of the box to deflect an initial try from Honduras. On the deflection, Navas left the goal wide open for Honduras, but Waston got right by the post and made a last-second kick save on the line.
The gigantic centerback then made the play of the game for Costa Rica with a header in the 68th minute to tie the match.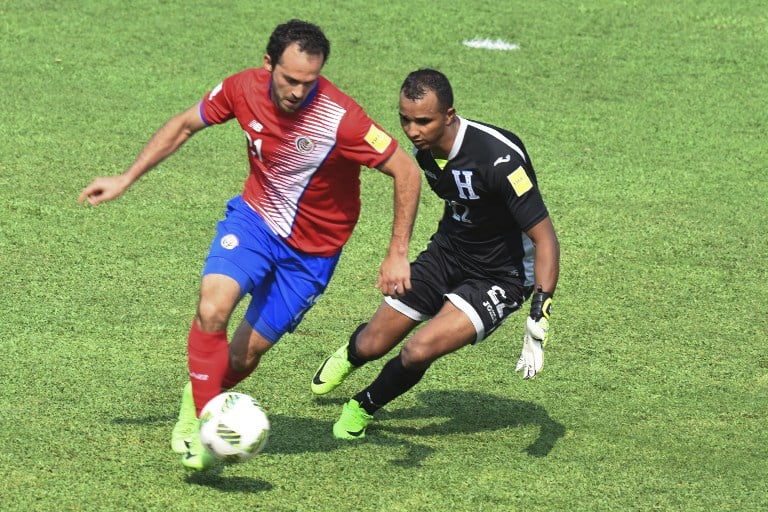 "We wanted the win to have an even bigger boost going forward, but getting the tie and one point as a visitor is always a good thing," Waston told reporters on the field following the game.
Locally, the referees for this game will be talked about until the next time La Sele takes the field in two months.
Honduras was wrongly awarded possession on an early play that should have led to a Tico corner kick. Minutes later, striker Marco Ureña served up a pretty ball to midfielder Celso Borges, who was taken down by the Honduras keeper in the box. Upon review, it's clear that the play should have merited a penalty kick, since the goalie completely whiffed on the ball and took out both of Borges' legs.
The egregious mistake is an unfortunate look for a federation that has a history of referee errors. But as they say here, el fútbol es así, football is like that. You've got to be able to capitalize on opportunities that are there and Costa Rica continues to underwhelm in that area, despite ultimately stealing a tie in San Pedro Sula.
It's worth mentioning that this Honduras team had just been physically and emotionally demoralized in a 6-0 loss to the United States on Friday, and was in last place in the six-team group stage heading into Tuesday's match. For far too long Tuesday Costa Rica let an inferior Honduras team that likely won't qualify for the World Cup dictate the pace.
In the 34th minute, Honduras struck first when Anthony Lozano received a gorgeous free kick right in front of the net. Though goalie Keylor Navas was able to block the initial shot, it bounced right back to Lozano, who cashed in with the goal.
Much has been made recently of Navas' continued struggles. While the Real Madrid keeper's performance has taken a noticeable dip for club and country, Navas was in the crosshairs of media criticism after he seemingly let Mexico's second goal slip in under his grasp last week.
Today, Navas came up big for Costa Rica late, in the 78th minute, when he threw himself on the ground to stop a streaking Honduran forward from getting the go-ahead goal.
With the tie, Costa Rica is now 2-1-1 and has seven points with six matches left in the Hexagonal. The good news is that three of La Sele's four matches to date have been away from home, and Costa Rica will get back-to-back home games at the National Stadium when World Cup qualifying play returns in June.