Leilani McGonagle has already won virtually every other surfing award there is in the country, so it was only a matter of time before the 16-year-old surf phenom was crowned Costa Rica's national champion in the women's open category.
McGonagle took home her first national title at Sunday's Gran Reef Final in Playa Hermosa, Puntarenas, concluding the 2016 surf season. She's the third woman to take the crown in the championship's 16-year history, after 12-time champ Lisbeth Vindas and three-time winner Nataly Bernold.
The Pavones native, who has won three junior national titles, topped fellow teenager Emily Gussoni, who held a slight lead over McGonagle going into the Gran Reef Final. The 16-year-old Gussoni finished second in the season, followed by the veteran Vindas.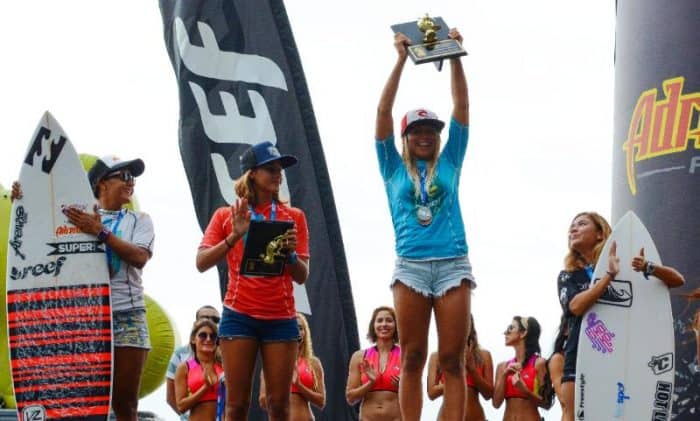 "The title was up for grabs between us going into this final," McGonagle said of her narrow win. "I want to congratulate Emily for putting up an incredible battle and Lisbeth, who I've admired since I began competing."
Gussoni, however, managed to edge out McGonagle for first place in the women's junior (17 and under) category.
The men's side was void of any suspense as champion Anthony Fillingim officially clinched the title last month at his home beach of Santa Teresa with a record-setting point tally this season. Fillingim, the former Latin American champion, competed in all seven Costa Rican circuit events and finished first place in four of those competitions.
Surfers Angelo Bonomelli and Anderson Tascon finished second and third, respectively, in this year's men's open circuit.
Both Fillingim and McGonagle, who were part of the 2015 world champion national team, are expected to be included again in the six-surfer roster that will be announced Wednesday for the 2016 World Surfing Games. Costa Rica will host this year's world championship in Jacó starting on Aug. 7.
Fillingim and McGonagle will likely be joined by the country's top-ranking world circuit surfers Carlos "Cali" Muñoz and Leilani's older brother Noe Mar McGonagle. That leaves room for one more male and one more female surfer.
The big question for national team coach Wade Sharp is whether he'll favor Vindas, a member of the 2015 gold medal team, or if he'll pick the streaking Gussoni for the second female spot next to McGonagle.