CARACAS – Venezuela's opposition on Tuesday took control of the legislature for the first time in 17 years but failed for the time being to clinch the two-thirds "supermajority" it had hoped for.
The National Assembly swore in lawmakers to 163 of the 167 seats, with three opposition and one pro-Maduro lawmaker suspended pending a government lawsuit over alleged electoral fraud.
The provisional loss of its three legislators leaves the opposition with a still-powerful three-fifths majority, enabling it to remove Cabinet ministers from their posts, among other powers.
But it removes, at least temporarily, some powers President Nicolás Maduro's opponents would have had, including the ability to put legislation to a referendum and convene an assembly to draft a new constitution.
Observers have speculated that the opposition could have used those powers to seek to force Maduro from power before the end of his term in 2019.
Lawmakers loyal to Maduro staged a walkout from the swearing-in session of the new opposition-dominated assembly, disrupting their rivals' efforts to launch reforms amid high tension.
Related: Former Colombian, Bolivian leaders warn of looming humanitarian crisis in Venezuela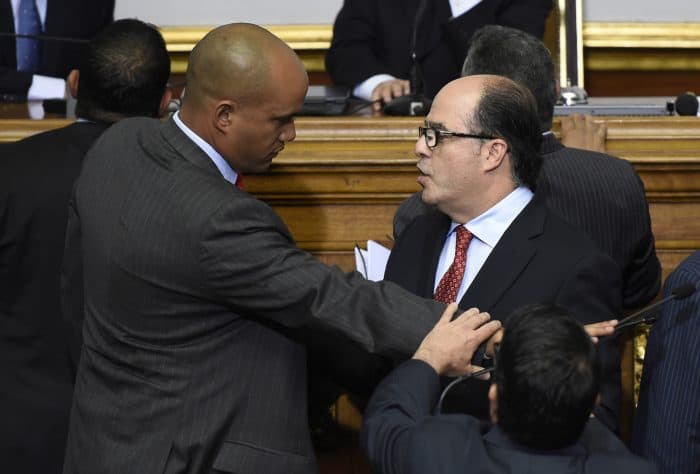 The lawmakers abandoned the chamber of the National Assembly during tense debating after being sworn in.
Their figurehead, the assembly's outgoing speaker Diosdado Cabello, said they walked out because his opposition successor, Henry Ramos Allup, broke the rules governing congressional debate.
The preceding hours of the session were marred by quarrelling in the assembly as the opposition MUD coalition clashed with members of Maduro's socialist PSUV.
The MUD has vowed change in the oil-rich, crisis-hit Southern American nation after 17 years of socialist rule. But Maduro still holds many of the cards under the presidential system.
The MUD won a supermajority of 112 seats in the assembly in elections on Dec. 6, but Maduro has taken steps to reduce its powers.
The Supreme Court last week upheld a request by Maduro to suspend three opposition lawmakers. One pro-Maduro deputy targeted by the same fraud allegations is also suspended.
Despite defiance by the opposition ahead of Tuesday's session, the assembly refrained from swearing in those four until the court case is resolved.
Maduro has vowed to defend the welfare programs of the socialist "revolution" launched by his late predecessor Hugo Chávez who came to power in 1999.
But voters punished him for the state of the economy.
Venezuela has the world's biggest known oil reserves but has suffered from a fall in the price of the crude on which its government relies.
It is in deep recession and citizens are suffering shortages of basic goods.
The tense political struggle has raised fears of fresh unrest after street violence sparked by anti-government protests left 43 people dead in 2014.