CARACAS, Venezuela – When Venezuela President Nicolás Maduro closed the border with Colombia, he did it from the presidential palace hundreds of miles away. On the ground, supervising deportations and local officials, was the country's iron-fisted chief lawmaker, Diosdado Cabello.
When store shelves grew bare in the sputtering state-run economy, it was Cabello who flew to Brazil in June to seal the country's biggest-ever food-supply deal. And when metal workers downed tools in protest over triple-digit inflation, Cabello flew to the steel plants and squelched the rebellion.
With the country's deepest-ever depression pushing Maduro's popularity to a record low, Cabello, president of the Congress, has acted in public as the loyal deputy, performing gritty tasks in the most difficult moments and places.
But Cabello, openly ambitious with a take-no-prisoners style, isn't just standing by his boss. With four in five Venezuelans telling pollsters that Maduro shouldn't serve out his term, Cabello is using such crises to set himself up as his successor.
"For now, Cabello has a marriage of convenience with Maduro, in which they understand they need to work together to ensure the continuity of the government," said Diego Moya-Ocampos, a London-based political analyst at IHS Inc., a consulting company. "Steadily, however, Cabello is positioning himself as the leader in the next presidential elections."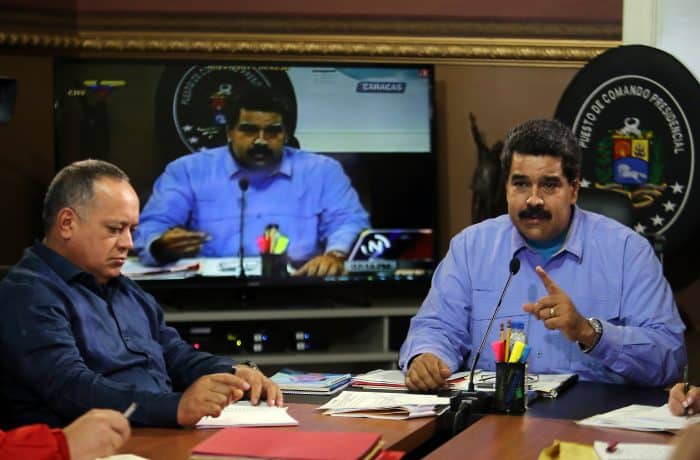 A retired army lieutenant from the plains of eastern Monagas state, Cabello, 52, joined Hugo Chávez, his military-academy mentor, in a failed coup in 1992. After Chávez won the presidency six years later, Cabello served as minister of public works and the interior, governor of the second-biggest state and vice president, before taking over the National Assembly.
Those positions have provided Cabello with unmatched access to the levers of power: the military, business and politics. He wasted no time exploiting that access, putting his siblings and wife in charge of customs, the tax agency and the industry ministry.
Cabello has been brutal toward the opposition, calling one of its leaders, María Corina Machado, a terrorist and assassin. Meanwhile, behind the scenes in Congress, he has engaged with the moderate sectors of the opposition.
Follow Diosdado Cabello on Twitter
During Chávez's final years, as illness set in, Cabello and Maduro were on parallel tracks. Maduro's access to the Cuban government, built during six years as foreign minister, helped him outmaneuver Cabello as heir during Chávez's last few months of treatment in Havana.
Now, with Maduro in political trouble, Cabello, who combines a talent for faction-building with an unforgiving approach toward enemies, may have his chance.
"Without a doubt, Cabello's faction is the most powerful in the government," said Moya-Ocampos. "He would be a key player in any political transition."
On his weekly TV show, "Hitting with a Club," Cabello plays tapes of incriminating conversations and displays photos of opponents and critical journalists. He threatened to sue all who accuse him of aiding drug smuggling while running the nation's ports and airports, as alleged by the Wall Street Journal in May.
If you've a few hours to spare, watch "Con el Mazo Dando" here:
A court barred 22 Venezuelan journalists from leaving the country for reprinting similar accusations made by Spanish media earlier this year. The tax agency, run by his brother, raided the offices of the main opposition newspaper, El Nacional.
Cabello didn't reply to a request made through the Information Ministry for comment on his political ambitions.
That transition may come before the 2019 end of Maduro's term as a result of parliamentary elections in December.
Chronic shortages of basic goods, runaway inflation, and soaring crime have put the government on course to lose control of the National Assembly for the first time in 16 years.
The opposition alliance and independents lead the ruling United Socialist Party by 30 to 40 percentage points in all national polls. If they win, they may start a referendum next year to remove Maduro from power.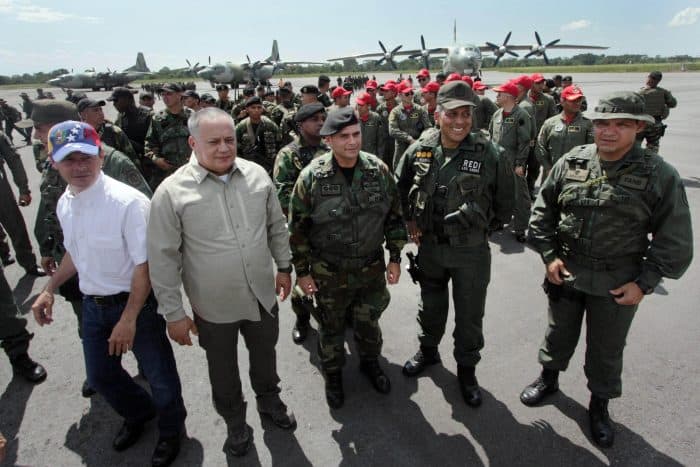 Venezuela's economy will shrink by almost a fifth in the three years through 2016, the worst slump in the country's 200-year history, according to Barclays.
Cabello's response to the crisis so far has been to close ranks with Maduro, said Luis Vicente León, director of Caracas-based polling company Datanálisis. "Cabello has been a fundamental factor in Maduro's ability to maintain governability," he said.
Despite constant TV appearances and official visits, Cabello has shied away from cultivating a separate political leadership. Only 1 percent of Venezuelans say they identify with him as a leader, compared with 20 percent for the jailed opposition leader Leopoldo López, according to a July poll by Caracas-based DatinCorp.
This seems likely to change if the opposition wins the December vote, said León.
"A significant defeat in the parliamentary elections without a doubt will divide the ruling party, forcing their internal divisions to the front," said León. "When this happens, a new leader will come through to challenge the president."
See also: Venezuela opposition leader Leopoldo López gets nearly 14 years prison
© 2015, Bloomberg News