WASHINGTON, D.C. – Venezuela could be headed for economic and humanitarian chaos in 2016, warn two former South American presidents just back from observing that country's Dec. 6 parliamentary elections.
Bolivia's Jorge Quiroga and Colombia's Andrés Pastrana, speaking last week at a Washington conference organized by the Americas Society/Council of the Americas, said Venezuela's opposition needs to move quickly and decisively in the wake of its defeat of chavismo for the first time since the rise of the late President Hugo Chávez in 1999.
They were joined by Venezuelan scholar Moisés Naím, a distinguished fellow at the Carnegie Endowment for International Peace, and by Héctor Schamis, adjunct professor at Georgetown University's Center for Latin American Studies.
"Venezuela is a new animal in the global zoo of regimes, a stealthy autocracy of the 21st century," said Naím, an internationally syndicated columnist who was Venezuela's minister of trade and industry from 1989 to 1990. "These regimes are very good at looking like democracies but behaving like autocracies. They have developed a very sophisticated bag of tricks. Essentially, this is a way of undermining, denying and evading checks and balances."
Naím, who in 1996 became editor-in-chief of Foreign Policy magazine, said Venezuela was "an extreme case" compared to other autocracies like Bolivia under Evo Morales, Nicaragua under Daniel Ortega, and Argentina under Cristina Fernández de Kirchner, whose eight-year tenure as president ended earlier this month.
"Essentially, you build a very powerful propaganda machine, you hide the numbers – making it very hard to debate anything – and you create skepticism," he said. "In Venezuela, colectivos are violent, armed, murderous bands that are paid and trained by the government, which can use them to intimidate the people without showing they are, in fact, a tool of the state."
Then, Naím said, these dictatorships take over the media and turn them into mouthpieces of the regime. "Little by little, they buy TV stations, radio stations and newspapers at very steep prices. But the week after they take control, all of a sudden they become silent about anything the government does wrong."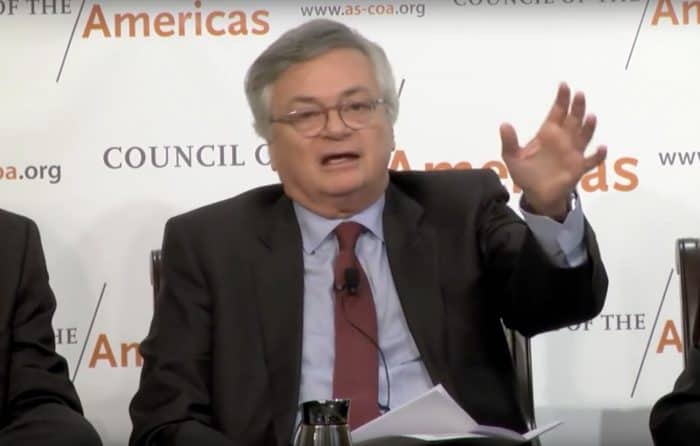 Pastrana, who led Colombia from 1998 to 2002 and later served as the country's ambassador in Washington, said it's urgent that the Democratic Unity (MUD) coalition – which won 112 out of 167 seats in Venezuela's National Assembly in the Dec. 6 election – choose a new Assembly president as soon as possible.
"That's going to be a clear message internationally that the opposition is united," he warned. "Outside of Venezuela, people still think the opposition is not united. You won elections, but the problem now is not elections. The problem is going to be a humanitarian crisis. People don't have medicines, children are dying – and I think the opposition should concentrate on that."
The opposition on Tuesday accused President Nicolás Maduro's United Socialist Party of plotting to challenge the election of 22 of those 112 opposition lawmakers. Maduro's allies called it a "procedural coup" and reportedly threatened an injunction against those incoming deputies before the Supreme Court.
However, on Wednesday, the Democratic Unity Roundtable said the ruling party had dropped that legal challenge, AFP reported, adding that the Supreme Court said it had received no such complaint.
With 112 seats, the opposition would be able to call a national referendum, overturn judges, pass constitutional reforms and begin the process of ousting Maduro, who took over as president upon Chávez's death in 2013.
The AFP also reported that the socialist party used the final days of its legislative majority to name 34 new judges on Wednesday to the country's highest court. National Assembly speaker Diosdado Cabello swore in 13 judges and 21 substitute judges to the Supreme Court, after the ruling party voted them through in an extraordinary session. They will serve terms of 12 years, AFP added.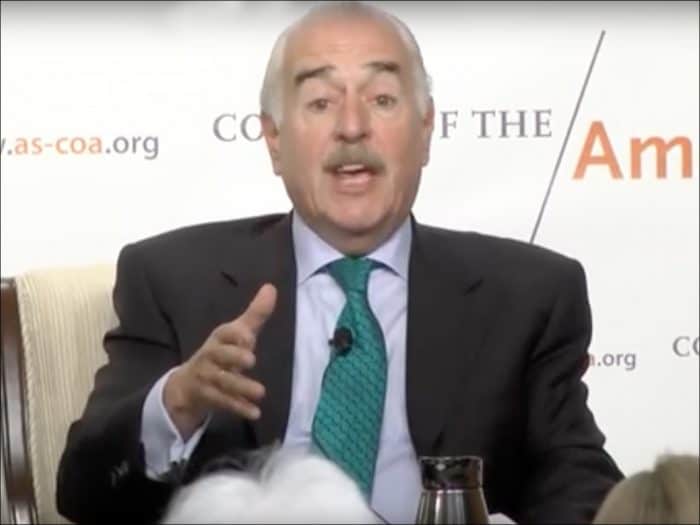 Ill will
The continuing feelings of ill will between the Maduro government and the opposition don't surprise Pastrana, who criticized the regional Unasur bloc as lacking the "moral authority" to monitor the Dec. 6 nationwide contest.
"We asked the Venezuelan government to invite the OAS and the EU [to observe the election], but we don't believe in Unasur," he said. "Its secretary-general has been saying since last year that Venezuela is the world's best example of democracy, so how can he be a partial observer? This is like Dracula taking care of the blood bank."
Quiroga, who served one year as president of Bolivia – from 2001 to 2002 – is now vice president of the Club de Madrid, a nonprofit organization composed of 95 former heads of state (including two former Costa Rican presidents, Óscar Arias Sánchez and José María Figueres). The club's main goals are to strengthen democratic institutions and resolve political conflicts in two key areas: democratic leadership and governance, and response to crisis and post-crisis situations.
"The 21st century has been dominated by the Venezuelan regime. Never before has a Latin American government had so much power for such a long time, with so much money and such incredible outreach. Latin America's leader is supposed to be Brazil, Argentina or Mexico. But lo and behold we had Venezuela riding the chi-cha decade," Quiroga said.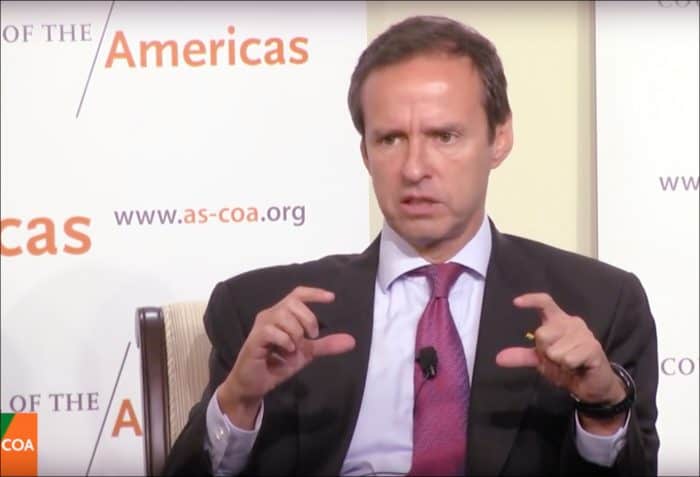 'Chinese bonanza' gone
Quiroga said the "Chinese bonanza" – which saw South American exports of food crops, minerals and hydrocarbons to China, including from his native Bolivia, reach record highs – helped solidify the Chávez regime's disproportional influence.
"The deceased Mr. Chávez was a powerful combination of CNN, MTV, the History Channel and Comedy Central all rolled into one," Quiroga said, to much laughter. "At the heyday of their power, they had 22 of 34 votes in the OAS in their pocket, not to mention the previous secretary-general [José Miguel Insulza]."
Even worse, he said, Chávez exported his authoritarian model while "trampling on the constitution, jailing people and muzzling the free press. You name it, he did it."
However, times have clearly changed in Caracas, he warned.
"The Chinese bonanza is no longer there, the talented communicator is no longer there, and clearly the oil money is no longer there," said Bolivia's former leader, noting oil prices are now at $36 a barrel, down from a peak of $145 a barrel in July 2008.
"If I asked any of you to let you run the most beautiful country in the world and give you 15 years to sink it, you could not possibly do what was done to Venezuela," Quiroga said. "They're clearly broke. And with the few dollars that are left, instead of importing basic necessities like food, they're being stolen by friends of the regime."
Noting that Venezuela's largest paper money currently in circulation is the 100 bolívar banknote – worth only 12 cents at prevailing exchange rates – Quiroga said "there is no easy way out" of the country's economic mess.
"The dawn is not quite here yet. And just like two centuries ago, a Venezuelan got on his horse, traversed the Andes and freed a continent," he said in a reference to South American liberator Simón Bolívar. "Now a new bunch of Venezuelans are doing heroic work, but not riding horses. They're riding Twitter, YouTube, Instagram and Facebook, they're a shining example of the fight for freedom, and they deserve our support."