International Film Festival
Approximately 45 films from all around the world will be screened at this year's festival. Locations include the Magaly Theater, 1887 Theater, La Aduana Theater, and National Cultural Center (CENAC) Amphitheater, from Dec. 11-18. Check out the whole program here.
"Festival Internacional de Cine" takes place Dec. 10 – 18 at various theaters around San José. ₡1,000 – 1,500 ($2 – 3), free for seniors. More info: Festival Internacional de Cine Facebook page. Buy your tickets here.
Creative Village
Fifty producers, designers, and artists have united to create a unique cultural offering at two December fairs. Drop by to check out products including jewerly, self-care products, art, food, and beautiful Christmas gifts.
"Aldea Creativa" takes place Dec. 11 – 13 at the National Culture Center (CENAC), downtown San José next to Parque España, and Dec. 15 – 22 at Hotel 1492, Barrio Escalante. 11 a.m. – 8 p.m. Free. More info: Aldea Creativa Facebook page.
Arte Sano
Art that's produced in environmentally friendly and holistic ways: Approximately 20 organic producers and artisans will offer ice cream, coconut oil, snacks, medicinal infusions, candies, fruits, vegetables, cosmetics, jewerly and many other products. Activities during the day include yoga, Indian dance and peña flamenca classes, and live music featuring guitars, harps, trova and Irui. Organizers will donate 30% of all earnings will to the Territorio de Zaguate animal-welfare organization; the remaining 70% will go to the Agro-Ecological and Artisanal Market.
"Arte Sano" takes place Dec. 12 at Alquimia Earth Market, Santa Ana. 8 a.m. – 4 p.m. ₡1,000 ($2). More info: Event Facebook page.
Free Yoga and Gift Drive
As part of the annual Barrio Otoya gift drive to benefit children in the indigenous region of Talamanca, that neighborhood's yoga studio, Downtown Yoga Costa Rica, is teaming up with Mercado Combai in Escazú to offer a free yoga session: your ticket in is a gift for a child. (No time to shop beforehand? There's a Pague Menos store right next door.)
"Yoga Gratis con Donación de Juguete" takes place Dec. 13 at 10 a.m. at Mercado Combai, across the highway from Multiplaza Escazú. More info: Event Facebook page.
Art Exhibit: "Under the Sun"
U.S. artist Cher Compton will unveil her latest exhibit, "Bajo el sol" at Guanacaste's Hidden Garden Art Gallery. Her paintings reflect the beauty of the simple elements that characterize Costa Rican life.
"Bajo el sol" will be exhibited Dec. 12 – Feb. 5 at Hidden Garden Art Gallery, 5 km west of the Daniel Oduber International Airport, Liberia, Guanacaste. 10 a.m. – 4 p.m. Free. More info: 2667-0592/8386-6872.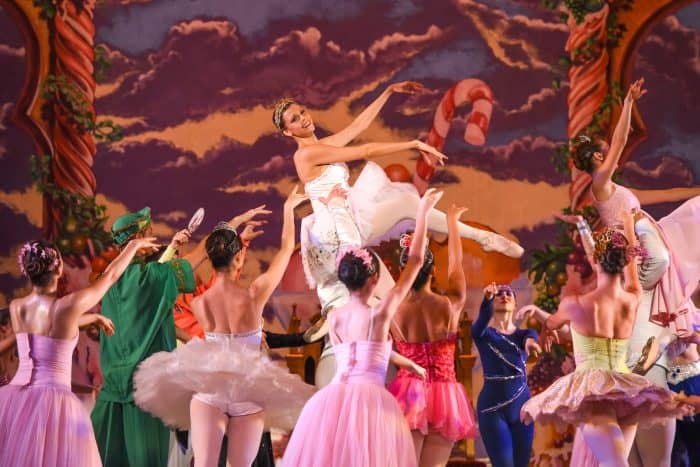 "The Nutcracker"
The National Theater kicks off the Christmas season with its annual performance of the classic ballet.
"Ballet El Cascanueces" will be performed Dec. 11 at 8 p.m. and Dec. 13 at 11 a.m. and 5 p.m. At the National Theater, downtown San José. ₡17,000 – 34,000 ($34 – 68). More info: National Theater Website.
Christmas Concerts
The Municipal School of Integrated Arts (EMAI) will offer Chritmas concerts with its Youth Orchestra, Intermediate Orchestra and Lyric Choir.
"Conciertos navideños" will be performed Dec. 11 at Piedades Elderly Center, Santa Ana, 7 p.m.; Dec. 12 at the Children's Home in La Virgen de Sarapiquí, 5 p.m. and at the Rainforest Lodge in Sarapiquí, 7 p.m.; Dec. 19 at the Church of La Cruz, Guanacaste, 7 p.m.; Dec. 20 at the Cathedral of Liberia, Guanacaste, at 11 a.m.; and Dec. 24 at the Church of Santa Ana,  8 p.m. Free. More info: EMAI  Website.
Tropical Market
Just in time for your holiday shopping, the annual Tropical Market returns with the best from Costa Rican artisans. Artwork, crafts, natural cosmetics, gourmet products, independent publications, local food products, and more.
"Mercado Tropical" takes place Dec. 18 – 20 at Mercado Antiguo, Ciudad Colón. Free. 11 a.m. – 8 p.m. More info: Mercado Tropical Facebook page.
Gangoche Christmas
A Christmas play by famous Costa Rican puppeteer Juan Cuentacuentos, "Gangoche Christmas" describes a humble but hopeful Christmas Eve.
"Navidad de Gangoche" takes place Dec. 13, 15, 17, 18, 19, 20, 22, and 23. ₡7,000 ($14). At La Fortuna Theater, Paseo de las Flores, Heredia. More info: 2560-7777.
Staged Narration of "A 

Christmas

 Carol"
The Little Theatre Group will celebrate its first Christmas at their new home with 7 performances of a stage narration of Charles Dickens traditional story, "A Christmas Carol."
"Staged Narration of A Christmas Carol" will be performed Dec. 9 – 13. Wed- Fri: 7:30 p.m. Sat – Sun: 2:30 p.m. and 7:30 p.m. Little Theatre Group headquarters on Calle Rolex, San Rafael de Escazú; detailed directions are here. Suggested donation ₡6,000 (approximately $12) adults, and ₡3,000 ($6) children and students. Reservations are required. More info: Little Theatre Group Website or 8858-1446.
Upcoming Concerts:
John Carey & JR: New Orleans "Harmonica Wizard" John Carey will play along with Costa Rica's own JR Blues Band, with special guest Manuel Obregón on the piano. Dec. 11 at Amón Solar. 8 p.m. ₡8,000 ($16). More info: 2221-2302.
Rock Classics: Gira Earth band will play the rock hits of the 70s, 80s and 90s. Dec. 11 at Oz Bar. 9:30 p.m. ₡2,500 ($5). More info: 6053-3220.