Two FIFA vice presidents were arrested Thursday at dawn at their luxury Zurich hotel, signaling that U.S. prosecutors have widened a seven-month corruption investigation that's led to the biggest crisis in football's history.
Alfredo Hawit of Honduras and Juan Ángel Napout of Paraguay were arrested at the Hotel Baur au Lac at the request of U.S. authorities on suspicion of accepting millions of dollars in bribes for selling marketing rights to football tournaments in Latin America. The pair are opposing extradition to the United States, the Swiss Federal Office of Justice said in a statement. U.S. Attorney General Loretta Lynch was scheduled to detail the charges on Thursday afternoon in Washington.
On May 27, seven FIFA officials gathered in Zurich for FIFA's congress were detained in a dawn hotel sweep as part of a U.S. federal indictment of 14 sports officials for racketeering and bribery. Prosecutors accused U.S. and South American sports marketing executives of paying more than $150 million in bribes and kickbacks for media and marketing rights to football tournaments.
The arrests are the latest by the U.S. Department of Justice and Switzerland's Attorney General as they crack down on corruption on the sport's governing body. Swiss prosecutors opened an investigation into a 2 million-Swiss franc ($1.96 million) payment from Joseph "Sepp" Blatter, who's overseen FIFA for nearly two decades, to Michel Platini, European football's head. Both were suspended in October.
"As it stands, FIFA is not corrupt," Issa Hayatou, FIFA's acting president told reporters at a building known as the Home of Football at the organization's headquarters in the hills above Zurich. "We have individuals who have shown negative behavior, so do not generalize the situation."
Napout, the head of the South American Football federation known as Conmebol, didn't answer an email seeking comment. A spokesman for Concacaf, the North and Central American association headed by Hawit, said the organization is cooperating with authorities, and would continue with reforms made earlier this year.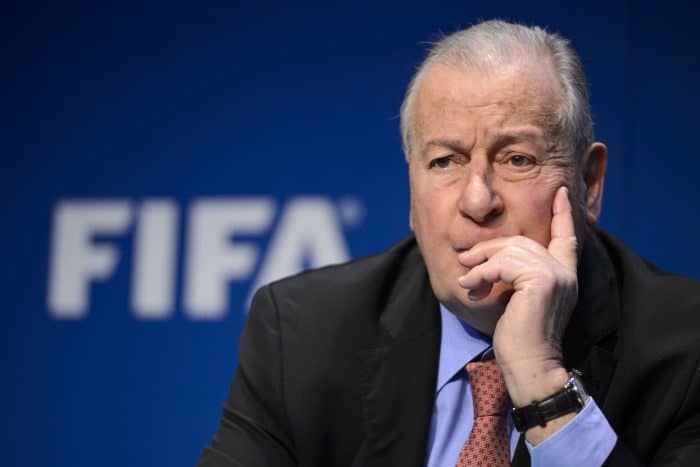 The New York Times, which reported the arrests, said more than a dozen people are expected to be charged by U.S. authorities. A BBC sports reporter tweeted that the number may climb to 16.
"According to the arrest requests, some of the offenses were agreed and prepared in the U.S.," the Swiss Federal Office of Justice said. "Payments were also processed via U.S. banks."
The Swiss authorities said they'll ask the U.S. to submit formal extradition requests within 40 days.
Among those charged in May were Jeffrey Webb and Jack Warner, both former presidents of football's governing body for North America, Central America and the Caribbean, or Concacaf. They deny wrongdoing. The U.S. has secured guilty pleas from Chuck Blazer, Concacaf's former general secretary; Brazilian sports-marketing executive Jose Hawilla, who agreed to forfeit $151 million; and Warner's two sons, Daryll and Daryan.
Blazer secretly pleaded guilty in 2013 to racketeering, wire fraud and money laundering charges and income-tax evasion. The 70-year-old forfeited more than $1.9 million at the time of his plea and agreed to pay more money when he's sentenced.
Since those arrests, more turmoil has shaken the South American football establishment. Last month, Chilean football association president Sergio Jadue resigned from his post and headed to New York to help the Federal Bureau of Investigation, La Tercera and El Mercurio reported. The head of Colombian football, Luis Bedoya, also resigned in November.
The head of Brazilian football, Marco Polo Del Nero, stepped down last month from his role on FIFA's executive committee. He hasn't left the country since returning hurriedly from Zurich a day after May's arrests. Del Nero, already facing a probe by Brazil's parliament, is now the subject of proceedings by FIFA, according to a statement Thursday by the investigatory chamber of its ethics committee.
Former Brazilian football official José María Marín is subject to house arrest at New York's Trump Tower after putting up $15 million in bail. Webb, who was released on $10 million bail after agreeing to return to the U.S. in July, is living in the Atlanta suburb of Loganville, with electronic monitoring. Both have pleaded not guilty.
FIFA released a statement early Thursday, saying the Zurich-based body pledged to "continue to cooperate fully with the U.S. investigation as permitted by Swiss law, as well as with the investigation being led by the Swiss Office of the Attorney General."
As the U.S. expanded its investigation, Swiss authorities began their own criminal probe into the awarding of the 2018 and 2022 World Cups to Russia and Qatar. A spokesman for Switzerland's Attorney General declined to comment Thursday and referred all questions to the Federal Office of Justice, which handles requests for extradition and other judicial assistance from foreign bodies including the U.S. Department of Justice.
Reporters and TV camera operators were gathering outside the Baur au Lac, although there was no police presence or signs of the earlier raids. Attention has now shifted to FIFA's headquarters, located on a hill above central Zurich, where a reform committee responsible for crafting proposals to overhaul FIFA is scheduled to hold a press briefing Thursday at around 2 p.m. local time. The U.S. Department of Justice said it will discuss the arrests during a media event in Washington, D.C. at 1:30 p.m. local time.
FIFA's executive committee will make a decision on corporate reforms including term limits for senior officials, salary disclosures and an increase in women on the organization's board. Most of the changes will require a vote of FIFA's full membership at an emergency congress in February.
Bloomberg's Paul Verschuur, Ting Shi, Jeffrey Vögeli and David Voreacos contributed.
© 2015, Bloomberg News