PARIS – Stirring renditions of "La Marseillaise" rang out Saturday from Dublin to New York as global landmarks were bathed in the French colors and thousands marched in solidarity with Paris after attacks that left at least 129 dead.
Monuments from the Sydney Opera House in Australia to One World Trade Center in New York were adorned with France's red, white and blue, while the "Peace for Paris" symbol combining the city's iconic Eiffel Tower with the peace sign of the 1960s went viral online.
New York's Metropolitan Opera led by star tenor Placido Domingo mourned the victims of France's worst-ever such attacks with an unscheduled performance of the distinctive French national anthem.
Many of the 6,000 participants in a march in the Irish capital were draped in the French blue, white and red flag, while others also sang the national anthem.
London paid homage to the victims as some 2,000 people gathered at an evening vigil in the British capital's Trafalgar Square, where fountains and the grand portico of the National Gallery opposite were lit to resemble the Tricolour.
Around 150 people displayed flags and homemade placards reading "London stands with Paris" and "Nous sommes Paris" ("We are Paris") in reference to the #JeSuisCharlie hashtag that went viral after the French satirical magazine was attacked in January.
Across the French capital, Parisians placed lit candles in their windows in memory of the dead but the Eiffel Tower, the symbol of the so-called city of light, was shrouded in darkness and would remain closed "until further notice," a spokeswoman told AFP.
Bouquets, candles and messages of condolence were laid at French embassies worldwide.
"Montrealers, we are all Parisians," said Anie Samson, who led around 1,000 people at the consulate in French-speaking Montreal in Canada.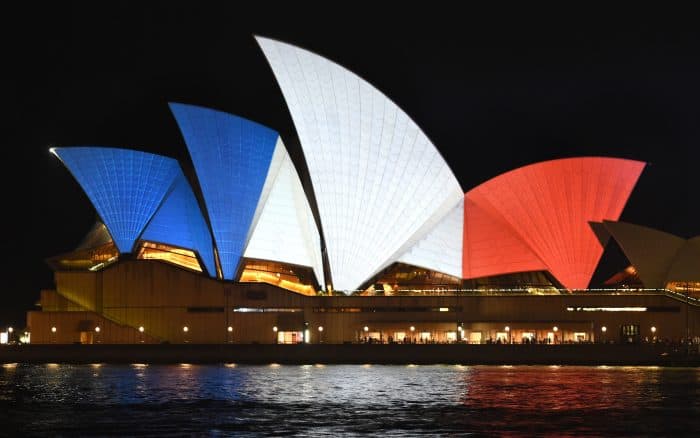 Minute's silence
A Twitter campaign has begun encouraging notoriously tribal England football fans to join with French traveling supporters in singing "La Marsellaise" before the kick-off in Tuesday's friendly match between both countries.
The European Union called for a minute's silence to be held Monday for the victims of the attacks, after hundreds fell silent in Madrid and Barcelona outside city hall.
U.S. President Barack Obama, citing France's national motto, said "we are reminded in this time of tragedy that the bonds of liberte, egalite, fraternite, are not just the values French people share, but we share."
British Queen Elizabeth II said she and her spouse Prince Philip were "deeply shocked," and Prime Minister David Cameron offered Britain's help.
Indian Prime Minister Narendra Modi called the attacks "anguishing and dreadful" and Hassan Rouhani of Iran condemned them as "crimes against humanity."
"The Paris tragedy requires of us all to unite in the fight against extremism," said Russian Prime Minister Dmitry Medvedev.
Chinese President Xi Jinping said: "In these tragic times for the French people, I want … to condemn in the strongest ways this barbarous act."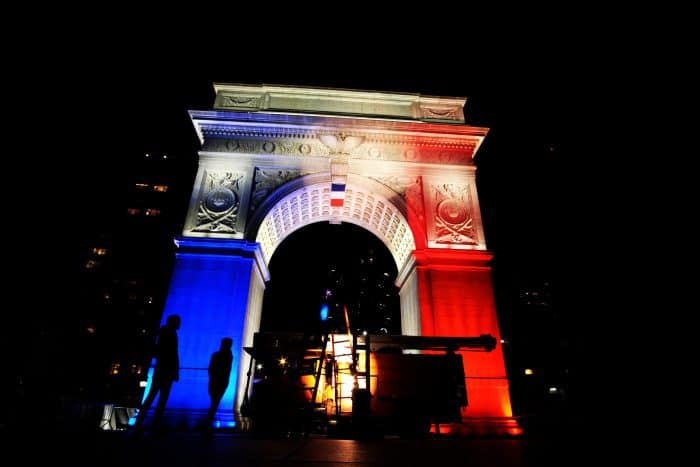 NATO chief Jens Stoltenberg stressed that the Paris attacks were not part of a fight between the Islamic world and the West.
"This is a fight between extremists, criminals and people who believe in the fundamental values of freedom and the respect for human rights," he told AFP.
But Syrian President Bashar al-Assad said France's "mistaken policies … have contributed to the spread of terrorism."
"France has got to know what we live with in Syria," he added, as a Syrian passport was found at the scene of one of the attacks.
'We are all France'
The outpouring of solidarity generated massive amounts of activity on social media, with the hashtags #prayforparis and #jesuisparis going viral.
One user, @emilymiddlemas_ , wrote: "I am so heart broken! All my love and prayers go out to everyone affected by this horrible attack, when will this stop?"
A "Peace for Paris" symbol, combining the city's Eiffel Tower with the peace sign, has gone viral on the Internet.
https://twitter.com/DessyHinds_/status/665367292314800128
The designer, 32-year-old London-based French graphic artist Jean Jullien, said "given the scale of the violence, the peace-and-love symbol was essential."
Among other reactions:
– Pope Francis said: "There cannot be justification, religious or human" for the attacks.
– Spanish Prime Minister Mariano Rajoy declared, "We are all France," apparently echoing France's support for the United States ("We are all Americans") after 9/11.
– Nigerian President Muhammadu Buhari hit out at "barbaric attacks, … an unacceptable affront to all human values and civilized norms."
– The grand imam of the prestigious Al-Azhar mosque in Cairo called the attacks "despicable," adding "it is time for the whole world to confront this monster."
– Israeli Prime Minister Benjamin Netanyahu: "Israel stands shoulder to shoulder with French President Francois Hollande and with the people of France in our common battle against terrorism."