UPDATE, 11 p.m. on Monday: 
Juan Santamaría International Airport is set to re-open at 6:00 a.m. Tuesday after temporarily closing for nearly 12 hours due to volcanic ash falling from the Turrialba Volcano eruption Monday afternoon.
As of this writing, a total of 13 inbound flights to Costa Rica were affected by the decision to close the airport because of ash that fell on the runway, according to Aeris spokeswoman Silvia Chaves. Ash on the runway can make landing dangerous and damage plane engines.
There were no details available at this time on how the eruption might affect outbound flights.
Overnight, 100 workers swept and vacuumed the runway to prepare it for operation Tuesday morning.
UPDATE, 8 p.m. on Monday: 
The ash from Turrialba Volcano has forced operators of the Juan Santamaría International Airport, outside Costa Rica's capital city of San José, to temporarily close. According to Silvia Chaves, a spokeswoman for Aeris, the company that operates the international airport, seven inbound flights are either delayed or cancelled until further notice. That number could change in coming hours, she said. No outbound flights have yet been affected.
For a list of affected flights, check here. Follow The Tico Times for updates.
Original story continues here:
Turrialba Volcano is at it again.
At 3:25 p.m. Monday the colossus sent a tower of ash and gas 2.5 km high. Ash from the eruption is expected to reach the capital, San José, the National Emergency Commission (CNE) posted on its Facebook.
Jump to 0:32 to see the eruption in unusually clear conditions.
https://www.facebook.com/OVSICORI/videos/vb.106757629361504/835034989867094/?type=2&theater
Airports have been alerted, said CNE, but there is no word if the ash could close airports in the Central Valley.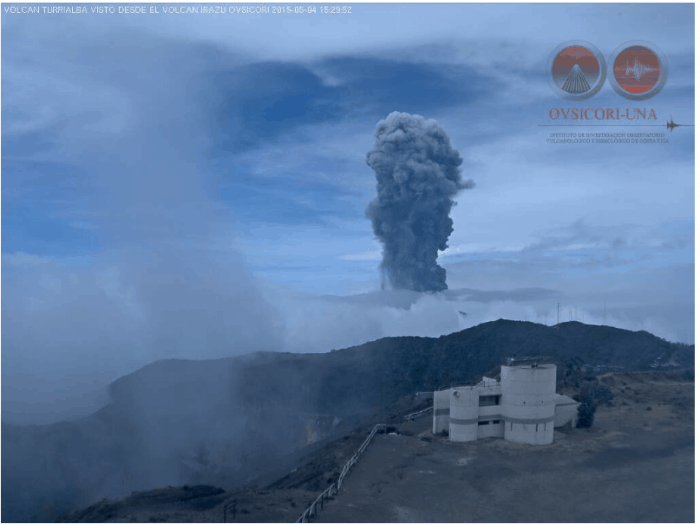 Follow updates at wordpress-257819-2837440.cloudwaysapps.com.