RIO DE JANEIRO — Petroleo Brasileiro Chief Executive Officer Maria das Gracas Foster and five of her top managers stepped down amid a corruption probe that's wiped out billions of dollars of the oil producer's market value and threatens Brazil's economic revival.
State-run Petrobras' board of directors will meet Friday to elect replacements for Foster, 61, and her management team, it said in a one-sentence statement Wednesday. It's unclear from the announcement whether managers will remain at their posts until replacements are founds. No one CEO candidate has emerged yet.
The Rio de Janeiro-based company is shaking up management after allegations that at least three other former executives were bribed to award construction contracts. The departure of Foster, an engineer who rose through the ranks to become the first female CEO of Latin America's largest publicly traded oil company in 2012, comes after the stock sank as much as 70 percent from a September peak on collapsing crude prices and multiple corruption investigations.
"It might be hard to find executives who are willing to join management under the current conditions and with all these problems," Alexandre Povoa, who helps oversee $100 million at Canepa Asset Management, said in a phone interview from Rio. "Investors want a new CEO who is, first of all, not linked to political groups. It should be someone from the markets who's able to put Petrobras back on track."
A record 23 billion reais ($8.9 billion) in suspect transactions have been uncovered in the probe, dubbed Carwash. Two former Petrobras executives were arrested last year including ex-refining head Paulo Roberto Costa as part of the investigation into alleged kickbacks by contractors. Petrobras has delayed releasing audited financial results as it considers writedowns needed to account for graft-related costs.
Petrobras rose 2 percent to 10.20 reais at 11:31 a.m. in São Paulo. The stock surged 15 percent Tuesday as speculation of a management overhaul mounted.
It remains unclear which members of the executive team apart from Foster stepped down or if Chief Financial Officer Almir Barbassa, who had expressed a desire to retire since 2012, is among them. Petrobras' press department in Rio declined to elaborate.
Foster's departure probably will help Petrobras's outlook because it means the government is trying to fix management and may have a more friendly approach to outside investment, according to Eurasia Group analysts led by Christopher Garman.
"With low oil prices and Petrobras's financial difficulties, the incentives to lean more on international oil companies to help develop the pre-salt have grown substantially," the Eurasia analysts wrote about the company's offshore discoveries. "It is clear that any substitute to Graca is likely to be someone with industry credentials and capable of conducting a 'house cleaning' of the firm."
The scandal has also engulfed Brazil's largest construction companies, which may bring public works projects to a halt, and threatens the presidency of Dilma Rousseff, who served as Petrobras chairman during some of the time when the alleged graft was occurring.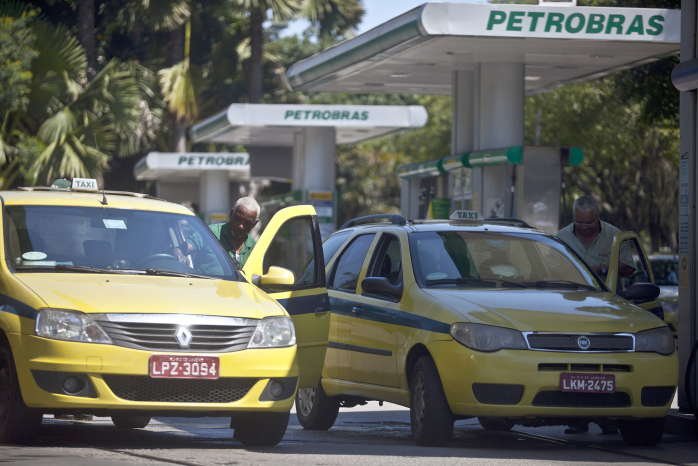 Foster, a frequent guest at the presidential palace in Brasilia, had offered to resign "one, two, three times" after the company was forced to delay quarterly results because of the scandal, she told reporters on Dec. 17. Foster said then that she would stay in the job as long as the president trusted her. Rousseff has been a personal friend since the two worked together at the Ministry of Mines and Energy in 2003.
Pressure on Foster started to build in October, when the company's external auditor refused to sign off on quarterly results. She faced resignation calls after a recently demoted Petrobras executive alleged she'd ignored corruption warnings in the past. The company said Dec. 15 that Foster acted swiftly to pursue claims of corruption and misconduct.
Brazil Prosecutor General Rodrigo Janot, who is leading an investigation into any political links from the alleged corruption, called for the company to replace its management in a Dec. 9 speech.
Foster's departure is in stark contrast to her appointment as CEO. When she was first reported to be a candidate for the job, Petrobras surged 18 percent in less than a month as investors bet her technical background would benefit the company's management style and offset the government's political intervention in business decisions.
Foster's first steps included removing Costa and two other directors, who are now under arrest or under investigation by prosecutors and police. Foster also slashed production growth estimates, toughened negotiations with suppliers and criticized the previous management for missing targets.
She also attacked budget overruns at the Abreu & Lima refinery in northeastern Brazil, one of the main projects where contractors and Petrobras officials are now accused by prosecutors of colluding to divert funds. Part of these funds allegedly went to political parties in the ruling coalition, according to testimony that is part of the court record.
Initial investor enthusiasm for Foster waned after she failed to eliminate fuel subsidies that have caused more than $44 billion in operating losses since early 2011. The government controls Petrobras's board through a majority of voting shares.
The company has lost 56 percent since she took over on Feb. 13, 2012, making it the worst-performing major oil stock tracked by Bloomberg.
Foster's exit comes at a time when Petrobras is trying to speed oil output growth after increasing the number of production vessels extracting crude from the largest crude discoveries in the Western Hemisphere in almost 40 years.
The company, which is also being investigated by the U.S. Securities and Exchange Commission and had at least four class actions lawsuits filed in the U.S., must report audited results in the coming months to avoid violating bond agreements.
Speaking to the press at the company's headquarters before Christmas, Foster said she'd had to hand over her laptop, iPhone and iPad to independent investigators, who have a one-year contract to probe the corruption allegations.
"This is good for the company," she said, wearing a Petrobras-logo shirt. "We aren't afraid of the truth."
Godoy reported from São Paulo. Juan Pablo Spinetto contributed from Rio de Janeiro.
© 2015, Bloomberg News