WASHINGTON, D.C. – U.S. President Barack Obama will pledge $3 billion to a United Nations climate-change fund that's intended to help poor nations boost renewable energy and counter the ill effects of global warming.
The pledge would make the United States the largest donor to the newly established fund, which is a linchpin of efforts to secure an accord within the U.N. to combat global warming. With pledges in place from Germany and France, and one coming from Japan, the Green Climate Fund is nearing its goal of securing $10 billion in pledges.
"This is a really important piece of building towards this international agreement," said Peter Ogden, a senior fellow at the Center for American Progress and a former Obama administration climate official. "This will be a hugely important moment for the negotiations themselves."
The U.S. funding would need approval of Congress, which for the first time in Obama's presidency will have both Houses run by the opposition Republican Party after victories in midterm elections last week.
The $3 billion pledge "is an unfortunate decision to not listen to voters in this most recent election cycle," said Sen. James Inhofe, R-Okla., a skeptic of climate change who is set to chair the Senate Environment and Public Works Committee next year. "In a new Congress, I will be working with my colleagues to reset the misguided priorities of Washington the past six years."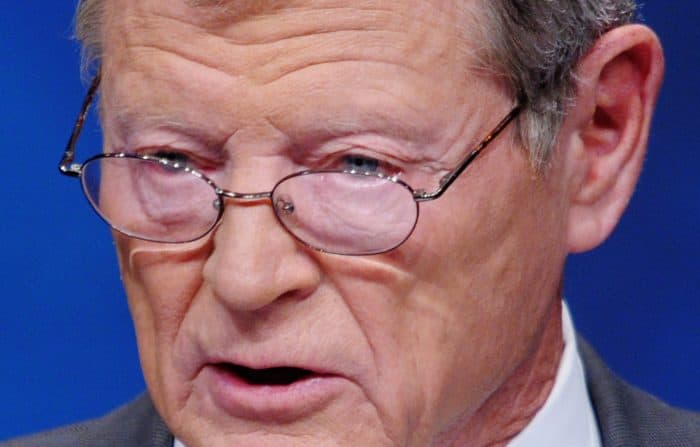 The Obama administration is leading efforts among nearly 200 countries at the U.N. to secure a pact to reduce greenhouse gases that scientists blame for global warming. That effort, which has progressed slowly since 2009, got a significant boost this week after the U.S. and China, the two largest emitters of carbon dioxide, announced their targets for the negotiations.
In Beijing, the U.S. pledged to cut its emissions by at least 26 percent by 2025 and China agreed for the first time to cap its overall emissions by about 2030, and said it will seek to get 20 percent of its energy from non-fossil-fuel resources. The climate funding has been a sticking point in the talks, which are set to wrap up in Paris next year.
"It is in our national interest to helping vulnerable countries to build resilience to climate change," the White House said Friday in a statement.
The pledge was announced just before a Group of 20 summit, which caps a trip to Asia by Obama after his party's losses in the midterm congressional elections. He is to arrive in Brisbane with policy victories from his stop in Beijing and on the heels of two days spent pressing the government of Myanmar to put its political and economic reform process back on track. "You're always popular in someone else's country," Obama joked at a town hall in Yangon earlier Friday.
Obama will include funding for part of the $3 billion in his next budget request, and will spread the funding out over a number of years, according to an administration official who spoke anonymously because budget figures haven't been decided.
Calls and emails to Republican Sens. Bob Corker of Tennessee and Lindsey Graham of South Carolina, who will have jurisdiction over budget requests, weren't immediately returned.
Under the so-called Green Climate Fund, established by the U.N., money will be used to lure private sector investment and help boost global markets in clean energy technologies, according to the Obama administration.
That would create opportunities for entrepreneurs and certain manufacturers who are taking steps toward a low-carbon economy, including those in the U.S. such as General Electric Co., according to an administration fact sheet.
Officials are scheduled to meet next month in Lima for two weeks of discussions to begin drafting the U.N. climate agreement.
Climate funding is key to convincing less developed countries to come on board a global agreement, said Jessica Brown, the former lead negotiator for climate finance at the State Department.
"The finance outcomes are so inextricably tied to the rest of the package that you can't really seal the deal without them," said Brown, now an analyst with the Climate Policy Initiative, a not-for-profit group that advises national governments. "The U.S. is taking this super-seriously."
Still, Friday's pledge should be taken with "more than a grain of salt," said Brown, who left the State Department in May. The funding will likely require both congressional approval and the support of future presidents, she said in a phone interview.
The Green Climate Fund was set up to distribute a portion of $100 billion in annual climate aid that Obama and other western leaders pledged in 2009 would be provided to developing nations by 2020. The promise included aid, private financing and funding from the World Bank. It's aimed at both helping poor countries lower their emissions and fight the effects of climate change.
A pledging conference is scheduled Nov. 20 in Berlin to accelerate fundraising efforts.
Many European nations have already announced donations. Germany has pledged 750 million euros ($930 million;), France has promised $1 billion, and Sweden has committed to 4 billion krona ($540 million). Pledges from South Korea, Denmark, the Netherlands, Norway, Switzerland, the Czech Republic and Luxembourg amount to more than $400 million.
Japan is making a pledge of about $1.5 billion, Kyodo News Agency reported.
Ogden and other supporters of the funding say it's the next step from a climate fund that was set up under the administration of Republican President George W. Bush. The U.S. is close to satisfying its $2 billion pledge to that Climate Investment Fund.
"Hopefully it's not DOA. This is something that's in our interest," said Jake Schmidt, director of the international program at the Natural Resources Defense Council in Washington.
"The president is a player in the budget process as well," Schmidt said, noting that Congress had approved funding for a predecessor fund every year. Republicans "can do a lot of things, but they can't do everything."
Phil Mattingly contributed from Yangon, Myanmar.
© 2014, Bloomberg News