UPDATE: 2014 Copa del Café champ Catherine 'CiCi' Bellis falls in US Open second round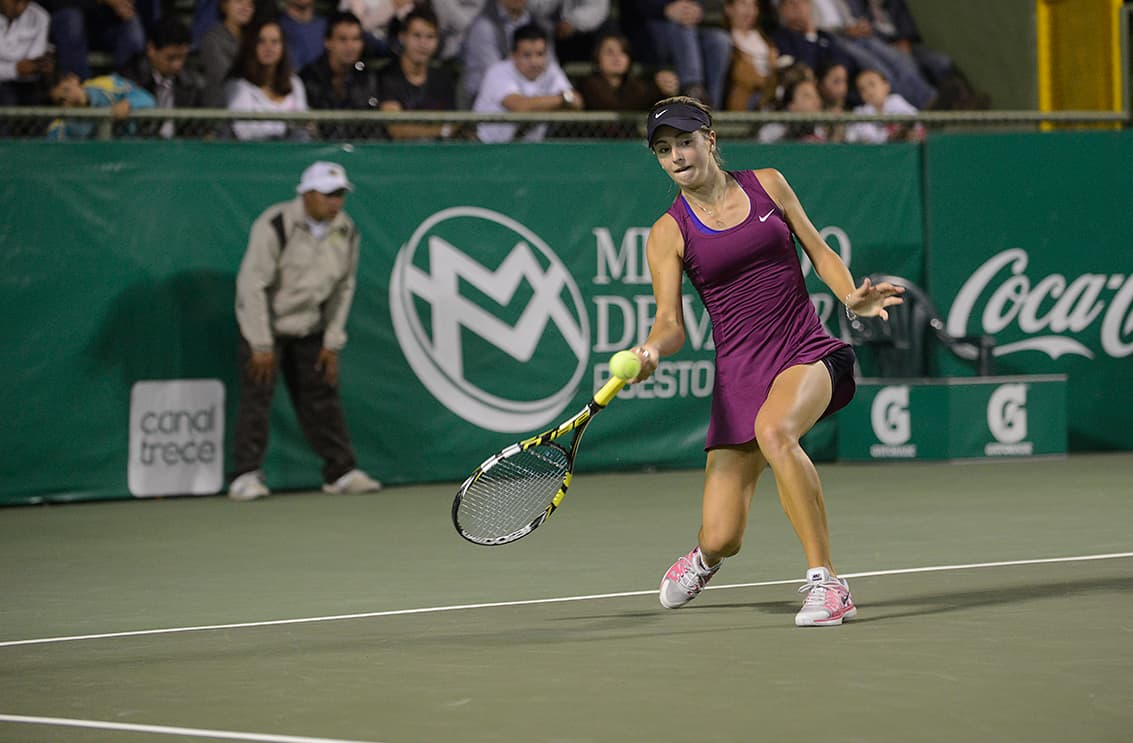 UPDATE: CiCi Bellis made a valiant effort. But the Copa del Café title holder couldn't pull off a second upset at the U.S. Open. Kazakhstan's  Zarina Diyas defeated the 15-year-old U.S. player 6-3, 0-6, 6-2.
The original preview story for Thursday's match continues below:
Catherine "CiCi" Bellis won the 2014 edition of Costa Rica's junior circuit tournament known as the Copa del Café. After her victory, the 14-year-old admitted to feeling nervous at the start because of all the spectators watching.
Tonight, Bellis, who turned 15 in April, could have an audience in the millions. She's the breakout star of the U.S. Open after winning her first round match against No. 12 seed and 2014 Australian Open finalist Dominika Cibulkova (6-1, 4-6, 6-4) on Tuesday.
Bellis, ranked 1,208th in the world, is the youngest winner at the tournament since Anna Kournikova in 1996. Her reward: A match against No. 48 seed Zarina Diyas of Kazakhstan on a bigger court (Court 17 – Capacity: 2,500 fans) and in front of TV cameras. Bellis and Diyas will take the court around 5 p.m.
Despite the mounting pressure, the New York Daily News writes that the California-native has relished her moment in the spotlight.
But Bellis said on Thursday that she was ready for this next match, and that she was reveling in the occasion. She practiced in the morning, before the gates opened at the center, and would hit again later off the grounds. Two practice sessions, after a three-set match the evening before.

"I'm not tired at all," she said. "And I love playing in the heat."

Since Belis' win over Dominika Cibulkova in that crazy, three-setter on Tuesday, life has become a bit hectic. She was interviewed again Wednesday at the outdoor ESPN studio on site, then immediately asked by parents to pose for photos next to children even younger than herself.
Also rising for Bellis is the amount of prize money she's turning down. The teen would've received $60,420 for her first round victory, but she's remaining an amateur to keep open the option of playing in college. Of course, the temptation will grow with another win Thursday. Players who reach the third round receive a purse of $105,090. The men's and women's U.S. Open champions both take home $3 million. If she gets that far, or even close to the final, perhaps she'll change her mind about going pro.
Other former Copa del Café players include retired stars Ivan Lendl and Bjorn Borg and current top U.S. Open competitors Roger Federer, Victoria Azarenka and John Isner.
Belarsus' Azarenka, the 16th-ranked woman and former world No. 1, and Isner, the top-ranked U.S. player (No. 13 seed in the world), both won second round matches Thursday. Swiss legend Federer plays his second round match Friday.
You may be interested