VALPARAÍSO, Chile – More than 8,000 people were evacuated Sunday as an army of firefighters battled a killer blaze that tore through parts of Chile's historic port of Valparaíso and left at least 12 people dead.
The fire, which started in woodland Saturday, gutted 500 homes as flames advanced on the city of 270,000, famed for its UNESCO-listed center with cobblestone streets and brightly painted wooden homes.
So far, that fabled historic center itself has been spared the worst. But for the city as a whole, the worst was far from over, authorities said.
"We are in what remains an emergency situation, … and it is a complicated situation," Defense Minister Jorge Burgos told Radio Cooperativa.
The hillside neighborhoods of Ramaditas, Pajonal and Mariposas were hit hard by wind-whipped flames.
"It is a terrible tragedy, without doubt the worst fire in the history of Valparaíso," President Michelle Bachelet declared after arriving in the hilly port city to oversee the emergency response.
"Families have not only lost their homes and their possessions but also their family memories," she lamented during a tour of the worst-hit areas.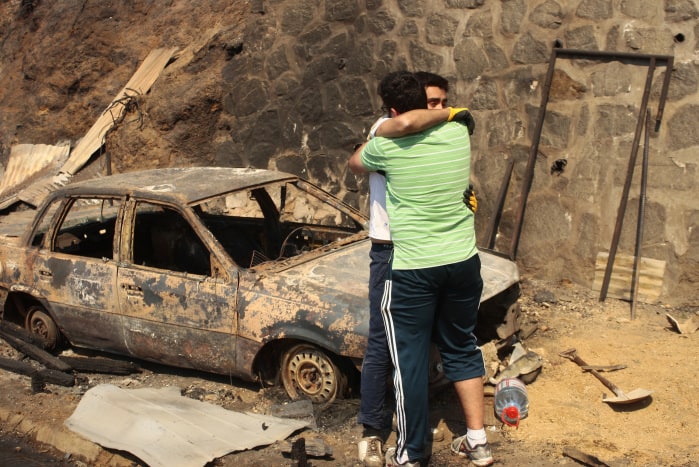 The cause of the inferno remains under investigation. Bachelet has declared the area a disaster zone, allowing the armed forces to assist in relief efforts and oversee the evacuation of thousands.
Police had said 16 were killed but then revised the toll downward, citing confusion between the numbers released by police and those given by city officials.
It was the second mass evacuation carried out in Valparaíso in as many weeks after the city was at the center of a tsunami alert following a magnitude-8.2 earthquake on April 1.
The stench of smoke and charred wood shrouded Valparaíso as dawn broke, with firefighters working to battle the flames that so far have ravaged just under 2,000 acres (800 hectares).
Authorities deployed 17 planes and helicopters in the firefighting effort, while about 3,500 firefighters and police were working to tackle the fire, authorities said.
'I've lost everything'
Residents who had been evacuated returned to their neighborhoods to discover their homes reduced to smoldering ruins.
Mónica Vergara said she had lost everything but voiced relief that her children were safe.
"I heard a huge explosion and it felt like our house lifted up. A fireman evacuated us," she told AFP. "I've lost everything, but my four children are safe and that's all that matters."
Firefighters warned that extinguishing the flames was complicated by the area's hilly geography, narrow streets and persistent strong winds.
Overnight, many residents watched helpless, from distant vantage points, as the hills burned bright red. Thick smoke clouded the sky.
Those caught in the path of the blaze after it erupted Saturday afternoon reported a fast-moving inferno that roared toward town, fanned by winds and searing temperatures.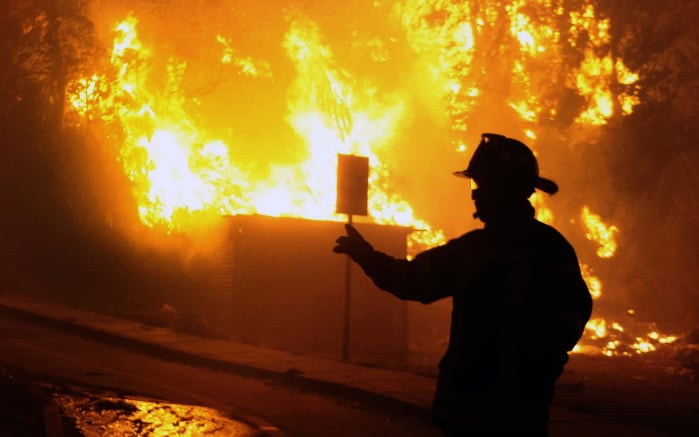 'Encircled by hell'
"It was as if hell encircled my family," Miguel Ramírez said. "The fire raced down the hills and destroyed everything in its path."
More than 200 inmates at a women's prison were evacuated due to "large amounts of smoke produced by the fire," said regional jail guard director Tulio Arce.
With the city spread out over more than 40 hills, emergency vehicles had trouble getting to their destinations.
"My brother's house was entirely burnt. We had only finished it two weeks ago. We tried to save something but it was truly an inferno," Cristobal Pérez told Chilevision TV.
"I started to become overcome by the smoke along with my two dogs. It was terrible, impossible to breathe," another resident told the channel.
The vast blaze has caused cuts to power and drinking water in many areas.
Valparaíso is one of Chile's most important ports. Its golden era was from the mid-19th century to the early 20th as a stopover point for ships steaming down South America and to round its southern tip into the Atlantic Ocean.
It became far less busy after the Panama Canal was opened a century ago.
The center of Valparaíso still features the many colored houses dating from that period, built by European immigrants.
Its cobbled streets and funicular trams running up near-vertical rails supported its 2003 listing as a UNESCO-protected heritage site.
Fires occur frequently in central Chile, where summer sends temperatures soaring. It is currently autumn in the Southern Hemisphere.
In February 2013, some 105 homes were destroyed in Valparaíso, affecting 1,200 people, after a 27-year-old man started a blaze.