It is The Tico Times policy to conduct reviews anonymously. If we have reviewed your establishment and you disagree with our assessment, you are welcome to comment on the article, and if you wish, request a follow-up review.
*
The Zancudo Lodge, for two decades an exclusive fisherman's haunt in the Golfo Dulce, is now reeling in guests who prefer fish on a plate to fish at the end of a line.
The former Roy's Zancudo Lodge, where carousing, sunburned fishermen used to gather round the smoky, ladies-enter-at-your-own-risk bar each night to tell fish tales, is now The Zancudo Lodge, a sophisticated, contemporary resort. The focus remains on fishing, but the well-heeled guests gathered around the chic bar now include fisher wives, girlfriends and people who have never caught anything more than the sniffles.
Like most guests, I arrived by boat, a breezy 15-minute scenic run from Golfito. This was a first for me, a vast improvement over the hour-and-a-half, often-bumpy drive overland from Golfito to Playa Zancudo. I was greeted at the lodge's private dock by co-owner Goldine Wang and a waiter dressed in crisp whites, bearing a cool, fruit cocktail.
We strolled along the shipshape dock that cuts through a mangrove swamp, then along a garden path shaded by massive mango trees to the lodge's new, wide-open reception and lounging area. What a shock! The casual boys' club has metamorphosed into a luxury lodge worthy of an Architectural Digest center-spread.
The makeover screams design from top to bottom, with a honey-colored cane ceiling, a firmament of subtle lighting, contemporary dark-rattan furniture, upholstered lounges and chairs in earth tones with orange and copper accent cushions, and huge pots of extravagant tropical plants. A koi-filled pool and trickling fountain establish the watery soundtrack and scene even before you catch your first glimpse of the lodge's main décor: the signature view of rustling palms, sparkling blue Gulf waters, and the hazy, green outline of the Osa Peninsula.
Lacy white hammocks strung between trees beg to be flopped into; shaded, breezy beachfront platforms beckon, with chaises longues aimed at the Golfo Dulce view. More cushioned loungers encircle the inviting pool with the same view to enjoy, along with a cool drink from the bar.
Who wants to go fishing?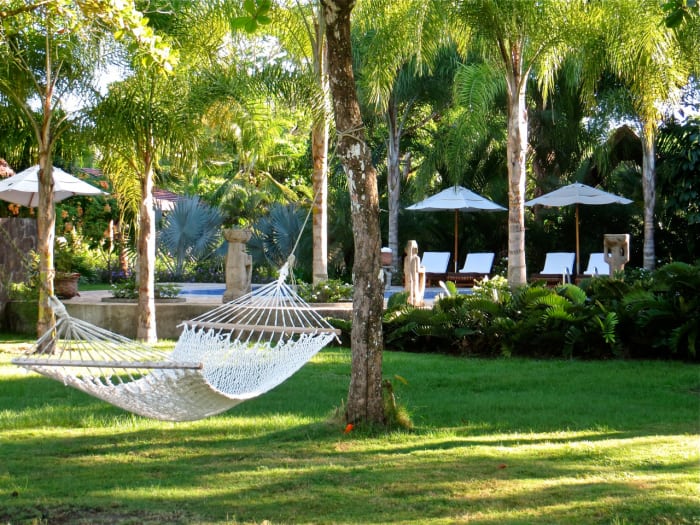 When you've had enough of lazing and drinking in the view, you can retreat from the southern heat into a spacious, air-conditioned deluxe room in a two-story building shaded by tall trees. The style is chic and contemporary: dark-wood furniture softened by earth-toned fabrics in natural textures; ample beds dressed in top-quality linens; and ultra-modern bathrooms with thick towels and huge showers. Coffee and tea-makers, soft robes, huge flat-screen TVs and Wi-Fi fueled by fiber optics complete the cocoon of comfort.
I was delighted to find myself in one of the two separate bungalow suites, which are a little larger and have private porches with pool and ocean views. If you crave an ocean view all to yourself, there are two huge luxury suites, with wrap-around glass walls.
Kayaks and surfboards are on hand if you want to enjoy the gulf without dropping a fishing line. And for landlubbers who have no intention of getting out onto the water, there are six kilometers of beach to stroll, an air-conditioned billiards and game room and – a totally unexpected beach amenity – a full-fledged regulation bocce court.
The owners are a young couple from San Francisco, Wang and Gregg Mufson. They are both demanding perfectionists, which bodes well for guests. Mufson focuses on keeping the fishing side of the business up to the highest standard, vis-a-vis equipment, maintenance and crews on the lodge's fleet of 15 sportfishing boats – including a state-of-the-art, sportfisher's dream machine, a Contender 32ST. Wang strives for the same high quality in the lodge. "I'm a Four Seasons kind of girl," she says. While that may sound a little over-ambitious down here in a remote part of the Southern zone, she is doing a heck of a job so far.
Along with exceptional comfort and style, the stand-out achievement here is the quality of the all-inclusive meals. Bountiful, innovative breakfasts set the tone. Extraordinarily thick slices of crisp, smoky, salty bacon may seize up your arteries, but you will die happy. From scrambled eggs to huevos rancheros, everything is perfectly cooked, seasoned and prettily presented. Coffee is excellent and breakfast comes with fresh-baked treats: miniature, buttery croissants one day, exquisite madeleines the next. Is this Costa Rica or have I stumbled onto the Riviera?
Many guests are gone fishing, so the lodge is quiet at midday. You can order from an a la carte menu, offering upscale versions of tacos – fish, beef or shrimp; burgers, tuna or beef; grilled steak with crispy onions, arugula and fries; and salads of organic greens, some grown hydroponically in the lodge's tiny greenhouse, and loaded up with shrimp or catch of the day. Main courses range from $10 to $19, plus 23 percent for tax and service. Not cheap, but lunch comes with a civilized setting, smooth service, a serene view and a breeze.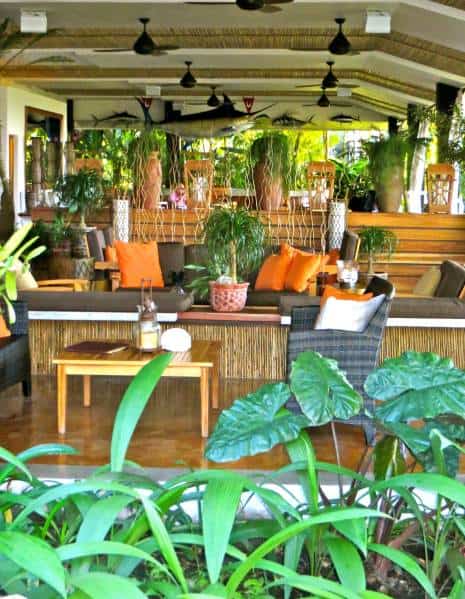 Dinner in The Gamefisher Restaurant is the main event here, worth donning the best beach-resort wear you packed at the last minute, just in case. At dinnertime, the sun setting over the Golfo Dulce is the main décor. As night falls, large, flickering lanterns and candles illuminate white-napped teak tables and chairs, throwing shadows of the life-size, marlin replica suspended over the bar.
Lodge guests or visitors can order from the a la carte menu (same as the lunch menu) or opt for the nightly four-course set dinner ($35 to $45, plus taxes, depending on whether fish or meat is the main course.)
In keeping with its reputation for the ultimate in fishing, the kitchen staff excels at cooking fish, caught by guest fishers, the same day it's served.
My memorable dinner began with a basket of hot and crusty, sundried-tomato bread, served with a well-shaped pat of butter and a saucer of olive oil-and-balsamic reduction. It was all I could do not to gobble up the entire loaf before a pretty salad of baby greens and palmito, dressed in a light vinaigrette, arrived. Next up, carpaccio-thin slices of house-smoked tuna, sprinkled with finely minced garlic, capers, onions and parsley, bursting with smoky-salty flavor. Wondering how the kitchen could top that, I dove into the main course, a mound of mahi-mahi filet, sautéed to crusty perfection on the outside, moist and almost fluffy inside, launched on a shallow sea of carrot-ginger broth.
Without any reservations, I can say this is the best piece of fish I have ever eaten in Costa Rica. (The next day I enjoyed it all over again, served over a salad of mixed baby greens and white beans, dressed with a tangy citrus dressing, crunchy with passion fruit seeds.) At dinner, there's also a meat choice, aged NY-style steaks or tender ribs. But when in fisherman territory, my motto is Eat Fish.
Could dessert, my favorite part of any meal, compete with the fish courses? The kitchen landed a beauty, with a tropical take on a banana split: caramelized chunks of platano maduro á la mode with homemade dulce de leche ice cream melting into a puréed pool of buttery, banana pan juices, tangy with hints of pineapple, orange and coconut. It took me longer to figure out all the flavors (with some help from the waiter) than it took to inhale this dreamy dessert.
In my ten years of visiting and reviewing hotels and restaurants, this is simply the best restaurant I have encountered in this remote area, well worth the journey and the price. Anyone staying in or near Playa Zancudo should plan to splurge once and dine here.
The only disappointments were the beverages. The menu's lesser South American wines by the glass were not worthy of the cuisine. Even though wine and alcoholic drinks are included in the room price, the food deserves better. The first Margarita I ordered at the bar turned out to be a watery imitation, made with (ugh) bottled Margarita mix, inferior tequila and way too much ice. The next night, the bartender was off, and I took the opportunity to teach an eager-to-learn waiter how to make a really good Margarita, experimenting until we found just the right proportion of fresh lime juice, tequila and Cointreau.
The attentive wait staff – all young, personable, bilingual Ticos – add warmth to the lodge's sophistication, removing any hint of stuffiness.
The next morning after my fish feast, I had a whole new respect for the red-faced fishers setting off at 6 a.m. to do battle with sailfish and marlin. I wished them a good day, especially if it included more catch-of-the-day. Fish on, fishers.
Going there:
Playa Zancudo is south of Golfito, and more information can be found at www.zancudolodge.com or by calling 2776-0008. Dinner for non-guests by reservation only. Non-fishing rates are $285 per person for a deluxe room, and that includes all meals, drinks and taxes. Boat transfer from Golfito to Playa Zancudo is $95 for up to six passengers. All-inclusive fishing packages with hotel and transportation, from San José, start at $3,495 per person, two to a boat, for three days.