Costa Rica has confirmed 158 cases of the novel coronavirus, the Health Ministry announced Monday afternoon.
The figure marks a 24-person increase over the same time Sunday. Seven people are currently hospitalized with COVID-19, and three are in intensive care.
At the same time, President Carlos Alvarado announced the following four measures in order to help slow the spread of coronavirus throughout Costa Rica.
All beaches throughout Costa Rica have been ordered to close to the public. Previously, some municipalities had chosen to close their beaches, but this was not a country-wide measure until Monday.
Religious centers throughout the country have been obligated to close.
Starting Tuesday, there will be a nationwide vehicle restriction preventing the majority of people from driving between 10 p.m. and 5 a.m. More details, including a full list of exceptions, will be announced Tuesday. Exceptions to the nighttime driving ban will include emergencies and transport of cargo, among others.
Starting Tuesday, "all foreigners residing [in Costa Rica] or with regular migratory status in the country who leave the national territory will automatically lose their immigration status." This applies to foreign residents (temporary or permanent) of all nationalities and has no specified end date.
"People who have a [migratory] status in this country — whether it be resident, refugee, asylum seeker or another special case — if they leave the country, will have that condition eliminated," said Michael Soto, Minister of Public Security. "What we intend is to prevent people from leaving the country. It's not convenient for the country, and it's not convenient for those people, but we want to leave it very clear: A person with a migratory status, even if he or she is an applicant, will not be able to return to the country because that condition will have been removed.
"A call to foreigners [in Costa Rica] who leave the country during Semana Santa to other countries in the region: The idea is that you don't do this, and if do, you won't be able to return [to Costa Rica] due to this health situation."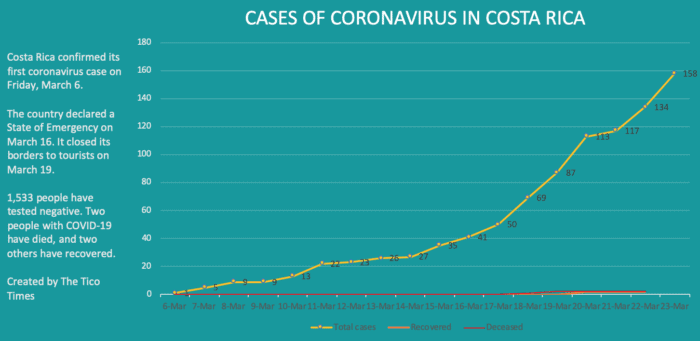 Below is a list of confirmed coronavirus cases by canton: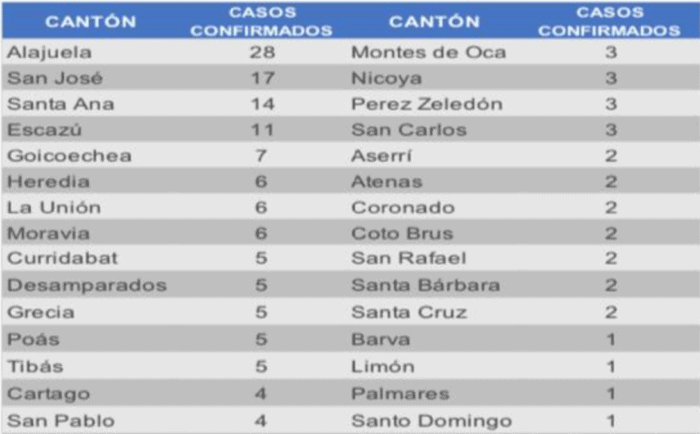 The Public Security Ministry on Monday activated a website through which the public can report businesses that are not complying with the Health Ministry's guidelines in response to COVID-19.
The government reinforced that everyone — particularly elderly adults — remain home and limit contact with others as much as possible. Two people, both 87-year-old Costa Ricans, have died after contracting COVID-19.
"There will be more grave cases, and there will be more deaths," said Health Minister Daniel Salas. "What we're reinforcing is that if we all act responsibly, we will have the chance to prolong the lives of those who get gravely sick at a hospital."
In addition, authorities asked that Costa Ricans limit non-essential water use in order to minimize shortages.
Salas said the Health Ministry is working with the the Costa Rican Social Security System (CCSS, or Caja), the University of Costa Rica (UCR) and other public universities to expand Costa Rica's COVID-19 testing capacity.
If you believe you may have contracted COVID-19 or have questions regarding the coronavirus, you can contact Costa Rican health authorities by dialing 1322.
This is a developing story and is being updated.