Samantha Mumford caught her first catfish in the pond at her godmother's house when she was just 5 years old.
That was the beginning of a chain of events that had her working at a fly-fishing shop while in college, and then becoming the first woman fly-fishing guide in the Vail, Colorado area. She later moved to Florida, and the draw of big saltwater fish caught her.
Mumford began fishing in tournaments and met her husband, Capt. John Mumford, because of fishing. Nine years ago, they ended up in Costa Rica when John was sent down to run a sport fishing boat, and Mumford partnered with her brother Cody to open Premium Marine in Quepos, Puntarenas.
A conversation some time back with Don Dingman, TV host and founder of Hook the Future, a foundation that introduces young people to fishing, struck a chord with Mumford. Dingman explained he was fishing with a 13-year-old girl who said she really loved fishing but couldn't become a recognized angler because her father wouldn't let her fish in a two-piece bathing suit.
The girl gotten the impression from social media that wearing a bikini was a requirement for women. That story lit a fire under Mumford.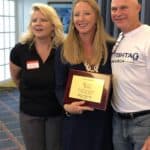 "I've got a seven-year-old daughter, and I certainly don't want her growing up thinking that," Mumford said. "There is nothing wrong with fishing in a bikini, but fishing half naked is certainly not a requirement to be a good angler."
Mumford rattled off some statistics detailing how women represent the largest emerging market within the fishing industry:
38% of all anglers in the United States are women.
47% of first-time fishing participants are female.
50% of all kids that go fishing … go with their moms.
If sportfishing were a "corporation" it would rank 51st on the Fortune 500 list of the United States' largest businesses in terms of revenue.
With that ammo in hand, the Pescadora all-women's tournament was born last year.
This February 20-22, the second of what will certainly become an annual event will be held at Marina Pez Vela in Quepos.
"I started the Pescadora in hopes that companies would start making products that are functional for women, such as gloves, fighting belts, sun protection etc. and because there was a need for a classy competitive event where these adventurous women could come and hone their skills," Mumford said.
Last year's event was a success. Eighty-one anglers from seven countries released 512 billfish in two days, an average of 23 fish per boat.
More than 180 fish were tagged for research, the most ever tagged in a two-day period. Eleven women caught their very first billfish.
The tournament is built around including women with little blue-water fishing experience, so it is fun and fair for everyone. The turnout is expected to be even larger with this year's event.
Continuing to celebrate women, the new marine and fishing application PezCA — developed by Dr. Marina Marrari — will be available as a free download for the competitors at the tournament and for the general public. Marrari, a satellite data expert, developed the app for those interested in the ocean conditions in Central America and for fishermen to use as a tool to find the most productive conditions to look for fish.
One can use PezCA to access high-resolution maps of sea surface temperature, chlorophyll concentrations, speed and direction of surface currents, depth of the thermocline, altimetry, and bathymetry, as well as forecasts for tides and moon phases.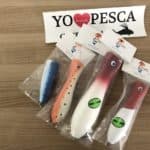 Brujas del Mar, a group of women who were put out of work in Puntarenas as shrimp peelers when bottom trawling for shrimp was banned in Costa Rica, are debuting their products at the tournament. They learned how to make fishing lures for the sport fishing industry, and their hand-made artisanal lures are of high quality. They will be highlighting popping lures for inshore fishing or tuna offshore.
The all woman co-op they have created is comprised of determined women feeling the social cost of conservation that many don't consider.
More information about the fishing tournament is available at www.ThePescadora.com or on Facebook.