Last March, television fishing host and lure designer Larry Dahlberg spent five days in Puntarenas with MakeLure President Mike Faupel and Brad Roberts, a well-known lure maker, teaching a group of women the art of lure making.
This wasn't a group just looking for a hobby.
All these women were shrimp peelers from different co-ops who lost their jobs when shrimp trawling was banned in Costa Rica. Many are heads of households and looking for a way to get by. They pick up small jobs when some shrimp are imported or farm raised, but for the most part, their jobs no longer exist.
They see manufacturing fishing lures as a way to help them get by. After several months of trail and error and refining their skills, they are ready to introduce their first products.
The women named their company Brujas del Mar (Sea Witches) because of their life-long association with the ocean. Their slogan explains it all: "Produced by women with the ocean in the soul."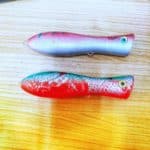 They will introduce their first items this weekend at Ferimar Navidena 2019 in Puntarenas, a three-day festival starting Friday, Nov. 29 through Sunday Dec. 1 on the Paseo de los Turistas. There will plenty of seafood, items for sale, cultural events, music and more. The Brujas del Mar will debut their first products there just in time for the fishing season.
Popper fishing has become extremely popular here in Costa Rica, for roosterfish, snapper, jacks and more inshore and for yellowfin tuna offshore. The Brujas popper can compete with any off them as far as quality and strength as poppers really take a beating here from powerful fish with a mouth full of teeth.
Flor Rivera heads the group of women and help from FECOP, the sport fishing group, INCOPESCA, who governs Costa Rica's fisheries, and INA, the technical learning institute, and the University Latina all helped in the beginning but the girls are now trying to be successful on their own. Trying to get this off the ground and manage a household at the same time show the strength and determination of this group.
Poppers and topwater lures will be on sale at the Feria. The prices will run between $10 and $20 each depending on the size.
For more information — or if you can't make it to the Feria but are interested — contact 6107-3023.
Todd Staley has run fishing sport operations on both coasts of Costa Rica for more than 25 years. He recently decided to take some time off to devote full-time to marine conservation and is the communications director at FECOP. Contact him at wetline@hotmail.com.