UPDATED: Court orders three months of prison for cement case detainees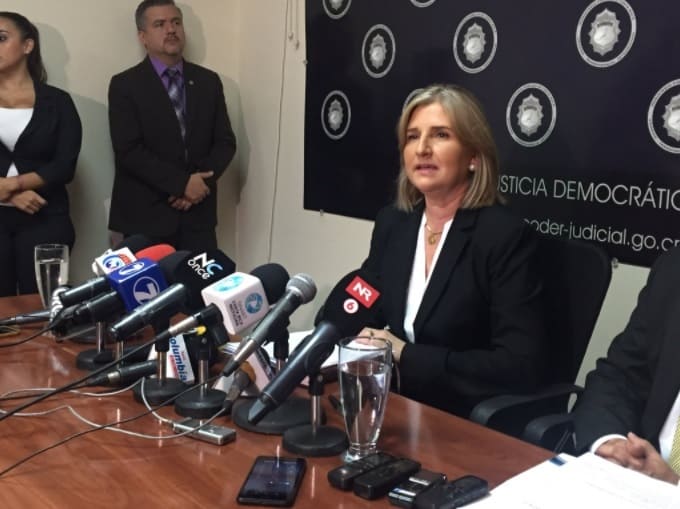 The Costa Rican Prosecutor's Office confirmed late Saturday that three months of preventive detention have been ordered for the seven people who have now been arrested in connection with the Banco de Costa Rica-Chinese cement case popularly known as the Cementazo.
The Prosecutor's Office had requested six months of preventive detention. A San José court ordered the three-month sentence after a grueling 18-hour hearing that began at 1 am Saturday morning.
The hearing followed the arrest on Friday of businessman Juan Carlos Bolaños and six senior executives from the Banco de Costa Rica, one of Costa Rica's public banks.
Bolaños is the key figure in the unfolding scandal, which centers on alleged influence peddling involving  officials in the executive, judicial and legislative branches of government so Bolaños could obtain $30 million in loans from bank to import Chinese cement.
His arrest took place in Atenas, Alajuela at approximately 3:30 am Friday morning. The daily La Nación reported that authorities began following him Thursday evening with the intent to arrest him at 6 am at his home in Escazú, but moved up the arrest because of "movements that caught our attention" as the businessman visited various locations around San José during that night and into the wee hours of the morning.
When Bolaños stopped at the offices of Grupo JCB in La Uruca and loaded boxes into his car, authorities decided to take him into custody earlier than planned, the daily reported.
Hours later, six Banco de Costa Rica executives – including its suspended manager, Mario Barrenechea – were arrested.
The last names of the additional five bank executives arrested later Friday, according to statement from the Prosecutors Office, are Corrales Barboza, Víquez Lizano and Acuña Alvarado, Ramírez Rodríguez and Barrantes Campos.
Investigators are examining alleged irregularities in the bank's unsecured loans to Bolaños.
Costa Rica's Chief Prosecutor, Emilia Navas, said at a news conference that several other suspects are being investigated, suggesting the possibility of further arrests.
Members of the government are said to be implicated in the probe. The Economy Ministry modified its rules on cement imports following seven meetings Bolaños had with representatives of the Executive Branch.
Asked whether President Luis Guillermo Solís was among those being investigated, Navas declined to answer.
Solís, who has been recovering from prostate surgery, posted a video on Facebook on Friday expressing his support for the ongoing investigation.
"I share the indignation of the citizenry" over the case, he said. "The people of Costa Rica deserve to know the whole truth."
Mensaje del Presidente Luis Guillermo Solís Rivera

Un saludo cariñoso y de agradecimiento a todas las personas que han enviado mensajes y buenos deseos por mi recuperación. Aquí estoy en la casa, siguiendo las recomendaciones médicas, para el próximo lunes 13 espero volver al trabajo.Aprovecho este espacio para reiterar mi respaldo a las acciones judiciales que se han ejecutado desde esta madrugada por la Fiscalía General de la República en coordinación con el Organismo de Investigación Judicial (OIJ), todo lo cual está relacionado con las investigaciones acerca de créditos para la importación de cemento chino.El Poder Judicial cuenta con toda mi confianza y la confianza de mi Gobierno y apoyamos los esfuerzos para aclarar estos hechos, conocer la verdad de lo ocurrido, sentar las responsabilidades que correspondan y llegar hasta las últimas consecuencias. Así lo he dicho y así lo reitero ahora.Comparto la indignación de la ciudadanía y les reafirmo mi absoluta convicción de que el pueblo costarricense merece conocer toda la verdad y que el Estado debe garantizarle a la ciudadanía que tomará las acciones necesarias para proteger y fortalecer la institucionalidad, defender los recursos públicos y evitar que este tipo de situaciones se repitan en el futuro.Costa Rica y su pueblo son grandes. Y hoy más que nunca cerramos filas para que todos, juntas y juntos, defendamos nuestra institucionalidad y que siga siendo fuerte y confiable –esa institucionalidad– para el bien de nuestra querida Patria.Que estén muy bien y nos vemos pronto.

Posted by Luis Guillermo Solís Rivera on Friday, November 3, 2017
Bolaños' lawyer, Juan Marco Rivero, called Friday's arrests "a media show," explaining that his client had offered to cooperate fully with prosecutors.
The scandal is clouding Costa Rica's political landscape, with lawmakers, prosecutors and a Supreme Court judge suspected of supporting Bolanos all caught up in the matter.
President Solís called for the resignation of all members of the Banco de Costa Rica's Board of Directors as the scandal grew, and authorities suspended Navas' predecessor, Jorge Chavarría, and judge Celso Gamboa in order to investigate the judicial authorities' alleged involvement in helping Bolaños.
Updated on Sunday, Nov. 5 to reflect the court's response to the requested preventive prison sentence.
You may be interested