Costa Rica's La Sele beat French Guiana 3-0 on Friday and advanced to the CONCACAF Gold Cup quarterfinals for the tenth consecutive year.
Los Ticos benefited from an early lead thanks to striker Ariel Rodríguez who scored the opener just four minutes into the game. Rodríguez, who has seen little play time under coach Oscar Ramírez, sent the ball with a touch inside the box from a corner shot.
Despite taking an early lead on the score, La Sele did not have an easy game in the first half, with Guiana taking control of the ball at several points. Ultimately, however, Guiana's strikers were ineffective against Costa Rica's defensive line.
Their only clear opportunity came in the 42nd minute, when a shot from Ludovic Baal forced Tico goalkeeper Danny Carvajal to send the ball over the goal with one hand.
Harsh temperature
The dynamics of Guiana's game, as well as playing at 100 degrees Fahrenheit in Frisco, Texas, forced La Sele to pace its game. The team focused primarily on elaborate offensive plays through long passes over the South Americans midfield line.
A decisive moment came at 61′ when Guiana's Baal received a red card for a foul over David Guzmán.
Having one man more in the field allowed La Sele to find open spaces, and Ramírez sent his team to look for more goals. The coach sent Marco Ureña in to replace a tired Rodríguez, who had made a strong effort in the hot weather.
Ureña's speed was a key factor in capitalizing on the numerical advantage on the field. At 79′ he recovered a ball in the midfield and raced all the way up the right side to assist Rodney Wallace for the 2-0.
Striker David Ramírez scored the third from a precise pass from captain Bryan Ruíz in the 83rd.
La Sele advances to the quarterfinals unbeaten and atop Group A, thanks to two wins and a draw. Canada qualified in second place as result of  its 0-0 draw against Honduras later on Friday.
Costa Rica will play next week against an opponent that will be defined over the weekend.
Match highlights:
https://www.facebook.com/goldcup/videos/1087213751380543/
Injuries
The Gold Cup has been tough for La Sele in terms of players lost to injuries.
Early on Friday, the Costa Rican Football Federation confirmed in a news statement that defender Cristian Gamboa was out of the tournament due to injury.
Gamboa, who plays for Scotland's Celtic club, had a problem with his right leg on Tuesday during the match against Canada and was replaced in the second half.
In the previous two games, Costa Rica also lost defender Bryan Oviedo, and midfielders Johan Venegas and Joel Campbell.
Just days before the tournament, coach Ramírez was forced to replace defender Ronald Matarrita, also for an injury.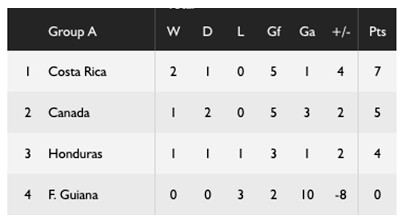 Costa Rica 3 – 0 French Guiana
Stadium: Toyota Stadium, Dallas
Referee: César Ramos Palazuelos (MX)
Goals
Ariel Rodríguez (4'), Rodney Wallace (79'), David Ramírez (83')
Yellow Cards:
French Guiana: Loic Baal (24'), Anthony Soubervie (59')
Red Card:
French Guiana: Ludovic Baal (61')
Lineups:
Costa Rica: Danny Carvajal – José Andrés Salvatierra, Michael Umaña, Giancarlo González, Francisco Calvo – Yeltsin Tejeda, Randall Azofeifa (Rodney Wallace, 68), Brian Ruiz, Ulises Segura (David Guzmán, 54') – David Ramírez, Ariel Rodríguez (Marco Ureña '76). Coach: Oscar Ramírez.
French Guiana: Donovan Leon – Jean-David Legrand, Grégory Lescot, Hugues Rosime, Anthony Soubervie, Cédric Fabien – Ludovic Baal, Roy Contout (Miguel Haabo, 66'), Loic Baal – Arnold Abelinti (Shaquille Dutard, 46'), Rhudy Evens (Mickael Solvi, 77'). Coach: Jair Karam.