A voice has been silenced that could turn a soccer goal into music, sport into poetry, Costa Rica's athletic victories into an operatic expression of joy.
Sportscaster Mario McGregor, who had a history of heart problems, suffered a heart attack this afternoon and was taken to Hospital Calderón Guardia in San José. He died there at approximately 2 p.m. today, Radio Columbia, his employer of many years, announced on its website. He was 59.
Costa Ricans of all walks of life rushed to express their sorrow at the loss, including President Luis Guillermo Solís, who posted a message on his Facebook page.
"I am profoundly sorry to learn of the death of Mario McGregor, Costa Rica's greatest 'Double M,'" the president wrote, referring to the broadcaster's nickname. "I extend my sincere condolences to his family and loved ones. To Mario, so talented and with that unequalled voice: thank you for so much. Peace!"
McGregor made his radio debut nearly 40 years ago on a sports show for the station Stereo Bahía Limón, and narrated his first game in 1978, Radio Columbia reported.
There are so many extraordinary moments from McGregor's decades narrating Ticos' proudest moments. One is certainly his elated reaction to a goal by Costa Rica against Italy at the 2014 World Cup in Brazil:
McGregor's ecstatic voice was always there to anoint the Costa Rican national team in its most historic moments, including La Sele's first ever World Cup goal in Italy 1990 when Juan Cayasso scored against Scotland:
The news of his passing broke just as La Sele prepared for its game, taking place at the time of this writing, against El Salvador. McGregor had planned to call the game as usual. Costa Rican stars took to Facebook to express their sadness: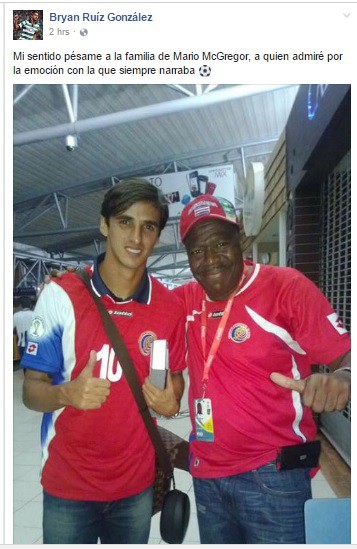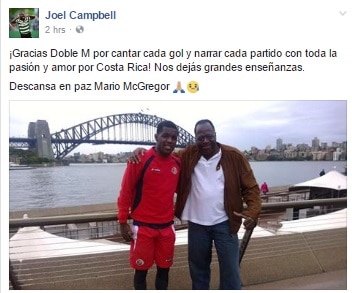 Rest in peace, Double M. You will be sorely missed.