New Year's is right around the corner, and Costa Rica offers various options for those seeking to enjoy a delicious meal along with family and friends. Sedate, luxurious meals and decadent parties are all in the mix for those eagerly awaiting the countdown to 2017. Here are a few of our top picks for this special date.
Barceló Hotel
The Barceló Hotel in San José will be offering two Brazilian style parties at El Bosque Bar and Salón El Greco. The menu at El Bosque Bar incudes a wide varied selection of appetizers and a delicious paella as the main course. Along with these delicious gastronomic options, there'll be a midnight toast with twelve grapes and a Brazilian comparsa as well as raffles. The Charlie Rivera Orchestra and a local DJ will perform music to accompany the perfect New Year's party.
At Salón El Greco another party with the same theme will take place. Dinner will be buffet style accompanied with the midnight toast and twelve grapes and a Brazilian comparsa, plus raffles and music from the Costa Rican band Son de Tikizia and Madera Nueva, as well as a local DJ.
The special New Year's Party will be held on Dec. 31 at El Bosque Bar and Salón El Greco at the Barceló Hotel in San José. 7:30 p.m. – 2:00 a.m. Tickets are on sale at the hotel's lobby for ₡39,000 (approximately $71) plus tax for El Bosque Bar and ₡65,000 ($119) plus taxes for Salón El Greco. Children under 13 receive a 50% discount, and lodging rates are at $80 per person for the people who attend one of the events.
Hotel Alta las Palomas
Enjoy a wonderful view at Restaurant La Luz while dining on appetizer options such as an edible flower salad and a pumpkin cream; for the main course, you'll have corvina served on a bed of parpadelle with a chili pepper sauce, jumbo shrimps with saffron risotto and asparagus, or beef filled with grapes, shrimp and mixed nuts with wine, accompanied by vegetables and mashed potatoes. For dessert you'll have a delicious star fruit mousse and glass of sparkling wine.
The special menu is offered on Dec. 31 at the Restaurante la Luz, Alto de las Palomas, San José Costa Rica. 6 p.m. – 10 p.m. Costs go from $50 plus a 23% tax for adults and $25 plus a 23% tax for children. Reservations: 2282-4160 or reservations@thealtahotel.com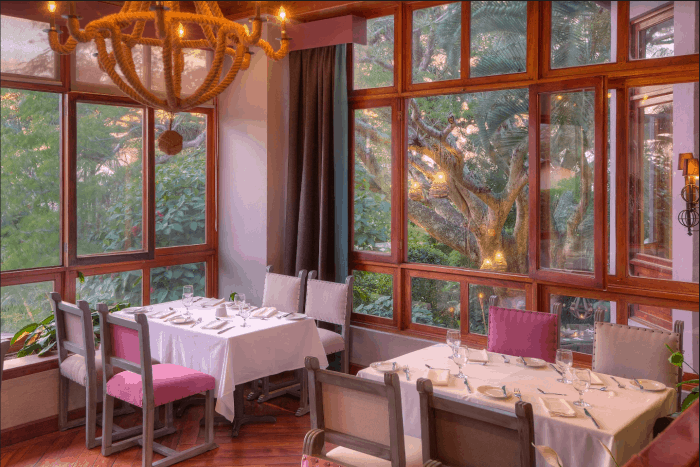 Villa Caletas
Villa Caletas in Jacó will offer a special New Year's Eve menu on Dec. 31, overlooking the Pacific. A buffet dinner with a meal prepared by executive chef Fernando Adaniz will be the prelude to fireworks, music from a live DJ, and a midnight carnival with champagne toast.
The New Year's Eve party is offered on Dec. 31 at the Rancho Caletas, Jacó, Puntarenas. Costs are $140 with taxes included for adults and $80 with taxes included for children under 12. Reservations: 2637-0505, 2630-3020 and concierge@villacaletas.com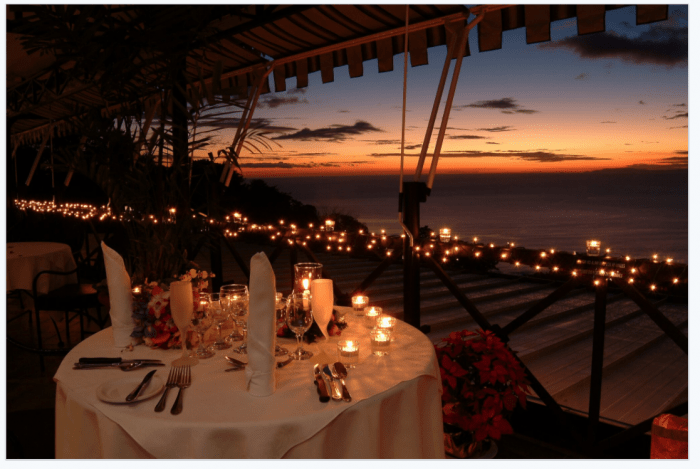 Marina Pez Vela
Marina Pez Vela in Quepos will offer you two celebrations at the Gabriella's and Runaway Grill. At Gabriella's there'll be an unforgettable New Year's Eve dinner that includes a Caesar salad, tuna chipotle or wow-wow shrimp as an appetizer. For the main course, options include aged black Angus fillet or rib-eye, jumbo sizzling scallops, Gabriella's happy snapper, grilled garlic jumbo shrimp, or imported spicy sausage and jumbo shrimp over penne pasta. Enjoy a cheesecake, banana flambé or walnut brownie for dessert.
At the Runaway Grill, the Fantastic New Year's Eve Party will include a seafood and dessert buffet, champagne, music, dancing and fireworks.
Both New Year's Eve Parties are on Dec. 31 at Marina Pez Vela, Quepos, Puntarenas. 6 p.m. – 1 a.m. Costs are $150 for adults and $50 for children. Reservations: 2519-9300 and 2519-9095.