Last year, Costa Rica entered the ISA World Surfing Games without any huge expectations, said coach Wade Sharp. Now, following an overall first place and multiple individual medals in that historic showing, he said the Ticos enter the 2016 competition with a target on their back.
"This year, defending the title and coming in as the reigning world champs means we're going to come in with a little more pressure on our back," Sharp said. "But we just go in with the same goal in mind: getting gold."
Oh, and if the pressure to defend a title wasn't enough, how about doing it at home with the eyes of your entire country on you.

Costa Rica's quest for a second consecutive world surfing title starts with the first round of the Men's Open on Sunday. Organizers say they hope to get through the entire round that day — if the waves cooperate. Waves, or lack thereof, could become a central focus of the weeklong event.
According to the University of Costa Rica's oceanography department, the waves could be just 1 meter (3 feet) tall on the opening day of competition.
Despite the pressure on Costa Rican surfers, they have the home wave advantage.
"We know the waves better than any other country, so that should help," Sharp said.
Here's what else to look out for going into the 2016 ISA World Surfing Games this weekend: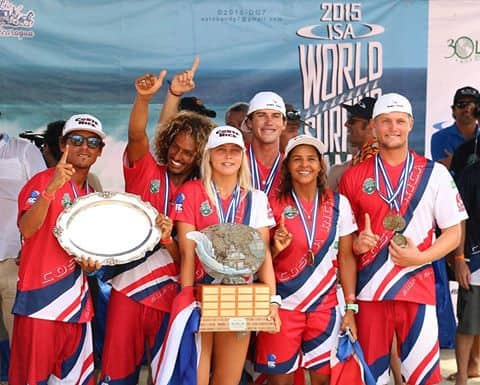 The star
Carlos "Cali" Muñoz, the rockstar of Costa Rican surf, grew up near Jacó at nearby Esterillos Oeste and is now coming back home with momentum on his side.
Following a five-month hiatus from the World Surf League this season, Muñoz has shot back up the qualifying series rankings with his impressive ninth place finish in last week's U.S. Open of Surfing while stacked up against the sport's top talents. The 23-year-old put on a show by winning three rounds in a row before losing by a fraction of a point in a head-to-head heat against Tahitian Michel Bourez, a world top-10-ranked surfer, who Muñoz had previously topped in Round 3.

More than anyone on this team, it is Muñoz who is capable of dazzling judges with effortless jumps and daring tricks in the water. As already the greatest Costa Rican surfer of all time, he is able to pull off the remarkable while still getting consistent results.
In last year's world title run, Muñoz was eliminated in Round 9 of the double-elimination bracket after incurring an interference penalty. But Muñoz, who is surfing near his peak abilities coming into the World Games, figures to make a long-lasting impression this time around.
Coach Sharp told The Tico Times recently that there was no question Muñoz and last year's gold medalist Noe Mar McGonagle would compete again for Costa Rica, noting how excited both of the top-flight riders were to be rejoining their team this year.
"They're super proud athletes, especially when it comes to their country," Sharp said. "To have your best athletes involved is a great honor."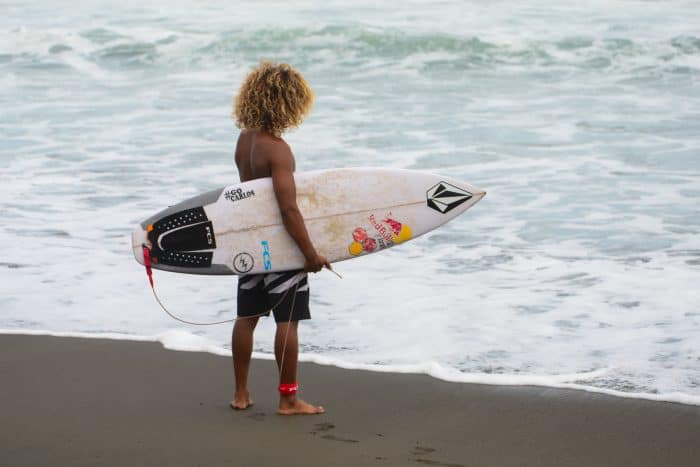 Challengers to the throne
Because there are no cash prizes given out to winners of the ISA World Surfing Games and the event falls in the middle of the pro season, most of the sport's more-established figures bypass the games. So although Costa Rica is using a lineup of its very best surfers to vie for a second world title, that's not the case for traditional powers like Australia, Brazil, and the United States.
However, Team USA won this event the last time it was in Costa Rica, in 2009, led by the current women's world No. 2 Courtney Conlogue. The U.S. is bringing back another strong lineup in 2016 that features last year's Women's Open champion Tia Blanco and Brett Simpson on the men's side. Simpson, who Muñoz beat last week in Round 4 of the U.S. Open of Surfing, is the most accomplished surfer of Team USA and the 31-year-old veteran figures to challenge for a gold medal in the Men's Open.
The Australians will also be coming with a strong group that is filled with surfers from the qualifying series of the World Surf League. Dale Lovelock and Jordy Lawler will lead the men, while a pair of women in the top 50 of the qualifying series, Brittani Nicholl and Codie Klein, will vie for top finishes in the Women's Open.
Other notable contenders are 2014 champions Peru and last year's second place winner Portugal.
Following the inaugural ceremony on Saturday, the games begin at 7 a.m. on Sunday with the Men's Open category.