Judicial Investigation Police (OIJ) on Wednesday released a video of two men suspected of killing Gerardo Cruz Barquero, the 22-year-old man who in October became famous for posting a video to his Facebook page of himself confronting a man who had been trying to film up a woman's skirt with a smartphone camera.
Cruz was stabbed two days later and died on Nov. 19 after spending a month and a half in critical condition at a hospital in San José.
https://www.youtube.com/watch?v=xkumoV1j-jI
The OIJ video compiles footage from three surveillance cameras showing the two suspects fleeing the area where Cruz was stabbed at around 7 p.m. on Oct. 7.
The attack ocurred in the southern San José suburb of San Sebastián, shortly after Cruz left his job at a local bakery, while he was on his way to grant an interview to a local TV news show.
Guillermo Fonseca, operations director for the OIJ, also released a composite portrait of one of the suspects, "with the help of a description of a witness who saw the men flee the area at around the time of the crime," he said.
Investigators' analysis of the video and the witness description concludes that one of the suspects is a thin male between 25 to 30 years old and about 1.8 meters (5.9 feet) tall, with dark skin and short hair.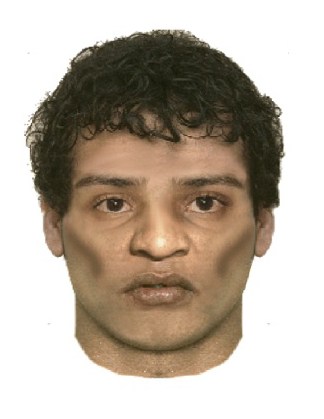 The other suspect has dark skin, is about 1.60 m (5.2 feet), has short dark hair and is around 35 years old.
Fonseca called on the public to provide any details to identify the suspects by calling OIJ's confidential hotline, 800-8000-645, or by writing to cicooij@poder-judicial.go.cr.
Cruz spent 44 days in the Intensive Care Unit of Calderón Guardia Hospital in downtown San José, and underwent four heart surgeries.
Numerous groups of people during that time staged vigils in front of the hospital and at public parks and also marched along the capital's streets, demanding justice for Cruz and stronger actions against street harassment.
The man in the video, a Finance Ministry employee identified by the last name Umaña, granted interviews on various media outlets apologizing for his behavior and denying any involvement in Cruz's attack.
The Finance Ministry last April 25 reported in a news release that Umaña was suspended without pay for 22 days while it conducted an investigation into his behavior.