Sometimes those last few weeks before the holidays are so hectic that you forget to plan for the holidays. Well, we at The Tico Times did some searching for you and came up with this list of potential last-minute tours to keep you and your family smiling into the new year. Be sure to note each tour's starting point, as some depart from locations outside of San José.
Tortuga Island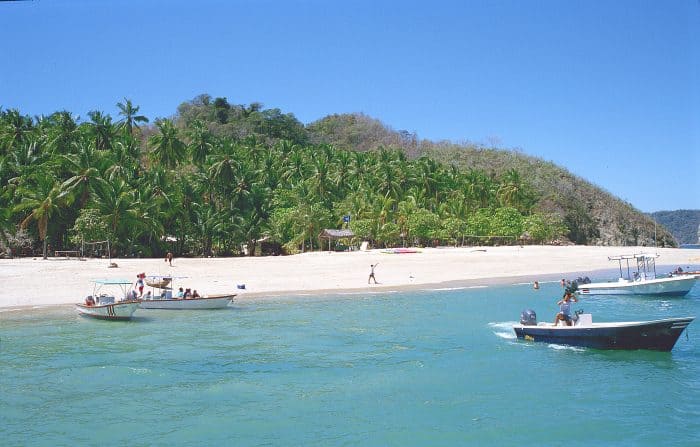 Sail to Tortuga Island on a luxury catamaran, with breakfast and lunch included, starting in Puntarenas (includes transportation from/to San José, Jacó, Quepos or Manuel Antonio). The tour includes a multilingual guide, typical Costa Rican breakfast, BBQ lunch served with chilled white wine, juices, sodas and fresh fruits, live music, snorkeling and a banana boat ride.
Cost: $145 for adults, $85 children under 6. For more information contact Calypso Cruises at 2256-2727 or visit their website.
Pacuare rafting trip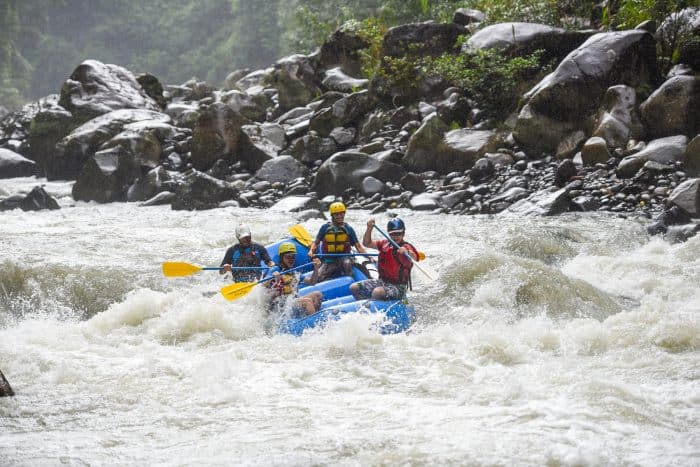 Pacuare River: This river is considered one of the best in the world for rafting, with Class III – IV rapids. Ríos Tropicales offers a one-day trip that includes transportation to and from San José, bilingual guides, all equipment, breakfast and a hot lunch.
Cost is $99 for foreigners, $69 for Costa Rica residents. More information at 2233-6455 or visit their website.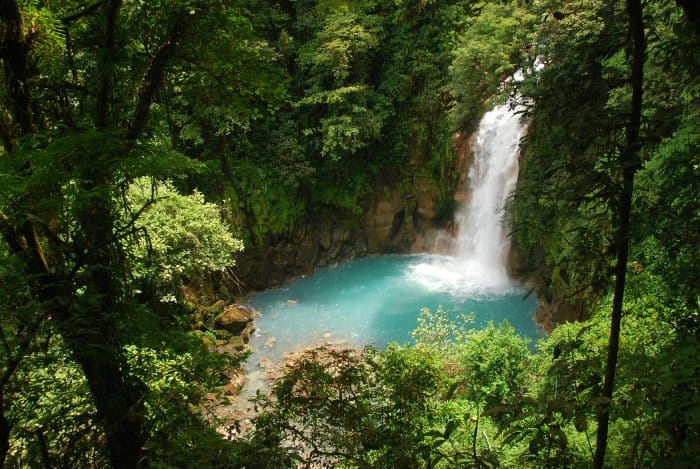 Birdwatching (quetzals!) in Dota 
This overnight tour to Santa María de Dota provides an excellent opportunity for viewing the aptly-named resplendent quetzal — plus another 200 bird species that live in the area. The trip, offered by Barrio Bird Walking Tours, includes private, round-trip transportation from San José, a one-night stay with dinner and breakfast at a lodge and a morning birding tour with bilingual guide.
Cost: $174 per person (based on double occupancy). For more information call 6280 – 6169 or visit Barrio Bird's website.
Irazú Volcano, Orosi Valley & Lankester Botanical Garden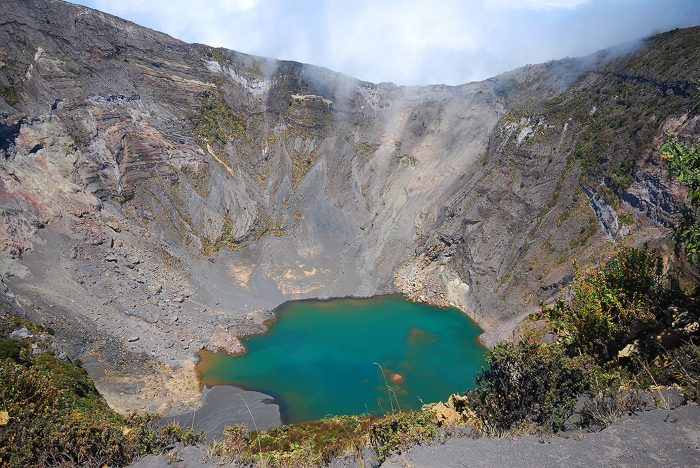 This trip offered by Gray Line Costa Rica departs from San José and heads to the top of the Irazú Volcano, where you can observe the main craters. On a clear day, you can see both the Atlantic and Pacific coasts. After the volcano, the tour makes a stop in Cartago at the Basílica de Nuestra Vírgen de los Ángeles, which houses Costa Rica's patron saint, La Negrita, and is a pilgrimage site for many Costa Rican Catholics. Next the tour visits Lankester Botanical Garden, a University of Costa Rica research center where you can see more than 800 species of orchids, bromeliads and countless species of other plants. The final stop is the Orosi Valley to see one of the few remaining colonial-era churches, followed by lunch in one of the local restaurants. The tour starts at 7 a.m. and lasts approximately 10 hours.
Cost is $98 adults, and $74 children. For more information call 2291-2222 or visit Gray Line Costa Rica's website.
Río Celeste and Tenorio Volcano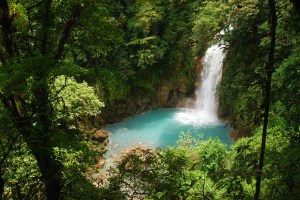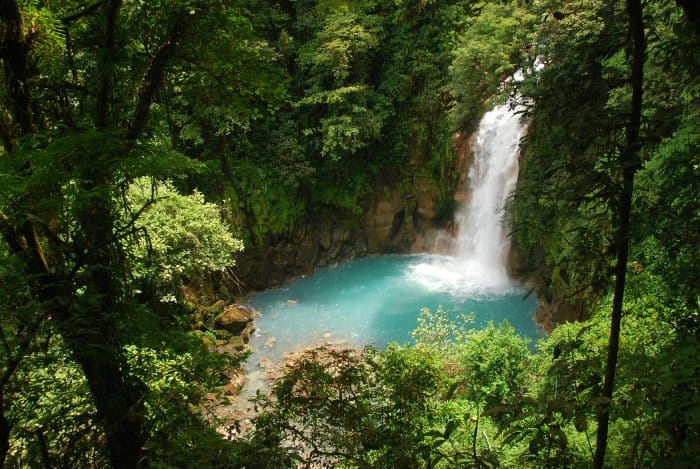 Take a guided hike to the gorgeous Río Celeste (Blue River) in Tenorio Volcano National Park. Desafío Adventure Co. will pick you up at your hotel in Guanacaste between 6 a.m. and 7 a.m. (depending on where you're located) and transport you to the trailhead. The hike lasts three to four hours through lush rain forest to the turquoise falls and river. Tour includes transportation, bilingual guide, park entrance fee and lunch.
Cost: $150. For more information call 2479-0020 or visit Desafío Adventure Co.'s website.
Lake Arenal to Monteverde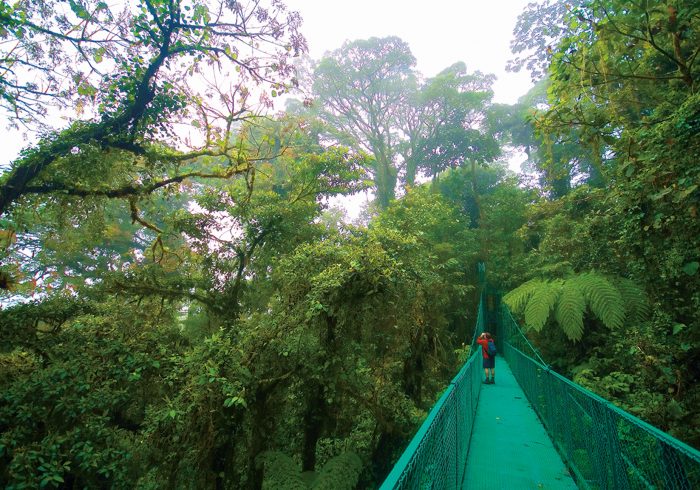 This trip from Desafío Adventure Co. starts in Arenal with a trip across the lake, where you can appreciate views of the forest and Arenal Volcano. Then you will be taken to the renowned cloud forest of Monteverde, where you can choose whether you want to fly through the canopy on a zipline or stroll along hanging bridges. The zipline canopy tour includes 1.7 miles of cables, reaching between 40 and 100 meters off the ground and up to 750 meters long. If you choose the hanging bridges, you will walk across a series of five bridges, spanning over 1.5 miles with an experienced naturalist guide who will point out wildlife, plant species and offer fun facts about Costa Rica. Finally, you'll have lunch and be taken back to your hotel in Arenal.
Cost is $225 per person. For more information call 2479-0020 or visit Desafío's website. 
Correction: An earlier version of the story incorrectly stated the price of the Tortuga Island cruise. We regret the error.