Somewhere amid the mud and rain of Costa Rica's 2-1 World Cup Qualifying win in Panama last week the Ticos found their groove. Atop the drenched grasses of Rommel Fernández Stadium in Panama City, which was awash in an ugly downpour that never abated, Costa Rica's men's national team drew up a beautiful mixture of selfless play and aggressive ball movement that has lifted it into consideration as an overwhelming favorite to land one of CONCACAF's three automatic World Cup berths for Russia 2018.
A few days after playing an uninspired match in a 1-0 win against regional doormat Haiti, a Costa Rica team playing with half of its regular starters out with injuries surprised bitter rival Panama to take sole ownership of Group B of the CONCACAF World Cup Qualifying with six points. If "La Sele" hangs on to win the group, it will then advance to the final six, known as the "Hexagonal," to fight for a spot in the top three and receive qualification.
It's easy to see that Costa Rica is playing its best football in some time, following a recent 11-month winless streak that ended in September with new coach Óscar Ramírez's second game, a 1-0 win over Uruguay. But what had been harder to visualize up until the surprising win over Panama was how Ramírez would define this selection's style going forward. Under Jorge Luís Pinto, who engineered Costa Rica's historic result in the 2014 World Cup, La Sele was a defensive labyrinth that relied on suffocating opposing teams' best offensive threats and lulling them into offsides penalties.
Under Ramírez, a similarly defensive-minded scheme calls for five defenders to be behind a 2-2-1 rotation – with the one being a lone striker that tries to force as many breakaway opportunities as possible. Marco Ureña, who lined up as the striker against Panama, scored on one such breakaway after receiving a pinpoint pass from Ronald Matarrita.
https://youtu.be/YlUE9J2hUlY?t=1m30s
Under Ramírez, who is now 4-2 as Costa Rica's manager, players say their coach maintains an obsessive control over strategy but translates it to both starters and reserves in a way that maximizes the strengths of any player who has to fill in. So even with all of Costa Rica's missing pieces sidelined, the wheel has still been able to turn without interruption.
"Each player has assumed their own responsibility and everyone understands the strategy," veteran defender Júnior Díaz told the daily La Nación. "He communicates with players so that they're on the same page and everyone understands their function."
Whereas Pinto was notorious for being brash and disliked by many of his players, Ramírez has so far been a dream for Costa Rican Football Federation (FEDEFUTBOL) officials who were looking for both a competent tactician and a likable ambassador after Paulo Wanchope's dismal, winless 2015 campaign ended with a brawl. There's plenty of reason for optimism when it comes to the future of Costa Rican football as it looks to be on track to qualify for a second straight World Cup.
Here's why:
Ramírez has found a supporting cast he can rely on
In a way, the mounting list of injuries has acted as a silver lining for Ramírez. While he has never had a full roster to work with during his short tenure thus far, Ramírez has been able to assume the mad scientist role and play around freely with different combinations that can fit his five-back lineup. There has been no better addition to this team than defender Ronald Matarrita, the 21-year-old who played under Ramírez when he coached at Alajuelense in Costa Rica's First Division.
The young star, who actually plays in the midfield for his club, has transitioned beautifully while sliding to left back in Ramírez's scheme. Already he's been Costa Rica's greatest defensive presence in the two qualifying games, while also being an igniter for the offense, as shown by his assist to Ureña against Panama. Matarrita has proven in just six games for La Sele that he deserves a starting role in each qualifying game going forward, even when this roster is fully healthy.
"Matarrita has responded in an incredible way," Ramírez said. "He's an exceptional player and shows it with his composure on the field."
Next to Matarrita on the back line, 27-year-old Major League Soccer star Kendall Waston made just his fourth ever cap for La Sele in Panama. Though Waston is more than serviceable on defense, the 6′ 5″ player who was a finalist for the MLS Defender of the Year Award could actually make his biggest mark on offense for a team in desperate need of height.
Against Panama, Waston made his presence felt in front of the net from the opening minutes, when he nearly fired home a header off a corner kick but was denied on a great save by opposing goalie Jaime Penedo. In the second half, it was Waston who spurred along Costa Rica's first goal. Watch below as Waston, #19, keeps the ball alive by using his thick body to overpower defenders and soar above them to win possession and set up Bryan Ruíz's 65th minute goal:
Though Waston may not keep a starting job when players like Óscar Duarte and Bryan Oviedo come back from injury, he should be a key bench player that Ramírez can count on. On top of Matarrita and Waston, Ramírez has plucked out other relatively unknown commodities like 30-year-old midfielder Óscar Granados, who filled in admirably for Celso Borges for a game and a half after Borges broke his foot against Haiti. Granados was constantly attacking and applying pressure to Panama, highlighting just how many hidden gems Ramírez has been able to find and plug in to any position on the field.
"Today showed that the selection isn't just 17 or 18 players and that Óscar can keep looking for options," said FEDEFUTBOL President Rodolfo Villalobos after the win over Panama.
La Sele still has an experienced core to build around
After slaying football giants like Italy and Uruguay at the 2014 World Cup, Costa Rica proved it could play with and beat anyone on the planet. While silencing some of the game's best talents like Wayne Rooney, Andrea Pirlo, and Edinson Cavani, a crop of Tico stars ascended to become well-known names themselves. Bryan Ruíz, Keylor Navas, and Celso Borges will all be north of 30 years old by the time the 2018 World Cup kicks off, but the trio that carried Costa Rica to glory in Brazil should all have enough left in the tank to make another run at the elimination stages.
Next to La Sele's three most important pieces is a younger, but equally experienced group that includes the likes of striker Joel Campbell (23), midfielder Yeltsin Tejeda (23), and defender Cristian Gamboa (26). Add in fellow World Cup veterans Duarte and Ureña and La Sele has a clear core of players to revolve around on its path to Russia.
Ramírez's most challenging task ahead may be finding a reliable forward that can team with Campbell and Ureña to put added pressure on opposing defenses. One of the likely candidates to fill that goal-scoring void should be 22-year-old Saprissa star David Ramírez, who scored three goals under Pinto and Wanchope but has yet to suit up for Ramírez's selections. The forward is a bull dog on the pitch who has the necessary speed and balance to give Ramírez a consistent threat on offense. The coach may also turn to another young player like John Jairo Ruíz, who is expected to fill out as a more complete player before 2018.
No matter who Ramírez selects for upcoming World Cup qualifiers, he has the clear luxury of having one of the most experienced and game-ready rosters in the region, next to Mexico.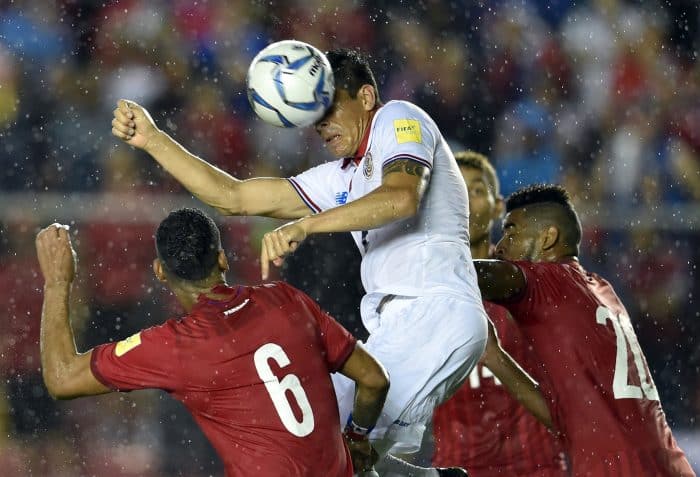 Costa Rica poised to loom large over weak CONCACAF
In terms of competition in the region, half of CONCACAF's World Cup qualifiers from last year are plummeting downwards and require a lot of work before they'll be able to qualify for 2018. The United States, which has historically been a shoe-in to take one of the region's qualifying bids, faces a multitude of question marks, most of which are directed towards coach Jurgen Klinsmann. The man who led native Germany to third place in the 2006 World Cup could very well be out of a job by 2016 as the U.S. continues to look passive and lifeless against decent competition. A fourth place finish in July's Gold Cup marred by consecutive losses to Jamaica and Panama proved that the U.S. is no longer the region's top dog.
Another of the region's qualifiers for the 2014 World Cup was Honduras, which has now turned into an absolute mess. There was a fair amount of hope that the squad would improve after Pinto – who looked like a genius after leading Costa Rica to the quarterfinals in Brazil – took over for the nearby Central American country. But Pinto's squad suffered two straight losses – to Canada and Mexico – to begin qualifying play and sit in last place of the group that also includes a weak El Salvador team. Pinto has clearly struggled to run his system in Honduras' empty talent pool, and much like Klinsmann, could be fired from his post well before the next World Cup begins.
Besides Mexico and Costa Rica – the two teams that currently look like good bets to make the World Cup – other serious contenders for a qualifying spot include Panama and Trinidad and Tobago. Panama, which is still searching for its first World Cup berth, did not muster up much optimism for breaking into the world's biggest tournament when it couldn't beat an undermanned Costa Rican team at home. Still, it has a solid block of talent that should propel it through Group B and onto the Hexagonal stage.
But while riding a three-game win streak and holding experience from last year's run that could give Costa Rica an extra advantage in close games, it's the Ticos who at this point seem to be penciled into a qualifying spot for CONCACAF.
Panama coach Hernán Gómez said after last week's qualifier loss to Costa Rica that the Ticos are still the class of CONCACAF.
Said Gómez: "We didn't lose to just some middling team – we lost to the best team in the region."