Hundreds of Ticos gathered in downtown San José's Plaza de la Democracia to watch the World Cup opener against Uruguay on a large LED screen. Once Costa Rica emerged victorious — a stunning, 3-1, win over one of the top-ranked team's in the world — the crowd exploded with joy. Spectators erupted in cheering, dancing and high-fives. Red, white and blue vuvuzelas buzzed ubiquitously.
"Ole, ole ole ole. Ticos! Ticos!" everyone sang.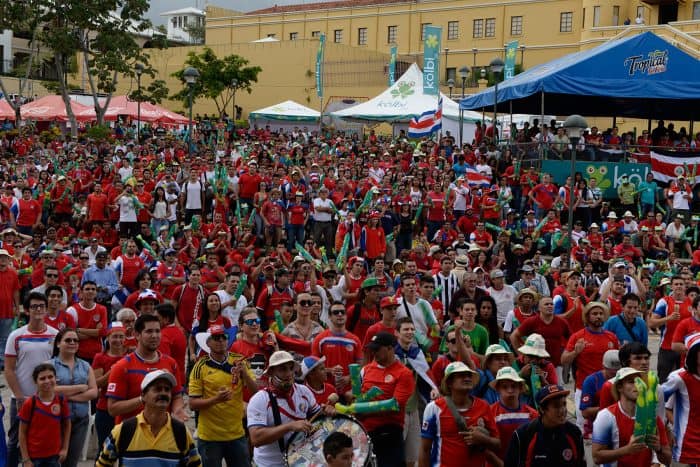 Joel Campbell, Óscar Duarte and Marco Ureña all scored to lead La Sele to the historic win. Oddsmakers barely gave Costa Rica a chance in brutal Group D, where the Ticos are competing against former World Cup champions Uruguay, Italy and England. Costa Rica plays its second match Friday morning against Italy. La Sele's final group stage match is June 24 against England.
After falling behind 1-0 in the first half, Costa Rica dominated the final 45 minutes. Campbell badgered the Uruguayan defense all match, scoring at the 54th minute. The Ticos' second goal — a header by Duarte at the 57th minute — was one of the finest shots so far this World Cup. Ureña slid in the final goal at the 84th minute. And with that the celebration was on.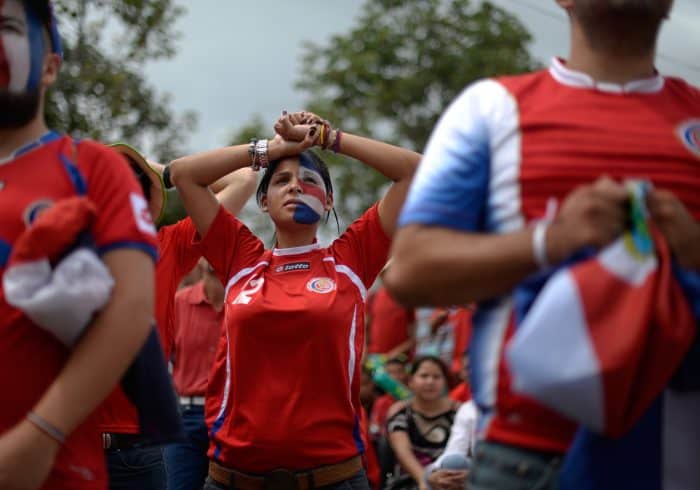 La Sele fans encircled the Rotunda de la Fuente de la Hispanidad, a fountain in east San José and the city's default party headquarters for widespread celebrations. The cheering and flag waving started from the two balconies of the adjacent Mall San Pedro, but quickly spread into the streets where crazed fans blocked traffic. Drivers waved their own Costa Rican flags out of their windows. Once the cars cleared, the crowd began doing victory laps around the rotunda.
"The game was excellent, it was too good! We didn't expect it but we played how we had to play!" said Erica Miranda, 24, who waved the country's flag and took selfies with the crowd while in pink high heels.
Costa Rica hopes to qualify for the knockout round of the World Cup for the second time in the country's history. And while nothing is guaranteed with two games remaining, fans basked in the unexpectedly fantastic start.
"They showed they have claws, the drive and love for their country," said Ana Maduro, 53. "It's important to be realistic, but for now this is a party, we have gotten farther than we ever hoped."
Out on the plaza, festive hats ranged from Thor-style to Cat-in-the-Hat-esque, and included messages like "100% Costa Rican" and "Vamos Ticos." Presiding over the top of the crowd were tired kids perched on shoulders and seemingly confused about the fuss. Meanwhile, men wearing Costa Rican flags as capes pretended to fly.
When a Channel 7 cameraman began filming the scene live, the Ticos went even more berserk. Their image was broadcasted on the screen where they had just watched Costa Rica stun the world.