As the saying goes in sports: Great teams do not rebuild, they reload. The ability for world powers like Germany, Argentina or Brazil to reach into their never-ending pool of young talent and take out consistently good players is part of what makes these countries so dominant for generations, not just years at a time. Though tiny Costa Rica has neither an infrastructure built up of highly regarded football academies, nor a population size that offers an overwhelming amount of options, there are still plenty of bright spots on the radar.
While "La Sele," as the Costa Rica men's national team is known, is now more than a year removed from its best-ever finish in a World Cup, a younger generation has been charged with the task of getting Costa Rica back to the quarterfinals and beyond in the biggest tournament in sports. Just last week Costa Rica's under-17 team made a historic run itself after it beat European-champion France to land its first win in the knockout stages of an Under-17 World Cup.
Though the youth team ultimately lost 1-0 to Belgium, its players showed a wealth of promise while advancing to a point that current La Sele stars and past under-17 players like Keylor Navas (2003), Bryan Ruíz (2001), and Joel Campbell (2009) never reached.
With five players from the current under-17 selection, as well as two up-and-coming senior players, The Tico Times has compiled a list of seven players to watch in the coming years, as each one looks to be the next best superstar for Costa Rica.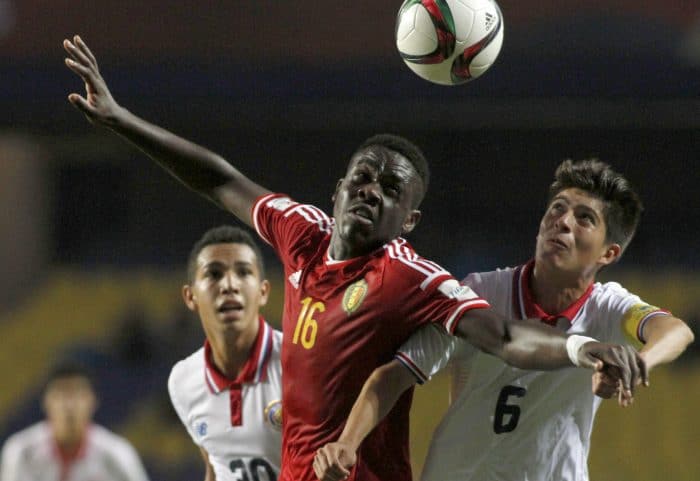 Luis Hernández, defenseman, 17 years old
The captain of the under-17 team that made history in Chile is one of Costa Rica's most valuable assets in the current youth system. Strong rumors in the British press linked Hernández to a deal with noted club Manchester United last March, although the left-back from Heredia ultimately stayed on with Saprissa's developmental squad. The young defender, who was one of only three players for Costa Rica to play every minute in the five World Cup games, will likely be signing with an international club sooner rather than later.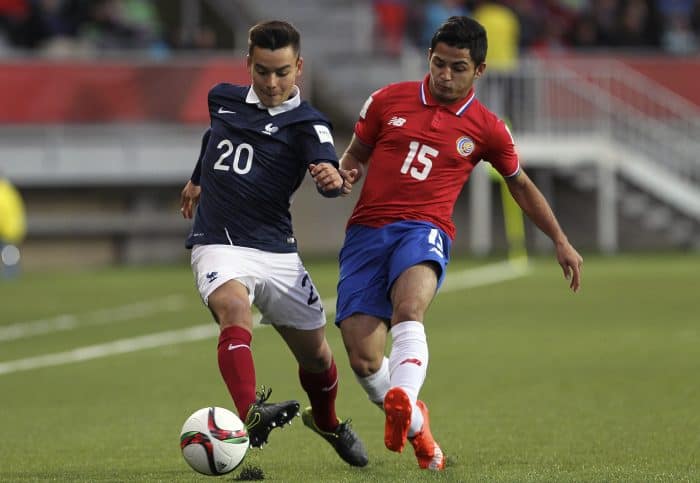 Kevin Masis, defenseman, 17 years old
By knocking home Costa Rica's first goal in the 2-1 win over South Africa in the Under-17 World Cup group stage, Masis got the record-setting Tico squad started on the right rhythm. Though he stands just 1.67 m (5'5″), the youngster from Limón has a thick frame and can become a brute force for future La Sele defenses. The sturdy defender is currently signed to a three-year deal with Santos de Guapiles, a club in Costa Rica's first division.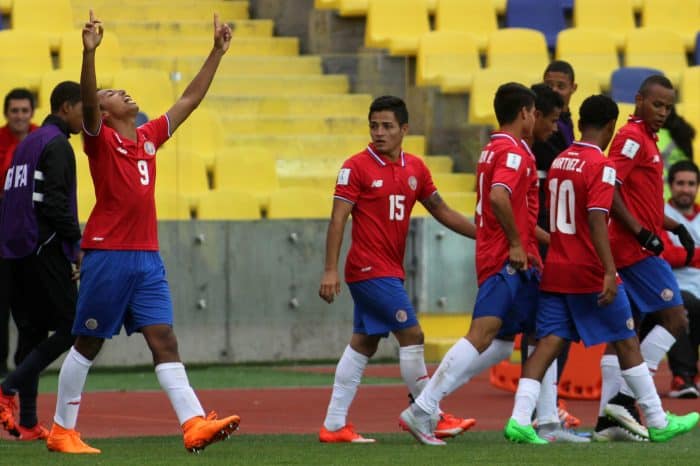 Andy Reyes, forward, 16 years old
The forward, who played a beautiful cross to Masis for that opening goal against South Africa, is one of the most dynamic players that Costa Rica has rising up the ranks. Reyes kicked in the game-clinching penalty kick when the knockout match against France went to a shootout, sending the Ticos to the quarterfinals. Before helping his country with timely plays in the World Cup, Reyes grew up on the coffee fields of Naranjo, where he grew up playing a mejenga, the Costa Rican word for football games, when he wasn't helping his father out with the coffee cultivation.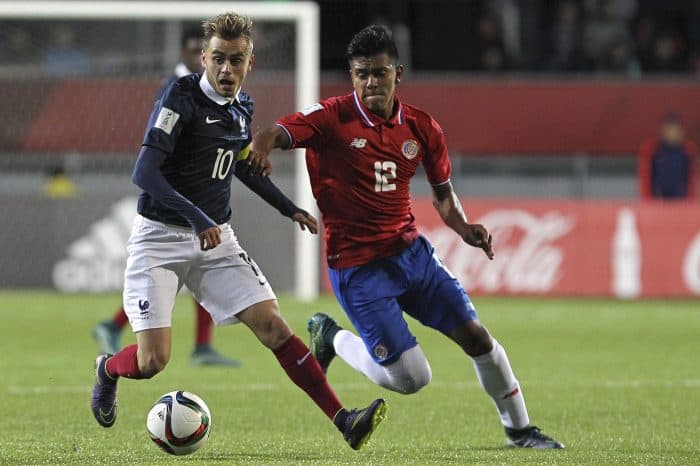 Sergio Ramírez, forward, 17
After missing an early penalty kick against Russia, Ramírez came back in the second half to give the Ticos the lead. Though Russia ultimately tied Costa Rica in the 82nd minute, Ramírez's bounce-back goal steered his country away from a loss and allowed the team to a clinch a spot in the knockout stages after just two games.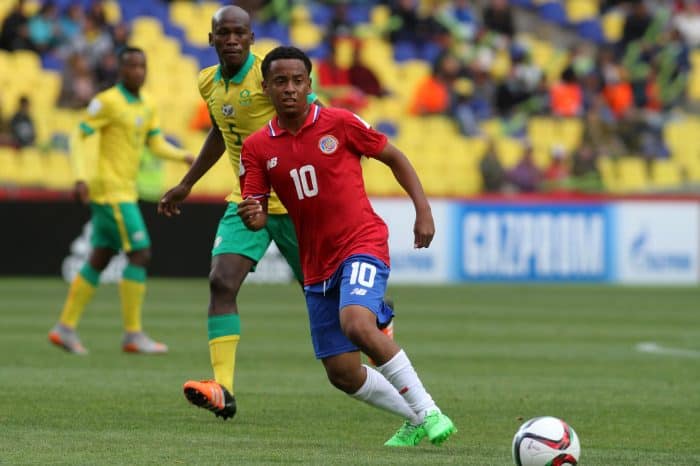 Jonathan Martínez, midfielder, 17 years old
The budding star from Limón has the speed and the goal-scoring instinct (shown by his two-goal game against Belize in last year's friendly) to grow into a reliable midfielder for La Sele. He currently plays under Costa Rica's Carmelita Sporting Association.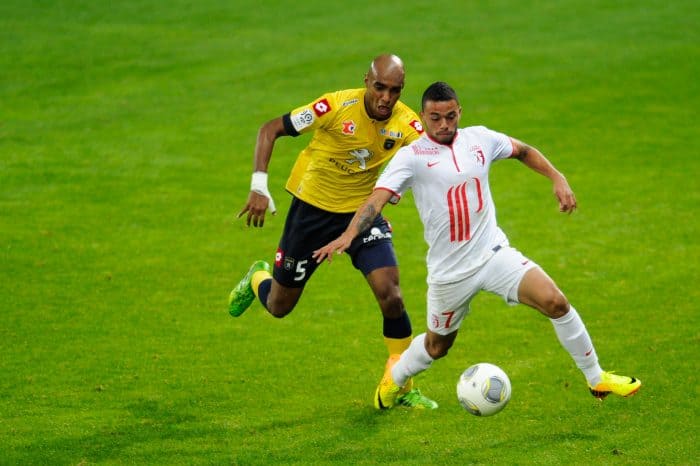 John Jairo Ruíz, forward, 21 years old
Though Ruíz only has two caps for La Sele, he should see his call-ups increase during World Cup qualifying, which begins Friday. Coach Óscar Ramírez has yet to select Ruíz in three different call-ups, but may start to look for the Puntarenas-born forward as goal scorers have been noticeably absent from La Sele recently. Ruíz, who plays for Ukraine's Dnipro Dniprpetrovsk, scored in international play for Costa Rica last year in a friendly against Oman.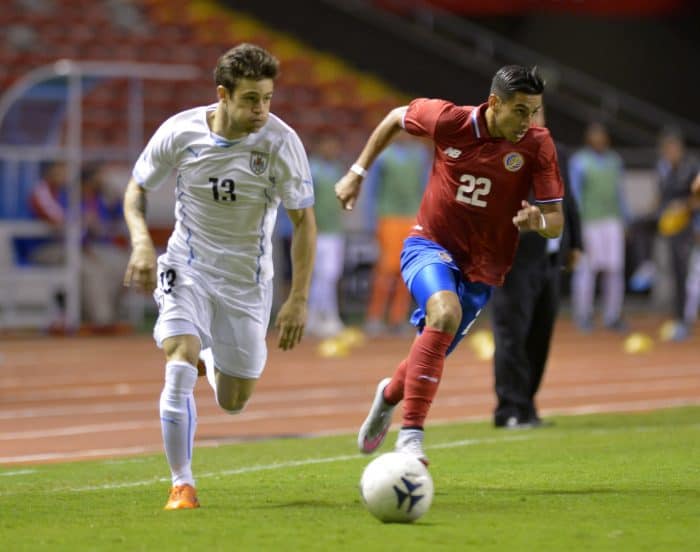 Ronald Matarrita, midfielder, 21 years old
The Alajuelense star has been a staple for Ramírez's national selections so far, having played in all four of La Sele's games since his former club coach was hired to take over Costa Rican football. Already, the speedy 21-year-old has shown the ability to create and push the ball deep into the defense. Once Matarrita figures out how to finish plays, he'll be one of the most important pieces La Sele has going forward into World Cup qualifying.