Rescue teams from the Humane Society International (HSI) and officials of Costa Rica's National Animal Health Service (SENASA) raided a puppy mill last Tuesday in Coronado, north of San José. They rescued 17 dogs.
The teams found beagles, Chihuahuas and American Staffordshire Terriers as well as 39 birds, which apparently were also being offered for sale.
The dogs were being kept in extremely poor conditions inside small and overcrowded cages, the rescuers said. All — including several pregnant females — were clearly malnourished, without water and without any veterinary care.
Some of the birds were also found in very poor health, especially some parrots which showed severe deformities in their legs for being held in inappropriate cages.
The raid was coordinated in response to reports from concerned observers, HSI Programs Coordinator Amanda Chaves said.
The dogs were taken to an animal shelter of the Humanitarian Association for Animal Protection (AHPPA) in Heredia province, where they all underwent physical exams. HSI-Latin America will help cover the cost of surgeries and recovery treatments, Chaves said.
Veterinarians said most of the animals showed signs of severe malnutrition, and according to some of the people who filed the complaints, "they were fed only spaghetti." Many of the dogs also had skin conditions that required specialized vet care.
Following the protocol established by law, owners were given three days to reclaim the animals, however the deadline ended Friday so the dogs are now available for adoption at the AHPPA shelter.
Cynthia Dent, regional director of HSI/Latin America said they are very happy to have been able to rescue the animals. "The rescued dogs will be neutered and we hope we can find them a new home soon," she said. You can contact AHPPA shelter at (506) 2267-6374 or through their website.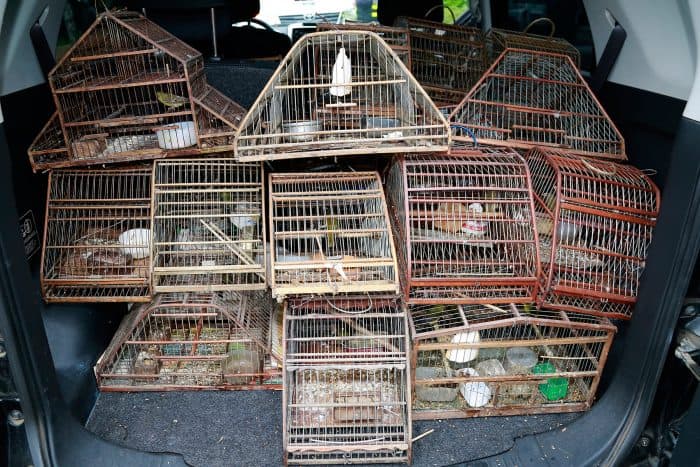 Chaves said the birds were taken to ZooAve, an animal rescue center in Alajuela province where they were evaluated by veterinarians. Most were in good health, and after treating those who required help, they all were released.
SENASA's Animal Welfare Programs Coordinator Laura Loaiza asked people not to buy pets from illegal puppy mills, "as these places only breed animals for profit, focusing solely on economic gain and without any interest in animals' health."
In July HSI and SENASA staff raided another illegal puppy mill in Cartago, and the owner was ordered to pay ₡200,010 (some $370), equivalent to a 30-day fine, the maximum penalty allowed by law in Costa Rica.
All dogs with adequate health conditions have been adopted by families recommended by veterinarians from various provinces, HSI confirmed.
Some of the older dogs, as well as those that require special health care, remain under the care of SENASA vets.