CLEVELAND, Ohio – An enchanted and astonishing season in which the Golden State Warriors bum-rushed their way into the NBA elite and mesmerized crowds throughout the country with a barrage of three-pointers and playground-approved layups came to a conclusion Tuesday night as Stephen Curry walked off the court at Quicken Loans Arena holding a shiny, gold Larry O'Brien trophy and hearing chants of "MVP."
The Warriors didn't enter this campaign expected to be NBA champions, but when Curry hesitated and tossed the basketball into the air — setting off a celebration of giddy, bouncing grown men — the ending could not have been more appropriate. The superior team beat the game's superior player with a 105-97 victory that secured the franchise's first title since 1975, ending a 40-year gap that ranks as the longest in NBA history.
Curry didn't have a spectacular shooting display and his all-star back-court mate Klay Thompson was lost in space for much of the night, but the Warriors were able to overwhelm the weary Cavaliers — as they did most teams all season — with their superior depth. Curry and Andre Iguodala both finished with 25 points, while Draymond Green had a triple-double with 16 points, 11 rebounds and 10 assists.
Iguodala had enough in reserve to carry the scoring load — and made two huge 3-pointers in the fourth quarter — despite the challenge of battling LeBron James on the other end. After not starting a single game until the Finals, Iguodala was named MVP of the series.
https://www.youtube.com/watch?v=I_NqH8k4c4Y
Golden State spent four decades mired mostly in mediocrity, beset by years of bad trades (Robert Parish and a draft pick that turned into Kevin McHale to Boston for Joe Barry Carroll, who became known as "Joe Barely Cares" by the end of his tenure), terrible draft picks (Todd Fuller over Kobe Bryant) and other questionable decisions (Latrell Sprewell and P.J. Carlesimo's neck). The Warriors were still a struggling organization when Curry arrived in 2009, but during a challenging rookie season, Curry vowed that the team would figure out a solution. It took six years, but the Warriors were finally able to break through.
The Finals victory signified a possible transitional period for a league that has learned to embrace the 3-point shot while practically abandoning the need for a low-post presence. The Warriors made 13 3-pointers while holding the Cavaliers to just 39 percent shooting, finishing the season with the same up-tempo offense and stifling defense that propelled them all year.
In his first year as an NBA coach, Steve Kerr wasn't afraid to make the moves necessary to bring out the best in his team, including starting Green and Harrison Barnes over former all-stars David Lee and Iguodala.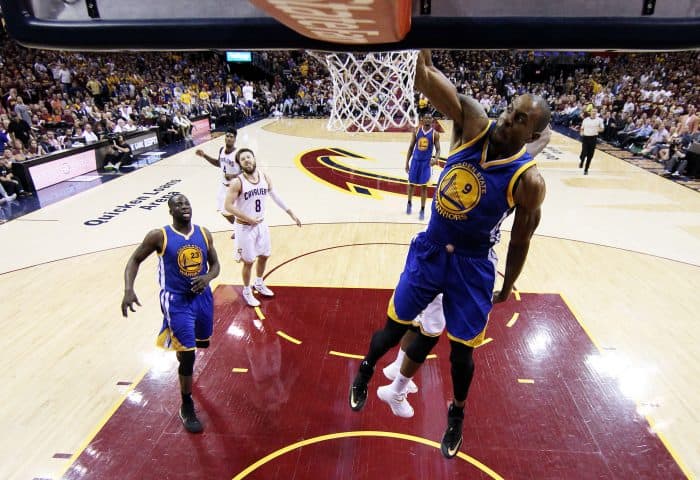 After winning a league-best 67 games and reaching the Finals with the same lineup for most of the season, Kerr showed the flexibility to make the move that turned this series upside down. With this team trailing 2-1 to a depleted Cavaliers team, Kerr replaced starting center Andrew Bogut with Iguodala, going with a smaller lineup that allowed the Warriors to exploit the plodding Cavaliers with speed and athleticism. Kerr became the first rookie coach since Pat Riley in 1982 to win a title.
James said before the game that he had no interest in winning Finals MVP on a losing team because he was only focused on winning a championship for the long-suffering fans of Cleveland, which hasn't won a major pro sports title since the Browns defeated the Baltimore Colts in 1964. James dismissed the burden that he felt, but the load was too much for even the "best player in the world."
An anxious crowd tried to encourage James with "MVP" chants whenever he stepped to the foul line, but he wasn't able to summon another defiant effort. James scored a game-high 32 points with 18 rebounds and nine assists, but he labored, missing 20 of his 33 field goal attempts.
James left to a standing ovation with 10 seconds remaining, walking over to hug Curry and shake Kerr's hand. Despite averaging 35.8 points, 13.3 rebounds and 8.8 assists in the six games, James is now 2-4 in Finals series and 0-2 with the Cavaliers, with both defeats coming at home.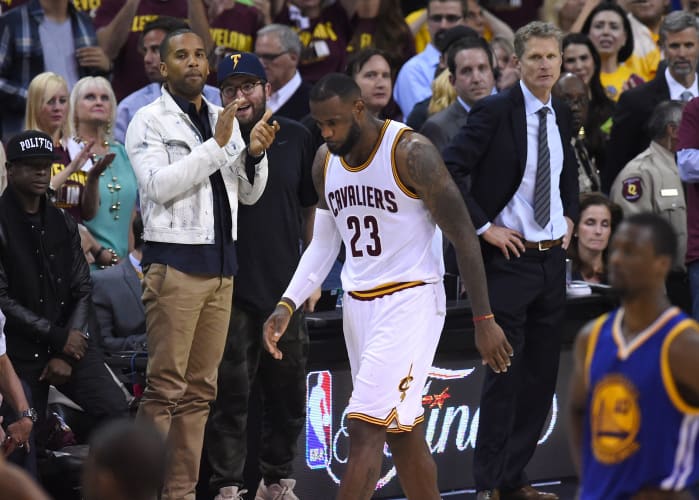 Curry became the sixth player to win his first MVP award and NBA championship in the same season, joining Shaquille O'Neal (2000), Hakeem Olajuwon (1994), Kareem Abdul-Jabbar (1971), Willis Reed (1970) and Bob Cousy (1956).
The Warriors were the only team in the NBA to survive a season in which several teams lost star players to debilitating injuries, and they took advantage of weakened teams throughout the postseason. The Cavaliers were the final victim, losing all-star Kyrie Irving in the first game after playing the previous two rounds without Kevin Love.
James entered Tuesday's game averaging 31.9 points, 10.5 rebounds and 7.4 assists in 14 career games in which his team faced elimination. Though his teams went 7-7 in elimination games overall, James had won five of his previous six games. Of course, he was aided by the presence of Chris Bosh and Dwyane Wade, who helped him win two championships in Miami. On Tuesday, James had no all-star assistance and little left in the tank to impose his will as he had done in four of the previous five games.
Cavaliers Coach David Blatt was criticized for only utilizing center Timofey Mozgov for 10 minutes in Game 5, but he went back to countering Kerr's small ball by going bigger, the one strength his team possessed. Mozgov and Tristan Thompson combined for 32 points and 25 rebounds, and reserve J.R. Smith made four 3-pointers to finish with 19 points.
But the Warriors have been the team of destiny all season, and their dream was finally fulfilled.
© 2015, The Washington Post