Santa Cruz National Festival
With its cowboy hats, horsemen, and old-fashioned outfits, the Santa Cruz National Festival can look like the set of an old Western movie. Taking place in an agricultural hub in rural Guanacaste, the fiestas are a chance to see livestock, traditional dance, marimba players, and real-life vaqueros in action. All kinds of meaty dishes and fully stocked bars await the peckish visitor, and live music abounds. You don't need much of a plan – just wander almost any street in downtown Santa Cruz and take it all in.
Las Fiestas Típicas Nacionales Santa Cruz continue through Jan. 18 in Santa Cruz, Guanacaste. Fri.-Sun., 12-9 p.m. Free. Info: Festival website.
Coffee Fair
Prepare yourself for delicious caffeine – in every hue, texture, and temperature imaginable. The Feria del Café brings together coffee farmers from across the country to celebrate one of Costa Rica's most beloved exports.
Feria del Café takes place Jan. 16-18 in Frailes de Desamparados. Fri., 10 a.m. – 6 p.m.; Sat., 9 a.m. – 9 p.m.; Sun., 7 a.m. – 8 p.m. Free. Info: Event website.
Music: Los Waldners
Check out this quintessential Tico indie rock band at Area City Bar.
Concert takes place Jan. 17 at Area City Bar, Barrio California, San José. 9 p.m. Free. Info: RedCultura.
Film: "Mirage"
Daniel is a tormented artist – but what happened in his past? And can the unstable painter even trust what he sees? Costa Rican director José Miguel González questions reality in his breakout feature film.
"Espejismo" screens in various theaters across the country. For more information, visit the film's Facebook page.

Theater: "Family Wanted"
From Mexican dramatist Berta Hiriart comes a musical for all ages about family – the good, the bad, and the happy surprises.
"Se Busca Familia" performs Sundays at Teatro La Fortina, Heredia. 3 p.m. ₡4,500 ($9) children, ₡6,000 ($12) adults. Info: La Fortina website.
Theater: "The Kings' Dream"
A collaborative production between Costa Rican and Chilean artists, "El Sueño de unos Reyes" explores the concepts of nationhood and identity through movement and multimedia.
"El Sueño de unos Reyes" performs through Jan. 18 – Feb. 1 at Gráfica Genesis, Cathedral District, San José. Thu.-Sat., 8 p.m.; Sun., 6 p.m. ₡3,000-4,000 ($6-8). Info: Gráfica Genesis website.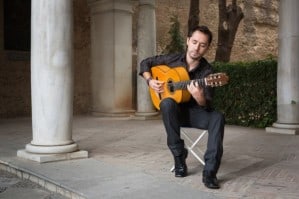 Music: Manuel Montero
The maestro of Spanish guitar releases his latest album, "Sólo," at Casa España.
Release party takes place Jan. 16 at Casa España, La Sabana. ₡8,000-10,000 ($16-20). Info: Casa España Facebook page.
Fiestas de Palmares
One of the biggest community events of the year, the Palmares festival attracts hordes of people from across the country for a saturnalia of beer, music, and horsemanship. This year's festival will be headlined by Cultura Profética, the acclaimed reggae outfit. (Concert takes place Jan. 18 at 12 p.m.) There is also the beloved tope (or horse parade) on Jan. 15, plus the annual Comedy Festival on Jan. 16, for folks who can keep up with the Spanish-language humor.
Las Fiestas de Palmares take place Jan. 14-26 in downtown Palmares. Free. Info: Palmares Facebook page, or read The Tico Times preview here.
Theater: "The House of the Spirits"
Isabel Allende's masterpiece comes to life during this stage adaptation by U.S. playwright Caridad Svich. After last year's extremely successful run, Teatro Espressivo revives the Spanish-language production for a second round.
"La Casa de los Espiritus" runs Jan. 15 – Feb. 15 at Teatro Espressivo, Tres Ríos. Thu.-Sat., 8 p.m.; Sun., 6 p.m. ₡10,000-15,000 ($20-30). Info: Teatro Espressivo website.
Film: "Maikol Yordan"
From the madcap minds of "Media Docena," the hit Costa Rican sketch show, comes their first feature film, a comedy about the well-meaning yokel Maikol Yordan. How will this goofy campesino fare on his globe-trotting tour? Find out by catching this super-Tico comedy at almost any local movie theater.
"Maikol Yordan" screens at various cinemas across the country. For more information about the film, visit the official Facebook page.
Exhibit: "Juan Rafael Mora"
Recognized for his muttonchops and paternal demeanor, Juan Rafael Monge is widely considered the Abraham Lincoln of Costa Rica. The National Archives displays images of this founding father to the public.
Exhibit continues through Feb. 28 at the National Archives, Zapote. Free. Info: Archives website.